Elon Musk to fix Tesla 'braking flaw'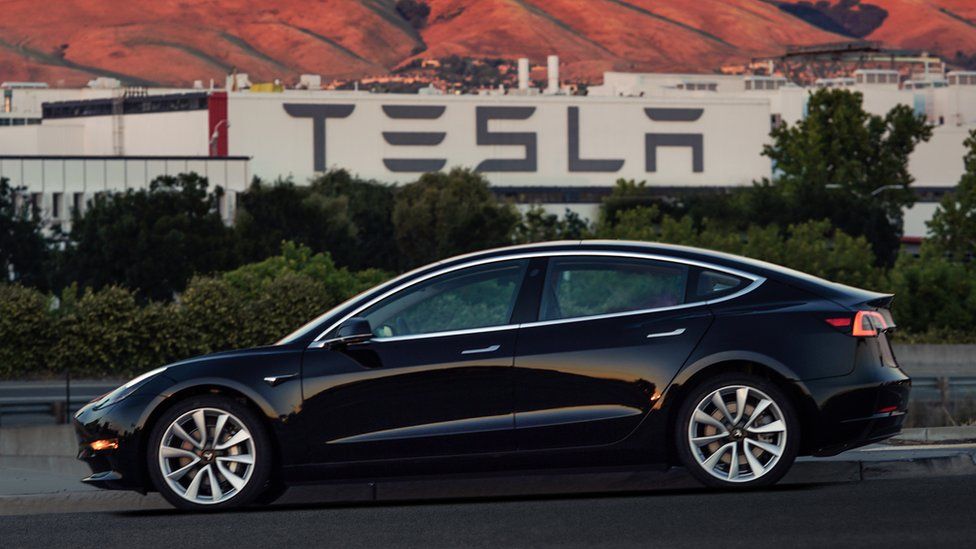 Tesla boss Elon Musk has admitted there is a braking issue in its Model 3 cars but promised a firmware update to fix it "in the next few days".
"Our testers found flaws - big flaws - such as long stopping distances in our emergency braking test and difficult-to-use controls," wrote Patrick Olsen.
Tesla had at first disputed the findings.
The reviewer said braking distances on average were 152ft (46m), adding that that "was far worse than any contemporary car we've tested".
In response, Tesla released a statement which read: "Tesla's own testing has found braking distances with an average of 133ft when conducting the 60-0 mph stops using the 18" Michelin all season tyre and as low as 126ft with all tyres currently available."
But later Mr Musk tweeted that the issue would be dealt with before the end of the week.
Looks like this can be fixed with a firmware update. Will be rolling that out in a few days. With further refinement, we can improve braking distance beyond initial specs. Tesla won't stop until Model 3 has better braking than any remotely comparable car.

— Elon Musk (@elonmusk) May 22, 2018
Tesla's long-awaited successor to its Model S has had more than 400,000 pre-orders, making it one of the most anticipated mass-production vehicles ever.
The electric car comes with a starting price tag of $35,000 (£29,600) and has been described by Mr Musk as affordable for the mass market.
It has faced repeated production and manufacturing delays and when deliveries started in July, it was for a more expensive version that included a long-range battery package which cost an extra $9,000.
Recently Mr Musk unveiled specifications for a faster and more powerful version of the Model 3 which will cost $78,000, which does not include the Autopilot driver-assist feature.
Consumer Reports stopped short of recommending the Model 3, despite describing it as an "impressive performance sedan".
It also criticised over-reliance on touch-screen controls for everything from adjusting the mirrors to changing the direction of airflow, saying this could cause "driver distraction".
Previously another review from Car and Driver noted that there was "a bizarre amount of variation" in the car's emergency stopping distance.
The news comes as a driver was killed in a Tesla Model S, which veered off the road into a pond.
It is not yet clear whether the car's Autopilot mode was in use during the accident, which happened near the city of San Ramon in California on Sunday evening.
The semi-autonomous Autopilot can brake, accelerate and steer by itself under certain conditions but is not intended to operate independently and the driver is meant to have their hands on the wheel at all times.
The driver was identified as 34-year-old Keith Leung.
In March, a Model X car involved in a fatal crash in California was revealed to have been in Autopilot mode at the time.