Steam store school-shooting game 'appalling'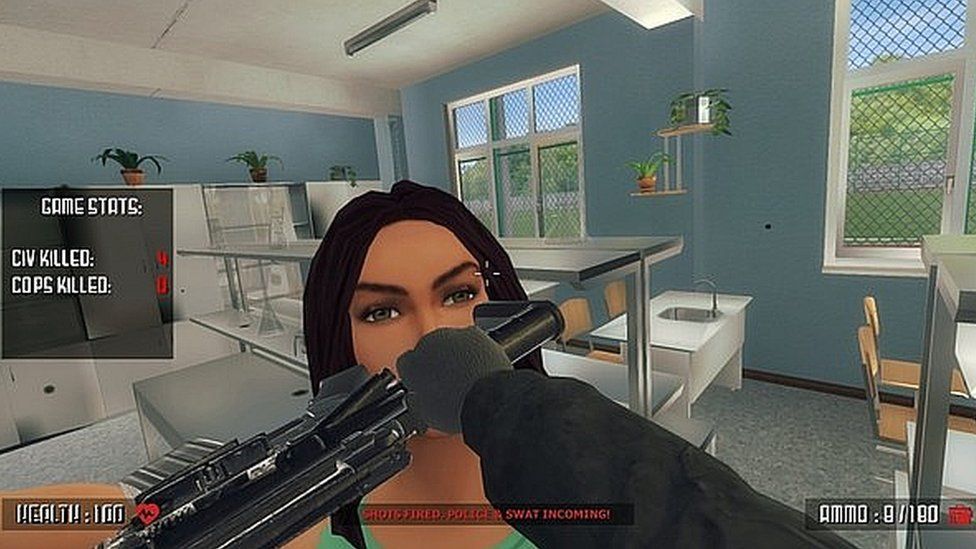 A "school-shooting simulator" video game has been described as "appalling" by an anti-gun violence charity.
According to its listing on the Steam video game store, the software lets players "slaughter as many civilians as possible" in a school environment.
Charity Infer Trust called on Valve - the company behind the Steam games store - to take the title down before it goes on sale, on 6 June.
Valve has not responded to the BBC's request for comment.
The game has been posted on the Steam store by an independent developer previously accused of selling "asset-flipped" games.
Asset-flipping is taking third-party game engines and graphics and repackaging them for sale with minimal alteration or development.
The school-shooting game is described as "realistic" and "impressive". And the developer has suggested it will include 3D models of children to shoot at.
However, the creator also says: "Please do not take any of this seriously.
"This is only meant to be the simulation and nothing else."
A spokeswoman for Infer Trust said: "It's in very bad taste. There have been 22 school shootings in the US since the beginning of this year.
"It is horrendous. Why would anybody think it's a good idea to market something violent like that, and be completely insensitive to the deaths of so many children?
"We're appalled that the game is being marketed."
Many gamers have complained that Steam moderators have removed games featuring nudity, but have allowed a school-shooting simulator to remain on the store.
Related Internet Links
The BBC is not responsible for the content of external sites.