Tesla boss Musk rants at press on Twitter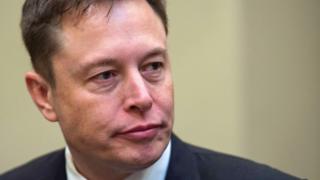 Tesla chief executive Elon Musk launched a bitter attack on the press via a series of tweets on Wednesday.
Mr Musk said he planned to launch a website to assess the credibility of news stories and sources.
The idea appeared to be motivated by recent news reports about Tesla that he felt were unfair.
The firm has been the subject of investigative stories about working conditions at its plants and concerns over the brakes on its electric cars.
There have also been several reports of crashes involving Tesla vehicles, something Mr Musk said he felt was unwarranted given the large number of road collisions involving other cars.
"Problem is journos are under constant pressure to get max clicks & earn advertising dollars or get fired," Mr Musk tweeted.
"Tricky situation, as Tesla doesn't advertise, but fossil fuel companies & gas/diesel car companies are among world's biggest advertisers."
Reveal, the investigative journalism outfit that recently covered criticisms surrounding safety at Tesla's huge car production plant, is a non-profit organisation based in Berkeley, California.
Tesla had previously referred to the organisation, which is not funded by advertising, as "extremists".
Mr Musk described the Reveal team as "just some rich kids in Berkeley who took their political science prof too seriously". Forbes currently estimates Mr Musk's wealth to be $19bn.
Mr Musk, who initially made his fortune by co-founding payments service PayPal, said he would launch a website that would be used to rank credibility in the media. He will also prevent bots from manipulating the system, he added.
He said he would call it Pravda - the name given to the state newspaper published by the former Soviet Union.