Uber car 'had six seconds to respond' in fatal crash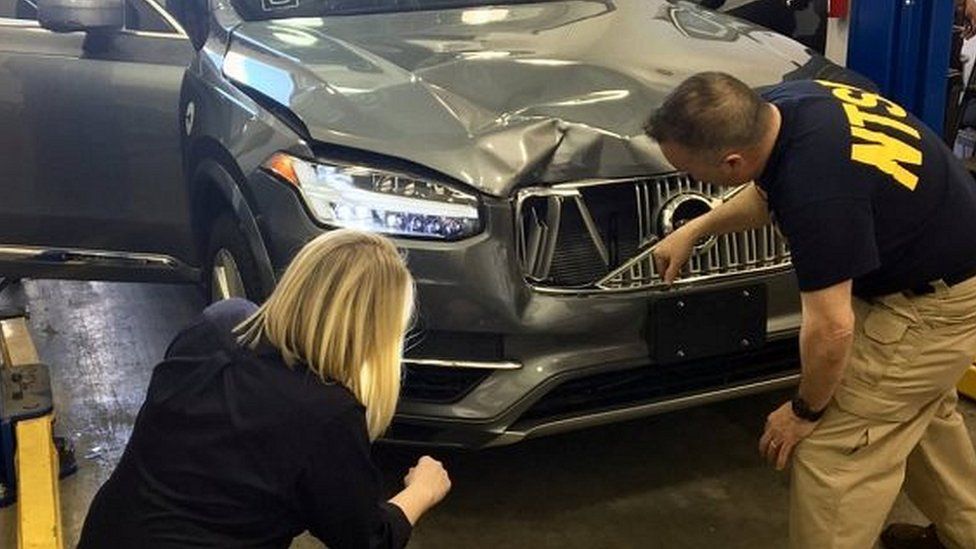 The sensors of a self-driving Uber car spotted a pedestrian pushing a bicycle across the road six seconds before killing her, according to a report.
The on-board identification system classified her as an "unknown object, as a vehicle, and then as a bicycle".
The car slowed slightly but failed to avoid Elaine Herzberg, 49, of Tempe, Arizona, or perform an emergency stop.
And the car's human operator took control a second before impact but did not hit the brake until just after.
It says: "All aspects of the self-driving system were operating normally at the time of the crash, and there were no faults or diagnostic messages."
Uber said it had worked very closely with the NTSB since the 19 March crash, believed to be the first fatal collision involving an autonomous vehicle.
An Uber spokeswoman said it had started its own "safety review" of its self-driving vehicles programme.
She added: "We've also brought on former NTSB chair Christopher Hart to advise us on our overall safety culture, and we look forward to sharing more on the changes we'll make in the coming weeks."
A toxicology test carried out on Ms Herzberg after the accident returned positive results for methamphetamine and marijuana.
She did not look before crossing the road in a poorly lit area and was wearing dark clothes, the NTSB report says.
And the reflectors and lights on her bike were at right-angles to the Uber car's path.