Takeaways to be delivered by drone in Shanghai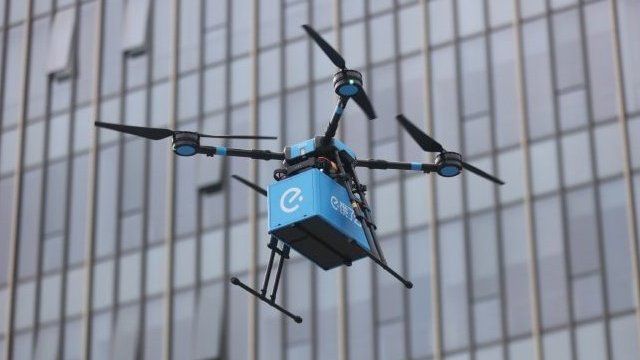 Food delivery drones have been given the go-ahead in China.
Food delivery service Ele.me, owned by Alibaba, has been given permission by the authorities to deliver takeaways by drone along 17 routes in Shanghai's Jinshan Industrial Park.
The newly approved routes cover a 22.4 sq mile (58 sq km) area of the park.
Customers will get deliveries within 20 minutes of orders being placed from 100 different restaurants operating in the industrial park.
Staff at the start point will collect orders and place them into the cargo hold of the drone. Staff at the delivery locations will pick up and deliver the meals to customers at their addresses.
Ele.me said the drone deliveries would substantially reduce its operating costs, compared with regular road deliveries.
The firm first trialled drone deliveries in September last year with the E7 drone model, which it says can carry up to six kilos of food and fly as far as 12.4 miles (20km) at a maximum speed of 40mph (65km/h).