San Francisco scooter protesters block Silicon Valley buses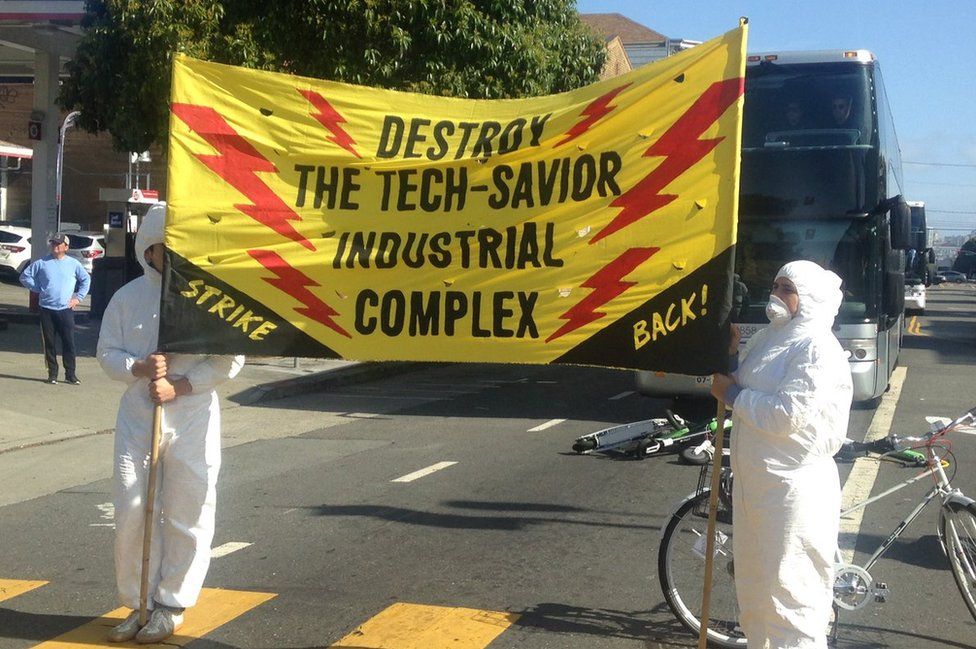 The streets of San Francisco saw angry protests on Thursday morning - and once again, the target was the technology industry many people here think is causing great harm to the city.
A group of around 50 demonstrators, according to local reports, blockaded at least nine buses ferrying workers to Silicon Valley giants such as Apple and Google.
The barricade was carried out using some of the many on-demand electric scooters that can be seen on the city's streets, a trend seen here as the latest symbol of tech arrogance.
Protesters held banners with slogans such as "destroy the tech saviour industrial complex" and "sweep tech, not tents".
The demonstration was organised by a coalition of local advocacy groups, and was fuelled in part by anger over the recent removal of homeless encampments in the city's Mission District - an area that has been greatly disrupted by rapid gentrification.
The root causes of the city's crippling homelessness problem are the subject of great debate, and the stand-out talking point in the city's current mayoral race.
One candidate, London Breed, criticised the protest.
"I know people are upset about the problems we face as a city," she said.
"But destructive behaviour is not helpful. When we pit one group of San Franciscans against another, or argue about who is a 'real' San Franciscan, it becomes harder to find common ground. We are ALL San Franciscans."
Meanwhile, San Francisco's streets have become awash with on-demand electric scooters that can be rented via a mobile app.
Three companies have spread their scooters far and wide - with public pavements being used as storage.
It's a transportation trend that has investors extremely excited.
One company, Bird, raised $150m in a funding round that valued it at over $1bn.
Officials in San Francisco have ordered the scooters off the streets until it can work out and set-up a permit system.
But protesters said they felt the city was doing little to enforce the rules, instead putting more effort into removing homeless people from the streets.
"It's absurd scooters have more rights than the homeless do," said protester Chirag Bhakta, 30, speaking to the Examiner.
But Scott Wiener, a state senator, said the protests were inappropriate.
"Trashing scooters, blocking commuter shuttles so people can't get to work, and demonising people because of where they work isn't how you make positive change," he said.
The double-decker buses that take employees to-and-from the vast tech campuses found south of the city have in recent years become an obvious target for protesters.
And in 2013, a bus carrying Google employees had its windows smashed, followed by protests over how the well-paid tech sector had pushed up house prices in the city.