Steam games store to 'allow everything'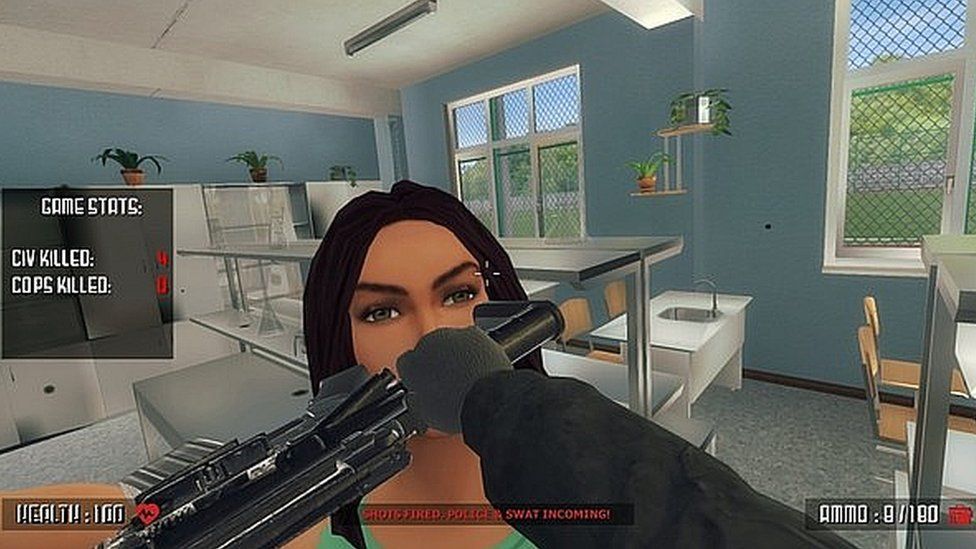 The Steam video game store has changed its content policy to "allow everything", unless it is illegal or "straight up trolling".
The shift comes after controversy surrounding games which many people considered were offensive.
A school shooting simulation game was removed from the store last month.
But now games publisher Valve, which owns Steam, said it was not up to the company to decide what should or should not be on sale.
The new policy paves the way for pornographic games to be made available on the platform, including in virtual reality. It would make the Steam store the first major VR platform to offer adult content.
The Steam store is fully-supported by HTC's Vive headset, and also works with Facebook's Oculus Rift - though in the latter case the user must proactively choose to accept content from "unknown sources".
HTC told the BBC it was not able to comment on the changes. "We are evaluating them like the rest of the market," a spokesperson said in an email.
Oculus said its policy on pornography, which is not permitted on its own VR store, was unchanged.
"We won't distribute pornographic material through the Oculus Store," a spokesman told the BBC.
"As is the case with many devices, people can access content for Rift through sources outside of our store, in which case that content may not follow our guidelines."
Steam's decision follows high-profile instances of controversial content appearing on the platform.
The games featured "anime" style illustrations that were an "earnest and tasteful exploration of sexuality", according to one of the games's creators.
In a statement about Steam's new terms, Valve said: "Taking this approach allows us to focus less on trying to police what should be on Steam, and more on building those tools to give people control over what kinds of content they see."
The statement is an attempt to offer Steam's independent developers some clarification over what will be permitted on the platform - though not without fresh confusion over what exactly would constitute "trolling".
Rachel Weber, news editor at GamesRadar, told the BBC she felt Valve was taking an easy way out.
"It's important to remember that Valve takes a significant cut of everything sold through Steam, so it's putting itself in a position where it could directly profit from racist and sexist content," she said.
"Professionally, I dread to think about the games that will appear on the new releases list in an attempt to test just what Valve means by trolling, and personally I'm disappointed that such a massive company isn't willing to engage with important and complex issues."
'Something that you hate'
Another controversial title, a "school-shooting simulator" named Active Shooter, was removed from the store in May after campaigners called it "appalling" and "horrendous".
Valve referred to the game's designer as a "troll", a suggestion that his game would still be banned under the new policy.
That said, Valve acknowledged that it would mean there would be games on the platform that people took an issue with, but the solution would apparently be to simply look in the other direction.
"It means that the Steam Store is going to contain something that you hate, and don't think should exist. Unless you don't have any opinions, that's guaranteed to happen," the statement said.
It added: "It also means that the games we allow onto the Store will not be a reflection of Valve's values, beyond a simple belief that you all have the right to create and consume the content you choose.
"If you're a developer of offensive games, this isn't us siding with you against all the people you're offending."
It said it would be offering tools to help people filter out what they did not want to see.
But Rock Paper Shotgun's Dominic Tarason wrote that there would be many implications of this approach.
"The whole statement feels like doubling down on Valve's laissez faire libertarian leanings. So long as the company is taking its cut from games sold on the site, and no laws are being overtly broken, the company couldn't care less."
Palmer Luckey, creator of the Oculus Rift headset, welcomed the move.
"This policy is going to be a huge boon for VR software, particularly adult content," he wrote on Twitter.
"Getting onto a platform with visibility and reliable payment processing is practically a pre-requisite for success in the games industry."
Mr Luckey was an employee at Facebook until leaving in March 2017. He became a controversial figure when it emerged that he had partly bankrolled a group behind a social media campaign helping Donald Trump's presidential bid.
Do you have more information about this or any other technology story? You can reach Dave directly and securely through encrypted messaging app Signal on: +1 (628) 400-7370