Fewer people 'using Facebook for news'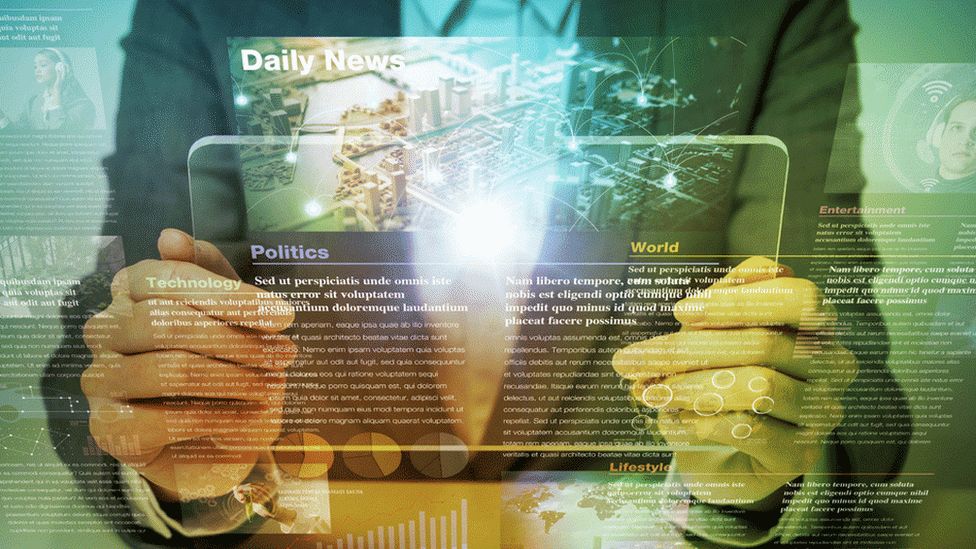 Fewer people are using Facebook to discover and discuss news, as messaging apps such as WhatsApp gain in popularity, a study has suggested.
The seventh annual Digital News Report said the fall in users accessing news on Facebook reflected concerns about privacy and the toxic nature of debate.
Changes to Facebook's algorithms, which had de-prioritised news in people's feeds, had also played a part.
The report sought to explore how people accessed news around the world.
The research, by the Reuters Institute for the Study of Journalism, at the University of Oxford, was based on a YouGov online survey of 74,000 people in 37 countries.
It suggested young audiences were more likely to use WhatsApp, Instagram and Snapchat for news, partly because there was a growing desire to discuss news in relative privacy.
The proportion of those surveyed that accessed news via WhatsApp had tripled in four years, to 15%. This tended to be much higher in countries, such as Malaysia and Turkey, where it can be dangerous to express views in more open networks.
Report lead author Nic Newman said: "We're seeing many switching their focus to more personal, private spaces like messaging apps for sharing and discussing news.
"This gives people more control over where and how they engage, but also potentially makes public debate and news distribution even more fragmented and opaque."
Using Facebook for news has declined in a number of countries. In the US, for example, consumption is down 9% compared with 2017.
And focus groups suggested this was partly due to the way people debated issues on the platform.
"I've actually pulled back from using Facebook a lot since the whole political landscape changed over the last few years because I just find everyone's got an opinion," said one person, based in the UK.
Facebook's decision to change its algorithms to favour posts of friends rather than external news also played a part in the decline of news on its platform, the report said, although much of the polling for the survey had been completed before the changes had taken effect.
Concerns about fake news persisted, with most of those polled (54%) saying they were worried about the issue. And this proportion was highest in countries, such as the US, Brazil and Spain, where starkly contrasting political views combined with high social media use.
Trust in news overall stood at 44% - but only 34% of those surveyed said they trusted news they found via search, and fewer than a quarter (23%) trusted news on social networks.
Three-quarters believed publishers and online platforms were to blame, suggesting many counted biased or inaccurate reporting as fake as well as news that was completely fabricated.
"The frequent use of the dangerous and misleading term 'fake news' resonates with a long-standing crisis of confidence, where much of the public does not feel it can trust the news, especially in countries with highly polarised politics and where many media are vulnerable to undue economic or political influence," said Prof Rasmus Kleis Nielsen, one of the report authors.
Many news publishers are considering a move to paid-for content - but the report suggested the appetite for this was mixed.
Nordic countries had seen more people prepared to pay for content, the report indicated, but that could be due to the small number of publishers, most of which use paywalls to restrict access to news.
In other countries, there was little subscription growth, the report said, although in the US the so-called Trump bump had continued as people signed up to digital services in order to follow the political twists and turns of the Trump presidency.
Most of those polled were unaware of financial problems in the news industry, but more were willing to pay a subscription or give a donation if they had been made aware of them.
"The verdict is clear - people find that some news is worth paying for, but much of it is not," said Prof Nielsen.
"The challenge for publishers now is to ensure that the journalism they produce is truly distinct, relevant and valuable, and then effectively promoting it to convince people to donate or subscribe."
The report also indicated:
The use of voice-activated digital assistants such as Amazon Echo and Google Home had continued to grow rapidly, opening new opportunities for news audio
Podcasts were becoming popular across the world, and young people were far more likely to listen to them than speech radio
The sizes of audiences tuning in for scheduled news bulletins were declining rapidly
Consumers remained reluctant to watch news videos on publishers' websites, with Americans and Europeans wanting to see fewer online news videos