Iceland expands food delivery by drone in Reykjavik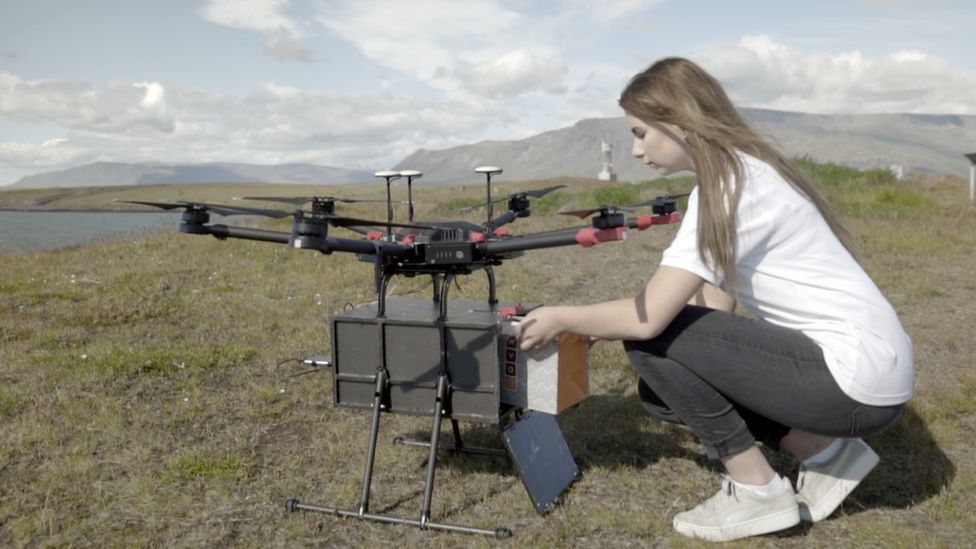 Iceland's largest online marketplace is to expand the number of drones it flies across the country's capital, Reykjavik.
The company Aha, which launched a limited trial with Israeli company Flytrex last year, will phase in further drones over the next two years.
Many Reykjavik residents could soon expect drone deliveries to their door.
The move puts Iceland in the vanguard of drone deployment, ahead of other European capitals.
Aviation regulators around the world have been working to encourage the responsible use of drones.
Pizza delivery, organ-transplant transport and even seagull control are all possible use cases.
Aha is permitted to fly 13 routes around Reykjavik, and its drones can make detours of up to 700m in order to reach customers. This gives them effective coverage of around half the city.
Despite the possibilities, some remain concerned. The potential privacy implications and risk of drones falling from the sky have led to a mixed reception from regulators and the public.
Yariv Bash, the founder of Flytrex is keen to calm concerns. "You're not going to see a refrigerator flying above your house any time soon," he says.
The maximum weight the Aha drones will carry above Reykjavik is 3kg (6lb 9oz).
Some fear drones may become the target for sabotage. "It's not as easy as people think," Mr Bash says. "When they are whizzing at 50km/h [30mph], you can barely see the drone."
Mr Bash was optimistic about the public response. "I think it is going to be a lot easier than people think," he told the BBC.
"Once you saw an iPhone, you realised that it is the future. I believe the first time a neighbour of yours orders his bottle of wine that he forgot for dinner and he gets it in 15 minutes, that's it, you want it."