At E3, video gaming's bigots have lost
Dave Lee
North America technology reporter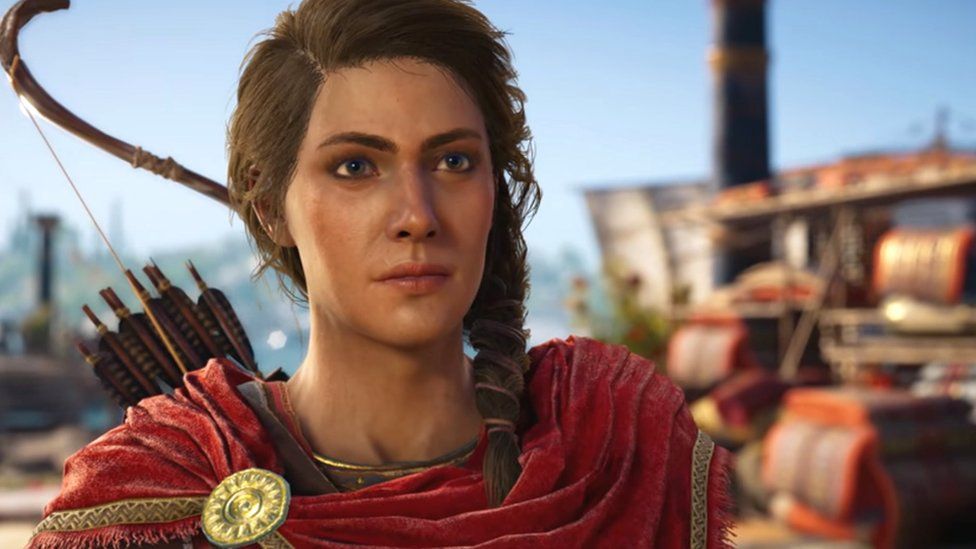 Four years ago a row hit the games industry like an atomic bomb.
The treatment of women, within both the industry and the games themselves, was being scrutinised like never before. And, as journalists predicted that "gamers are over", an angry, and at times vicious, movement emerged: Gamergate.
Supporters of Gamergate would say it was about "ethics in games journalism". But it was quite openly more often than not about something else: women, minorities and hatred of so-called "social justice warriors" - the "SJWs" - as if social justice was something to be avoided.
It was a row that would go on to consume lives and careers, creating celebrities of likes of Milo Yiannopoulos as it went. In many respects, Gamergate was a dress rehearsal for what we refer to today as the alt-right.
I'd been at E3 in June 2014, just before Gamergate really took hold. And in summing up that year's show, I concluded that the industry still had a problem with women, despite a new momentum and demands for progress. The show's lowest moment was in learning that that year's new Assassin's Creed game would have four playable characters - all of them male.
The following year - 2015 - I went back to E3. I was curious to see how the industry would react. Yet despite the fire and fury online, it felt as if absolutely nothing had changed.
I wondered - what were the games companies doing? Were they afraid? Were they conflicted?
Had they even been listening?
A friend in the gaming industry took issue with my view. "Games take time," he told me. "Let's see where we are in a few years."
E3 2018, and I'm standing in a makeshift wooden town hall, erected by Sony for its bombastic PlayStation showcase event.
Sony's biggest franchise is The Last of Us, a PlayStation exclusive, and a title that many consider to be the finest video game ever made.
In the original you play Joel. He's escorting Ellie, a teenage girl, through the game.
In the new game, The Last of Us Part 2, Ellie is the lead. And as the trailer commences, we see her dancing slowly with a woman, her girlfriend, and they exchange a passionate kiss. The crowd cheered - not like excitable schoolboys seeing two girls make out, but like adults who had followed Ellie's story and cared about the outcome.
"I think they were trying to make it clear to people that this is what they're about," said Julian Rizzo-Smith, a gay games journalist from Australia, whom I bumped into after the event.
"I think it was really setting a benchmark for what their future plans are. It's a perfectly fine reflection of society. If you have a problem that it's the biggest game of the show, that's on you."
Sony doesn't stand alone in this. Microsoft, with its Xbox, also used one of its biggest titles this year - Gears 5 - to make a statement. For the first time in the franchise the lead character will be a woman, the ferocious Kait.
"It felt like a natural way to pivot the franchise a little bit," said developer Rod Fergusson, speaking to Wired magazine. "And allow you to actually play the true hero of the story."
Predictably, the decision raised some ire from certain corners of the gaming community.
"It's amazing that Microsoft and The Coalition decided to take the most testosterone-driven, male-centric third-person shooter brand on the market and still find some way to inject it with third-wave feminism," wrote the One Angry Gamer blog, decrying the "diversity agenda" in games.
Across town, at an event hosted by EA, there's a line of people baking under the LA sun in the hope of getting a chance to play Battlefield 5. For the first time, players will be able to play as a woman in that.
When news of the new game was published online, a backlash ensued, with some fans left incensed that adding women into the game would not be historically accurate. A hashtag, #notmybattlefield, was born.
The makers of the game were pretty unequivocal in their response: we don't care what they think.
"I think there's a part of the community that believes that this game has been about historical accuracy, but it has never been about that," said Oskar Gabrielson, general manager at game studio Dice, speaking to my colleague Cody Godwin.
"It's a bit disheartening that we're in 2018 and we have this kind of conversation about females in games."
The threat of boycotts is not of concern, Mr Gabrielson told me later. The gaming industry, with its more than two billion players, is more than big enough to handle an online campaign calling for the game to be avoided.
Among those lining up to play the game, we see no signs of the discontent that had been expressed online. "Just play it and suck it up," suggested one young woman.
'No matter where you come from'
On the E3 show floor, the only women I see in skimpy outfits are fans who have decided to dress as characters - not models paid to attract men to a booth. Opening this show up to the general public, as they did for the first time last year, has made the clientele at E3 look a lot more like the gaming community in the US where women make up 45% of players.
Female leads are everywhere on the show floor this year - including the original female lead, Tomb Raider's Lara Croft, who has been far more realistically-proportioned of late.
The new title is playable here, and as you load up the game, the developers display a short passage of text.
"Shadow of the Tomb Raider was created by a diverse and talented team comprised of multiple genders, backgrounds, ethnicities, religious beliefs, and personalities," it reads.
"No matter where you come from or who you are, allow us to be the first to say: Welcome to Shadow of the Tomb Raider."
Four years ago, the games industry was at a crossroads. It could have doubled down on what it knew best - macho tough guys blasting the heck out of each other - avoiding threats of boycott and accusations of giving in to the "social justice warriors".
But instead, it took a path that has led to where we are today, with bold moves to add strong female characters front and centre in the line-up. Even Assassin's Creed, which had that foul-up in 2014, has made amends - you can now choose to play as man or woman from the outset.
What's of note here is that these games have moved beyond tokenism, with publishers instead taking the view that angering a small section of the gaming community is a price worth paying in order to better reflect the rest.
Checking in with what's left of the Gamergate movement these days finds little discussion about "ethics in games journalism".
As I type this, topics on one of the movement's most popular forums revolves around anger over the imprisonment of former English Defence League leader Tommy Robinson, female Wikipedia editors, and how the left has supposedly infiltrated the games industry (and, by extension, everything else too).
What were once referred to as the "thinly-veiled" elements of Gamergate are now fully visible.
But it no longer matters. As I leave Los Angeles, with another E3 behind us, it's clear that the Gamergate way of thinking has lost. The industry has stepped up - and video games will be all the better for it.
Do you have more information about this or any other technology story? You can reach Dave directly and securely through encrypted messaging app Signal on: +1 (628) 400-7370