Bithumb: Hackers 'rob crypto-exchange of $32m'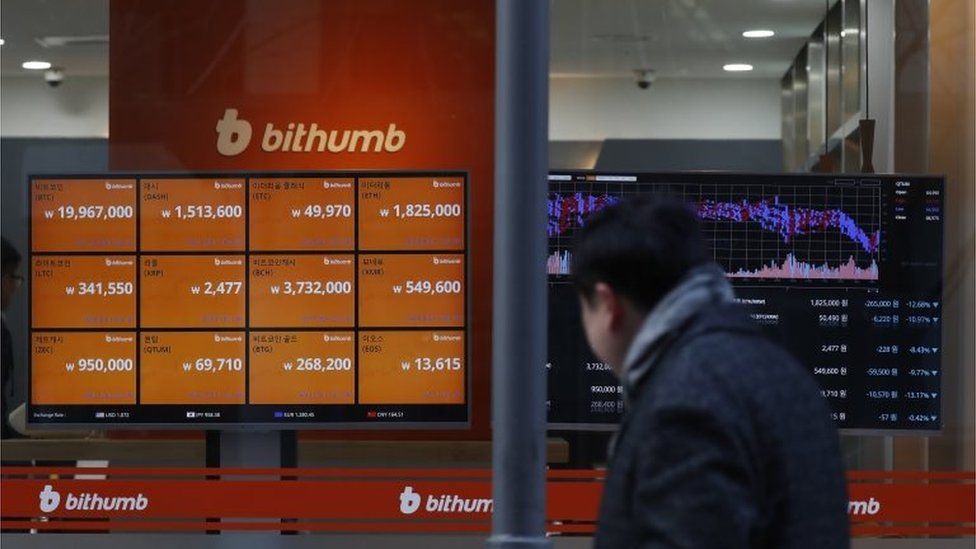 A leading crypto-coin exchange has halted trade after declaring that hackers had stolen some of the digital currencies it stored.
Seoul-based Bithumb said that 35bn won (£24m; $31.6m) worth of cyber-cash had been "seized" overnight, adding that it would fully compensate affected customers.
The values of Bitcoin, Ethereum and Ripple all fell on the news.
It is the second time in less than a year that Bithumb has been breached.
South Korea's spy agency later accused North Korea of being responsible after the stolen information was used to carry out scams.
Bithumb notified a local regulator - the Korea Internet and Security Agency - of the latest attack, shortly before alerting the public via social media.
"All deposit and withdrawal services will be stopped to make sure [of our] security... We are providing compensation... Bithumb urgently asks our valuable customers not to deposit any funds into Bithumb wallet addresses for the time being."
The firm provided a Google-shortened link with further information, but it appears to have been blocked by the search firm for unspecified reasons.
However, it is unclear whether this is linked to the reported theft.
At the time of writing, one bitcoin was trading at $6,626.19 (£5,035) - representing a 1.4% drop from its level before news of the heist spread.
Related Internet Links
The BBC is not responsible for the content of external sites.