Google's robot caller in first public trial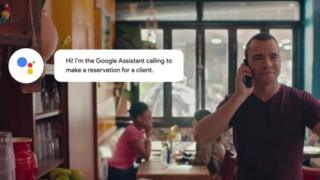 Google's robotic calling service, which can speak to humans to make a reservation or appointment, is to get its first small-scale public trial.
A few businesses will be receiving calls from the system in the next few weeks, the company said.
Google would not be more specific about how many firms would be involved.
First shown at the tech giant's developers' conference in May, Duplex has become one of the most talked about demos of the year so far.
At that event, we heard the robot voice book a table at a restaurant by calling it up, speaking to a human member of staff, and confirming the details.
What startled people was that the voice, while synthesised, was incredibly lifelike - even adding its own "uh-huh" and "mm" to the flow of conversation.
Indeed, the recipient of the call may have no idea they are talking to a robot. That's kind of the point, but that didn't stop an enormous debate about the rights and wrongs of such an exchange.
There was also cynicism about the demo itself. We were played two recordings, both of which worked very well. But how many attempts did it take to achieve the flawless examples? How could we know it actually worked in real life?
On Tuesday, at a hummus restaurant in Mountain View, the Silicon Valley town that surrounds Google's campus, I heard Duplex in live action for the first time.
Human helper
Oren Dobronsky, the restaurant's owner, picks up the phone and we listen in.
"Hi - I'm calling to make a reservation," the voice, a woman, begins. "I'm Google's automated booking service, so I'll record the call…"
And so it goes, back and forth - and before long, Oren has the reservation in place. Five people, 20:00, under the name of Valerie.
"You don't feel that you're speaking to a robot," Mr Dobronsky says afterwards.
Immediately noticeable is that Duplex now clearly identifies itself as an automated system, and says it will record the call - a line that stops it falling foul of California's two-party consent law for monitoring phone calls.
At this point, the recipient of the call has the option to say "I don't want to be recorded" - or words to that effect - and the system will hang up.
Moments later, a human operator working at one of Google's locations will ring back and make the booking on the user's behalf, and then opt out the business from receiving calls from Google Duplex in the future.
As well as stepping in when someone doesn't want to be recorded, the human operator will also interrupt the call if the automated voice gets confused. At the moment, that's roughly one in every five calls, Google says - a level of intervention that, at scale, would be a huge strain on its resources.
The AI will need to get better if it's to be something rolled out to Google users across the US and eventually beyond.
After Oren's go, journalists were offered a chance to handle a call with Duplex. Naturally, we all made an effort to break it.
Seung Lee, from the San Jose Mercury News, went through with the reservation before suddenly saying he'd made a mistake and there wasn't actually a table after all. This floored Duplex, and the human operator picked up to finish the job.
For my turn, when Duplex asked me to make a reservation for a group of three, I curtly told it to go away as we only make bookings for four or more.
Without missing a beat, the voice replied: "Oh, OK, cool. In that case, what's the wait time?"
Unfortunately, Google didn't allow the BBC to record any of the calls. The company had promised the BBC it would record the calls and provide the audio afterwards so it could be aired, but several hours after the event a spokesman said the company wouldn't be doing that after all.
Instead, it was suggested we air Google's promotional video to show the "full context". With trust and transparency being two major hurdles facing widespread adoption and acceptance of AI, this over-controlling approach is arguably very short-sighted.
Nifty tricks
This kind of technology is often deeply divisive, for several reasons.
One, there's apprehension about diving into a roboticised world where machines may soon outsmart us.
Second, we wonder: do we want to live in a world where people can't even be bothered to make a two-minute phone call to book a haircut?
"If for some reason the business doesn't want to receive those appointments they can bow out," explained Scott Huffman, head of engineering for Google Assistant.
"Really what you see is that people in these situations... they want to get their appointment made, or whatever it is, and kind of get off the phone."
Google believes there are several use cases that justify the existence of Duplex.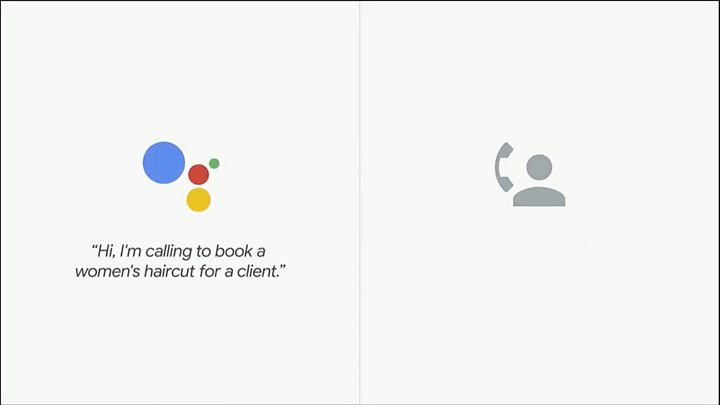 The company points out that not everyone can make phone calls, for accessibility reasons. It also suggests the possibility that you could one day use Duplex to ring up and book a table at a restaurant… even if you don't speak the local language. A nifty trick to avoid tourist hotspots if you're far from home.
But let's be real. What this technology really provides is yet another way for Google to automate the collection of useful data that isn't captured by its existing methods.
In the public trial it announced on Tuesday, the "small selection" of users will be able to use Duplex for the simple of task of finding out if a restaurant is open or not during weekends or public holidays.
Right now, Google's data set on this is patchy - Google Maps will show a message warning users that it may not have the right information. Once someone prompts a Duplex call to find out, whatever answer the system receives from the human will instantly be placed into Google's database, viewable to all.
Google sees that as a win-win. It gets up-to-date information - without any legwork or expense on its part - and the restaurant, in theory, only takes one "are you open tomorrow?" call._______
Follow Dave Lee on Twitter @DaveLeeBBC
Do you have more information about this or any other technology story? You can reach Dave directly and securely through encrypted messaging app Signal on: +1 (628) 400-7370