Deepmind co-founder Shane Legg gives London teen top AI tips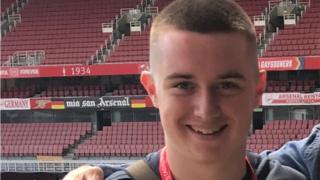 A teenager from London has been given some extra homework for the school holidays by the co-founder of Artificial Intelligence firm DeepMind.
Aron Chase, 17, tweeted Shane Legg looking for five top tips on how to succeed in the burgeoning field of AI.
Dr Legg replied with some very specific advice, including brushing up on linear algebra.
Some AI scientists command six-figure salaries because of the current shortage of experts in the field.
In response to the tweet, the Deepmind chief scientist and co-founder said Aron needed to learn:
linear algebra well (eg matrix maths)
calculus to an OK level (not advanced stuff)
probability theory and stats to a good level
theoretical computer science basics
to code well in Python and ok in C++
DeepMind, a sister company to Google, is considered by many to be at the cutting-edge of AI research. Algorithms developed at the London-based firm have accomplished a variety of tasks, including beating humans at the complex game of Go, and detecting cancers.
According to the New York Times, its AI scientists are paid an average of $345,000 (£265,000) a year, something not confirmed by the firm itself.
There is currently a shortage of AI experts, as tech firms around the globe vie to snap up talent.
According to research from start-up Element AI, there are around 22,000 PhD researchers working on AI topics around the world, of which about 3,000 were currently looking for work. It also found that there was a subset of 5,000 people at the heart of AI research, who are publishing papers on the topic.
The big question is - will Mr Chase be using the advice?
"Oh yes, for sure. I will definitely follow it and aim to learn all of it by this time next year," he told the BBC.
Mr Chase is currently studying ICT (Information and Communication Technology) at a sixth-form college but said he would consider a university course specialising in AI or, even better, an apprenticeship at an AI firm.
"Elon Musk has said that college degrees aren't as good as getting hands-on experience," he told the BBC.
So will he be tweeting Mr Musk, who has expressed concerns that AI technology could destroy humans in the future, looking for a job?
"Oh yeah, that would be awesome," he said.