Ford brings 'exosuits' to workers in 15 factories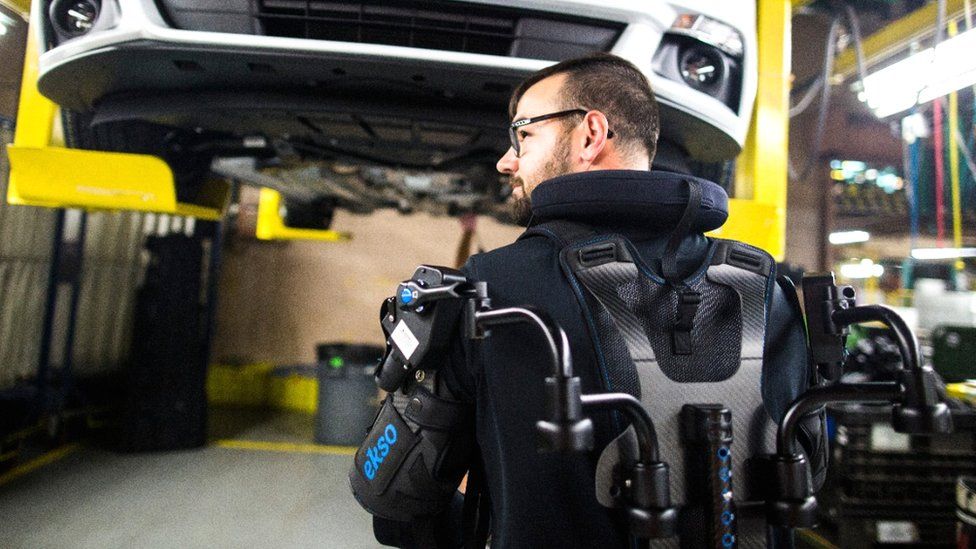 Carmaker Ford is in the process of giving mechanical "exosuits" to 75 workers at 15 of its factories globally, following successful trials of the technology.
The devices, called EksoVests, wrap around the upper body and assist when lifting or reaching overhead.
It is hoped the suits will lower injuries from repetitive motion.
One industry watcher said it was a significant increase in the use of exosuits in the workplace.
Now the auto giant is bringing the technology to several more locations across seven countries: the US, Canada, Mexico, Brazil, Romania, China and Thailand.
Ford and Ekso say workers' physical activity is comparable to a person lifting a bag of flour or a watermelon above their head 4,600 times a day.
To help reduce the strain, the exosuits provide support to workers' arms as they reach up to perform manual tasks on car bodies and parts suspended above their heads, for example to screw bolts into place with power tools.
They are not powered or controlled by an onboard computer, but instead offer passive mechanical assistance to the wearer.
EksoVests fit workers between 5ft 2in and 6ft 4in tall (1.57m to 1.93m) and offer lift assistance for loads of between 5lb and 15lb per arm (2.3kg to 6.8kg).
"I don't want the EksoVest to ever leave," said Nick Gotts, an EksoVest user who works at Ford's Flat Rock plant in Michigan, one of the first facilities to incorporate the technology.
"Any job that's overhead, I wouldn't work without it."
Ford's rollout of the technology was the largest adoption of exosuits by a company yet, said long-time industry analyst Dan Kara, at The Robot Report.
"Everything that I've heard behind the scenes says that it's all very positive," he told the BBC.
"These [exosuits] are acting like an intermediary between a human doing something and a full-on robotic solution."
Mr Kara emphasised that the benefits, including reduced worker injuries and higher employee satisfaction, were easy to measure, which has encouraged manufacturing companies and others to push forward with the technology.
In a press release, Ford noted that the 2018 injury incident rate was currently one of the lowest on record.