BBC websites blocked in China after security change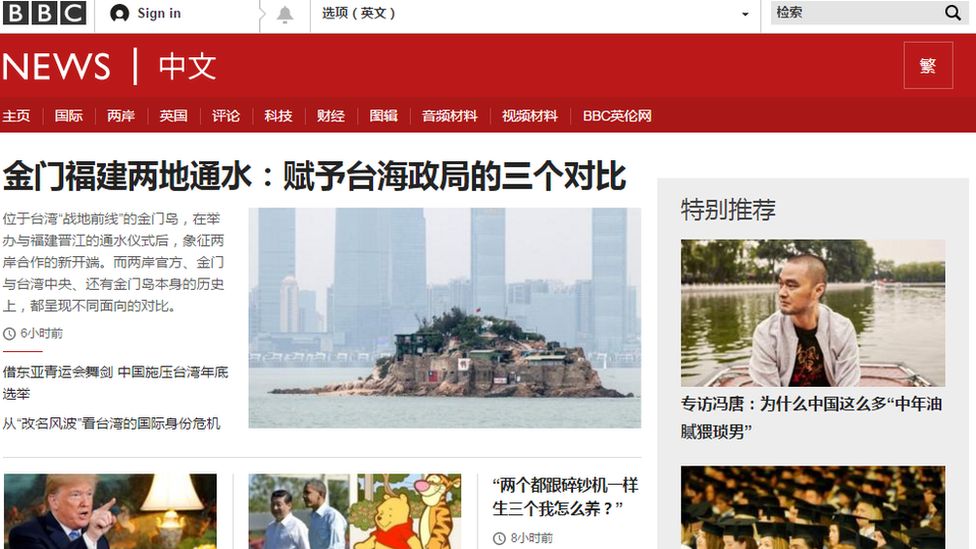 The BBC's web services are all currently blocked in China, following a decision by the corporation to change the website's format.
It has altered all of its addresses from beginning "HTTP" to "HTTPS", which is widely considered to be a more secure connection but is routinely blocked in China.
In a statement, the BBC recommended the use of either a virtual private network (VPN) or the Psiphon app.
Both of these can circumvent the block.
In a recent blog post, James Donohue, principal software engineer in BBC News, explained why the website had made the transition and why BBC pages now had a green padlock next to the address on the top left hand side.
"In a climate of anxiety around fake news, it's vital that users are able to determine that articles have not been tampered with and that their browsing history is private to them," he wrote.
"HTTPS achieves both of these as it makes it far more difficult for ISPs [internet service providers] to track which articles and videos you're looking at or selectively suppress individual pieces of content.
"We've seen cases outside the UK, with some of our World Service sites where foreign governments have tried to do this."
Many people use VPNs in China despite government crackdowns and bans on unlicensed networks.
VPNs disguise the location of a device, meaning that it can access online content that may be banned in the region where it physically is.
The BBC said that its audience in China had not had official access to its online content for about a week.
"We regret this loss of service," said a representative.
"We continue to work with local service providers so that specific BBC content can be made directly available to our audience in China.
"The last time BBC services were blocked to this extent in China was in 2014 and we call on all parties to observe the UN Declaration of Human Rights, article 19."
Article 19 states that everybody has the right to freedom of opinion and expression and the right to receive and impart information.