Twitter will not ban InfoWars conspiracy theorist Alex Jones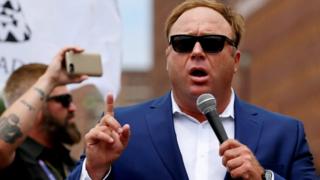 The CEO of Twitter says it will not ban InfoWars or its founder Alex Jones because their accounts do not violate the social media platform's rules.
A number of tech giants, including YouTube and Facebook, deleted the right-wing conspiracy theorist's content this week, citing hate speech.
Mr Jones has accused the platforms of unfair censorship of his accounts.
The radio host is best known for spreading unsubstantiated allegations about tragic events, including 9/11.
He is currently being sued for defamation by the parents of two children killed in the 2012 Sandy Hook Elementary School shooting, which he has repeatedly claimed was a "giant hoax". Twenty children under the age of seven and six adults died in the attack.
In a series of tweets on Tuesday, Twitter CEO and co-founder Jack Dorsey explained the platform's decision, confirming it would not be following in the footsteps of others like Apple and Spotify and removing Mr Jones' and InfoWars' content.
Mr Dorsey said the accounts had not violated the platform's rules, but vowed to suspend them if they ever did so.
In his explanation, Mr Dorsey said it would be wrong to "succumb and simply react to outside pressure" instead of sticking to the company's codified principles.
He also implied one-off actions risked fuelling new conspiracy theories in the long-run, and said it was critical for journalists to "document, validate and refute" unsubstantiated rumours like the ones spread by Mr Jones "so people can form their own opinions".
What has Jones said on Twitter?
Mr Jones mostly uses his Twitter account to share content and videos from InfoWars with his 850,000 followers, and promotes conspiracy theories against liberals, Muslims and migrants.
In July, he said that Democrats planned to launch a civil war on 4 July or US Independence Day
Last year, he tweeted that Muslims in England were demanding that the Queen either convert to Islam or leave the country. However, the CNN clip Infowars based its article on dates back to 2009 and features a group led by radical preacher Anjem Choudary, who by 2017 was already serving a five-and-a-half-year sentence for inviting support for the Islamic State group (IS)
He has previously said that "transgenderism" is a CIA "plan to depopulate humanity" and that the normalisation of mental illness is an "evil paedophile plot to sexualise and destroy children"
In 2013, he described then President Barack Obama as the "global head of al-Qaeda", and later accused him of arming IS
Some users replied angrily to the Twitter CEO's tweets, accusing the platform of ignoring hate speech and labelling his explanation a "cop out".
Mr Dorsey expanded on his original messages after receiving the criticism. He wrote in a series of tweets on Wednesday afternoon that the platform must build new tools to support journalists, who he described as "one of the most important constituencies we serve".
Several right-wing commentators have suggested the ability of tech firms to block a publisher poses a challenge to free speech laws in the US.
On Monday, Donald Trump Jnr implied the actions against Jones were part of a larger censorship campaign to purge conservative media outlets.
The InfoWars app has seen a surge in popularity since Mr Jones' content was taken down from YouTube and Facebook, rising to number 4 in the news category in Apple's App Store.
Jones has called the removal of his content part of an international conspiracy against him, which he says amounts to "election meddling" ahead of the US mid-term elections later this year.
This is not the first time Twitter has faced similar controversy.
Last year it suspended its verification system after being accused of amplifying the content of far-right accounts with official "blue ticks".
In Tuesday's tweets Mr Dorsey admitted the platform had been "terrible at explaining our decisions in the past" but said it was committed to fixing itself.
A number of well-known far-right figures including Tommy Robinson have been banned from Twitter in recent months as part of a wider crackdown on hateful and abusive content on the platform.
Earlier this year, Twitter's tCEO asked for the public's help with tackling online abuse.