Drones hunt cocaine farms in Colombia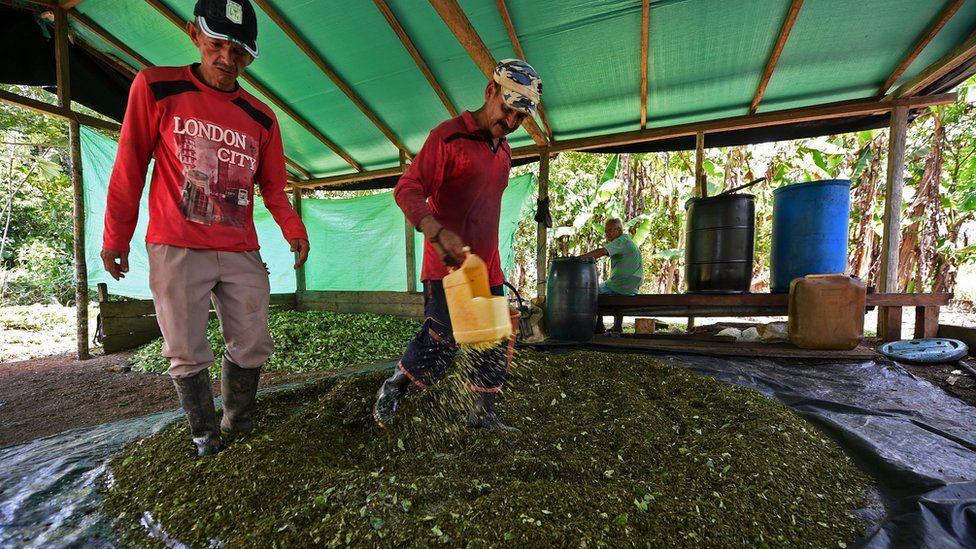 The Colombian government has started to use drones to destroy the plants that produce cocaine.
Small aircraft loaded with herbicide are being sent to search for illegal fields of coca.
President Iván Duque has favoured the use of the unmanned aircraft to ensure that damage to neighbouring crops is kept to a minimum.
Critics have warned that the approach may be a technological fix to a problem that needs a political solution.
German Huertas, the drone company's director of operations, said the drones had eliminated about 90% of the coca on each acre (0.4 hectare) targeted during tests in the country's Narino province.
The trial has involved the deployment of 10 drones, each weighing 23kg (51lb) and carrying the plant-killing chemical glyphosate.
The measures form part of President Duque's push to eradicate cocaine production in Colombia.
At the time, ONDCP deputy director Jim Carroll said: "President Trump's message to Colombia is clear: the record growth in cocaine production must be reversed."
A report from the United Nations (UN) and the WHO in 2016 went against this finding, concluding that glyphosate was "unlikely to pose a carcinogenic risk to humans from exposure through the diet".
"Political ramifications"
The unmanned nature of the drones means confrontations with farmers are unlikely to pose a danger to operating crews, while their size means they can manoeuvre close to the ground to identify illegal crops.
Experts have urged caution, however, about relying on technology to fix a problem with deep social roots. Writing for the Brookings Institution think tank, foreign policy expert Vanda Felbab-Brown says targeting with drones "does not avoid the vast political ramifications of forced eradication".
She calls on the Colombian government to invest in alternative livelihoods for those involved in coca cultivation.
"It's a short-term solution," says Richard Lapper, associate fellow in the US and Americas programme at the Chatham House think tank. "Ultimately, there's a lot of international demand for cocaine."