Gamescom: The seven biggest announcements at the show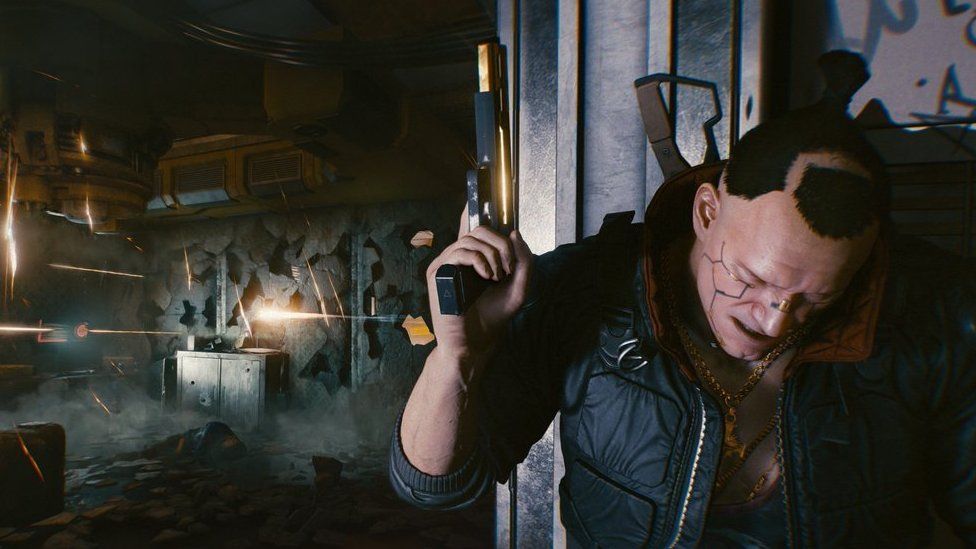 Cyberpunk dystopias and one-armed ninjas are among the highlights from this year's Gamescom games fair, which opened on Tuesday in Cologne.
The biggest show of its kind in Europe, Gamescom attracts thousands of visitors to see the latest games every year.
Next-generation graphics were teased by Nvidia, while a full Xbox One release for the popular shooter PlayerUnknown's Battlegrounds (PUBG) was announced.
The latest game from the creator of Dark Souls was also revealed.
Nvidia graphics cards illuminate a new generation of games
It may sound like the name of a fictional detective, but ray tracing is the technology at the heart of Nvidia's forthcoming graphics cards - the Turing RTX 2080 and RTX 2080 Ti.
Ray tracing enables a more complex modelling of light than current techniques, rendering reflections, refractions and shadows in real time for more realistic visuals.
Ray tracing is already used in the film industry, by companies including Pixar and Dreamworks, but Nvidia's graphics cards will be the first to bring it into people's homes for playing video games.
Nvidia CEO Jensen Huang called the technology "the single greatest leap that we have ever made in one generation," but some experts have noted the lack of performance benchmarks against other graphics cards.
"Not every game will support the technology immediately, but it's a tantalising glimpse of what's to come," says Jon Porter, a writer for consumer technology site Trusted Reviews.
Full Xbox One release for PUBG
PUBG will get a full Xbox One release in a fortnight.
During Microsoft's Inside Xbox presentation from Gamescom, it was announced that the game will leave the console's Game Preview program on 4 September.
PUBG left Steam's Early Access program in December. While it has been continually updated in the months since, the development team has admitted the game's instability, launching the 'Fix PUBG' campaign.
A number of Twitter users have questioned whether the developers can fix PUBG's bugs within the two weeks before the full Xbox One release.
@PrincessxSalty official release date Sept 4th, somehow I still don't think the game will be running smooth in a few weeks 😂

— Tripski (@TripleSmithsta) August 21, 2018
Oh cool, are they going to actually fix the game too, or is that still a pipe dream?

— Chris Arrowood. (@ChrisAArrowood) August 21, 2018
Cyberpunk travels forward 57 years
CD Projekt Red, the studio behind the critically acclaimed Witcher series of games, is swapping dark medieval fantasies for neon-lit dystopias with Cyberpunk 2077.
At Gamescom, the studio revealed a number of new screenshots from the game.
"With no release date yet announced for the game, there's a growing suspicion that it might be some time away, perhaps to coincide with a new generation of consoles," says Mr Porter.
Cyberpunk 2077 is inspired by the tabletop role-playing game Cyberpunk 2020, with action centred around a fictional metropolis in California called Night City.
Players will take the role of a mercenary called V, and have to contend with a world controlled by corporations where human augmentation is commonplace.
Hunt samurai in 16th Century Japan
The new game from Dark Souls and Bloodborne creator Hidetaka Miyazaki will be set in 16th Century Japan, and follows a ninja taking revenge on a clan that cut off his arm.
At Gamescom, Seriko: Shadows Die Twice was given a release date - 22 March 2019 - and attendees have been able to play a section of the game.
Developed by From Software, Seriko looks to be a departure from the studio's previous role-playing games, with no multiplayer and a story that centres on a specific character. In Dark Souls and Bloodborne, players are able to create their own characters.
Shenmue 3 continues the cult story of Ryo Hazuki
The next entry in the cult Shenmue series received a trailer and release date during an announcement by publisher Deep Silver.
Planned for release in August 2019, Shenmue 3 is due to arrive nearly 18 years after Shenmue 2 was released.
The game will follow its teenage protagonist Ryo Hazuki as he searches for his father's killer in China.
The game was partly crowdfunded by a Kickstarter campaign in 2015, and is the highest-funded video game on the platform, although the project has met with a number of delays.
Create an industrial empire in Anno 1800
The new entry in the long-running Anno strategy series will let players chart their own industrial revolution.
Anno 1800 will be set in the 19th Century, and involves building a city from humble beginnings into a bustling metropolis.
Players will be tasked with creating a functioning, productive society - although they can also choose to create a smog-choked dystopia, with a brutal police force that suppresses striking workers.
Colonialism will be a key aspect to the game, with later stages of the game involving the discovery of South America.
Be afraid, be very afraid in Dark Pictures
UK studio Supermassive Games announced a new series of horror games at Gamescom, called The Dark Pictures Anthology.
The series will encompass a number of standalone games. The first will be called Man of Medan, and is due to be released in 2019.
The company's chief executive Pete Samuels said "your decisions, your reactions to horror thrown at you, will determine who will and who won't survive".
Man of Medan will involve players swapping between four American tourists during a summer cruise. Things do not go according to plan, presumably.