Facebook and Twitter remove accounts linked to Russia and Iran campaigns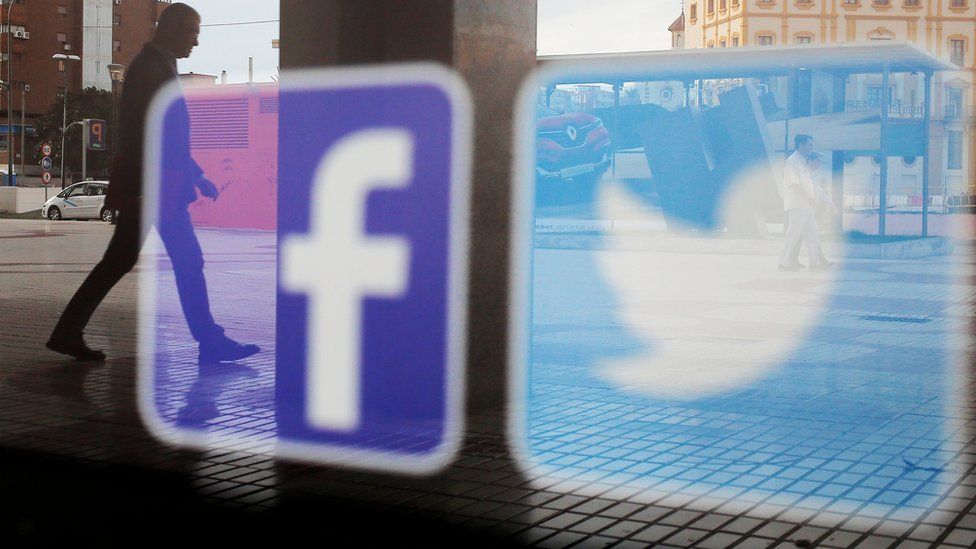 Facebook and Twitter say they have suspended or removed accounts linked to Iran and Russia over "inauthentic" or "manipulating" behaviour.
More than 650 Facebook pages and groups were said to have been identified as "misleading", according to founder and chief executive Mark Zuckerberg.
Meanwhile Twitter said it suspended 284 accounts with apparent links to Iran.
It comes a day after Microsoft said it had thwarted Russian cyber-attacks against US conservative groups.
"We ban this kind of behaviour because we want people to be able to trust the connections they make," the company said in a statement.
Although the investigation was still in progress, the social media network added, the campaign appeared to be targeting people across multiple internet services in the Middle East, Latin America, the UK and the US.
How were accounts traced?
The social media companies acted on a tip from cyber security firm FireEye, which revealed what it said were a number of accounts promoting Iranian propaganda.
Facebook then reportedly linked the accounts - including 76 Instagram pages - to Iranian state media, according to the company statement.
It added that further "misleading behaviour" was also traced to Russia, but that the activity did not appear to be linked to the Iranian campaign it had uncovered.
Some of the campaigns, which date back to 2011, featured content about Middle East politics in Arabic and Farsi. The accounts also shared content about politics in the UK and the US in English, Facebook said.
Other accounts that linked to sources previously identified by the US government as Russian military intelligence services were also removed from the site.
The company added that it had shared the findings of its investigations with the US and UK governments.
Twitter, meanwhile, said its analysis of numerous accounts pointed towards "co-ordinated manipulation".
However the software company said these attempts had been thwarted after its security staff won control of six net domains mimicking their websites.
Microsoft said the Fancy Bear hacking group had been behind the attacks.
Microsoft's action comes a month after the US charged 12 Russian intelligence officers with hacking computer networks used by Hillary Clinton and the Democratic Party.