DJI Mavic 2 drones add obstacle sensors to all sides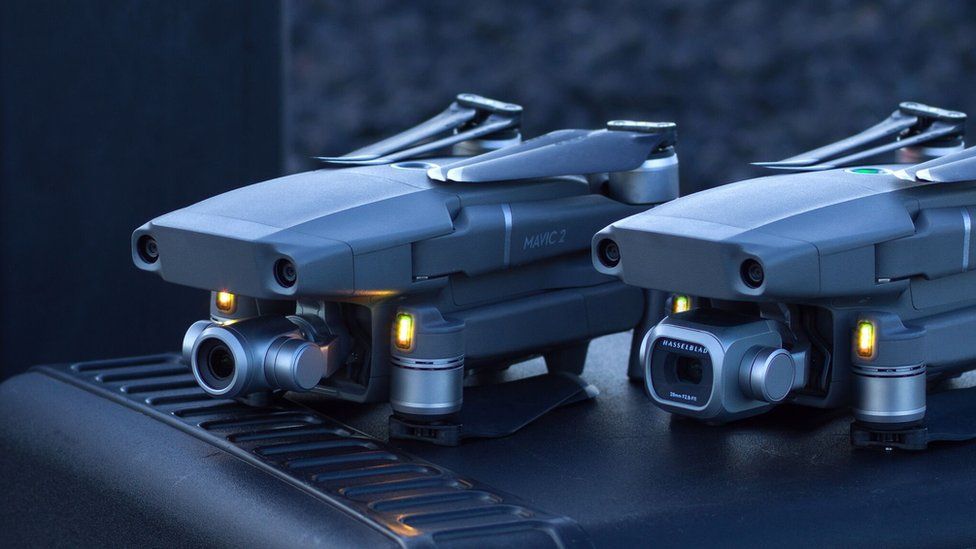 DJI has announced its first consumer drones to feature obstacle-detecting sensors on all sides of their bodies.
The Mavic 2 aircraft use 10 sensors to prevent collisions with objects above and below them, as well as threats in front or behind and to their left or right.
The foldable aircraft also offer improved cameras over their predecessors, including a zoom lens in one and better colour via the other.
The Chinese company had originally planned to launch the products in July and its decision to postpone came too late to prevent many of the details being printed in retailer Argos's catalogue.
It also faces competition from two other models whose rotor blades can also be tucked away when not in use - Yulee's Mantis Q and Parrot's Naïf.
However, GoPro announced earlier this year that it would not sell a successor to its foldable Karma drone, which competed with the original Mavic models.
Shenzhen-based DJI has a 74% share of the global drone market, according to data released by the analysis company Skylogic earlier this month.
But it still faces a challenge in growing the overall size of the market.
"Airspace restrictions are the number one complaint that people have about their drones," commented Skylogic's chief executive Colin Snow.
"But in the US we are making improvements - the aviation authorities understand the issue."
And although the additional obstacle sensors are unlikely to dissuade politicians from introducing such measures, they demonstrate that DJI is mindful of their concerns.
DJI says the algorithms it uses to make the aircraft adjust their flight path to move around obstacles have been improved and the drones now automatically turn on an underside lamp to aid landings in low light.
It acknowledges, however, that its "Omni-directional obstacle sensor" technology does not quite provide 360-degree coverage nor does it work when the aircraft are flown at their maximum speed of 44km/h (27mph).
"The sensors should help put owners' minds at rest, especially new pilots who haven't got experience using a drone," said the film-maker Philip Bloom.
"But I don't think it will make a huge difference to regulatory bodies.
"And, personally, I don't use the feature much because most of my flying involves going between things and the system [kicks in] quite far away from objects."
Two models of the Mavic 2 have been announced.
A Zoom version - costing £1,099 - features a 2x optical zoom lens with the ability to get even closer to a subject via a digital effect,
This is used to offer a "dolly zoom" facility, which involves the camera zooming in while the drone flies backwards. This keeps the subject the same size even as the perspective changes to reveal a less wide view of the background.
A Pro version - costing £1,299 - lacks this function but instead uses a bigger image sensor housed in a camera co-developed by Swedish manufacturer Hasseblad, in which DJI bought a majority stake last year.
It uses 10-bit colour technology rather than the eight-bit files used in the original Pro, which gives owners much more scope to adjust their footage in edit.
"DJI has focused on the thing that matters the most - the imaging," Mr Snow told the BBC.
"They've packed in a huge amount of technology inside and leapfrogged everyone else."
"The image is stunningly beautiful," he said.
"There's better detail, better performance in low light, and the adjustable aperture gives you better control over exposure.
"The image now looks as good as DJI's Phantom 4 Pro, which is too big for me to take around everywhere."
Related Internet Links
The BBC is not responsible for the content of external sites.