Amazon warehouse staff defend retailer on Twitter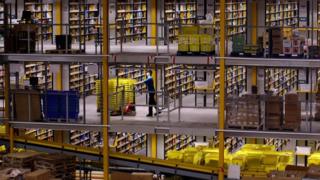 A small group of American Amazon employees is being paid to defend and promote the company on Twitter.
A total of 16 accounts have been found on Twitter, written by staff who have worked at the retailer's warehouses.
Called "FC ambassadors", the workers have most often responded to tweets critical of Amazon's working practices.
Amazon said the accounts were run by real people, not software bots created to automatically respond to unfavourable views.
Labour relations
"The most important thing is that they've been here long enough to honestly share the facts based on personal experience," said an Amazon spokesman.
"It's important that we do a good job of educating people about the actual environment inside our fulfilment centres, and the FC ambassador program is a big part of that," he added.
The BBC understands that workers who become FC ambassadors swap a job picking and packing orders for one that involves being a tour guide and online advocate. The role also involves some managerial duties.
The accounts have been created in the last few weeks and are most vocal when other people on Twitter criticise Amazon and the way it treats its employees.
Writing on TechCrunch, Devin Coldewey said the "ceaselessly upbeat" messages seemed to stem from a desire to improve public perceptions about working for Amazon.
"It's no secret, after all, that Amazon has an image problem when it comes to labour," he wrote.
In July, Amazon warehouse staff in Germany, Spain and Poland staged a strike in a bid to improve their working conditions. In the UK, it has been sued by unions in a bid to improve wages and rewards for delivery staff. The retailer has also been criticised regularly over conditions in its warehouses.
The messages most often respond to comments about the monotony of warehouse work, pay and conditions, management relations and bathroom breaks.
Mr Coldewey questioned how free the ambassadors were to express their own opinions, given that many of the messages shared similar syntax and punctuation.
"These accounts are equally certainly not the grassroots advocacy they seem to be," he wrote.
Soon after news of the existence of the group became widely known, many people added the title of "FC ambassador" to their Twitter bio. Many wrote tweets parodying and mocking the tone of the messages sent by the Amazon staff.