3D-printed gun blueprints ban extended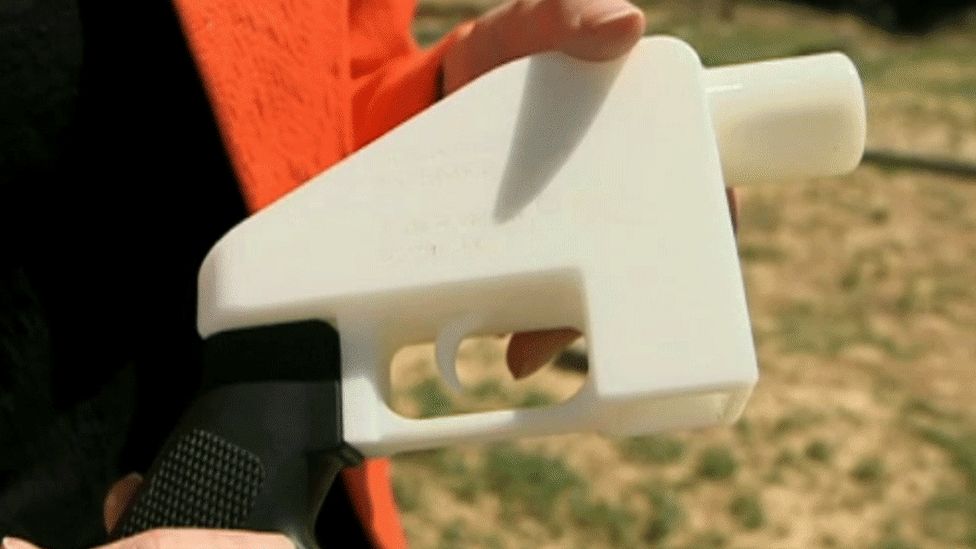 A ban on the online distribution of 3D printed gun blueprints has been extended by a US federal judge.
The temporary block was due to expire on Tuesday but US district judge Robert Lasnik ruled that publishing the files could cause "irreparable harm".
More than a dozen states sued the government in July after it said that the gun-building instructions could go back on the web.
The group behind the weapons said it was considering its options.
Defense Distributed has fought a lengthy battle with the US government over the distribution of the technical data to allow the building of 3D-printed guns.
The blueprints were originally made available five years ago but the group was ordered to take them down a few weeks later.
It joined forces with the Second Amendment Foundation (SAF) - set up in 1974 to defend the right to own guns - to sue the US government over the clampdown.
In a surprise decision in July, the US Justice Department ruled that the blueprints could go back online because they did not pose a national security risk as the types of guns featured on the website could be bought "in any store".
Welcoming the U-turn, Defense Distributed initially said that it would put the files back online on 1 August but actually did so a few days earlier. The files were downloaded thousands of times before the temporary ban took effect and still remain available on several other websites.
Cody Wilson, the self-styled crypto-anarchist who founded Defense Distributed, said the decision to extent the ban was "an abridgement of the freedom of speech".
He had previously hailed the decision to allow the blueprints to be published, saying it was "the age of the downloadable gun".
Opponents of the technology the group has developed say that it would create ghost guns, weapons that are unregistered and therefore untraceable.
The files that were briefly made available again on Defense Distributed's website covered a range of firearms, including 3D-printable components that could make a version of the AR-15 semi-automatic assault rifle, a gun that has been used in US mass shootings.
Washington State Attorney General Bob Ferguson criticised the US government for allowing the blueprints back online.
"Why is the Trump administration working so hard to allow these untraceable, undetectable 3D-printed guns to be available to domestic abusers, felons and terrorists?" he asked.
Since the legal action began, Defense Distributed has been working on new gun designs and has also created a milling device - known as Ghost Gunner - that can turn parts purchased online into a fully working weapon.