Google bosses expected to snub Senate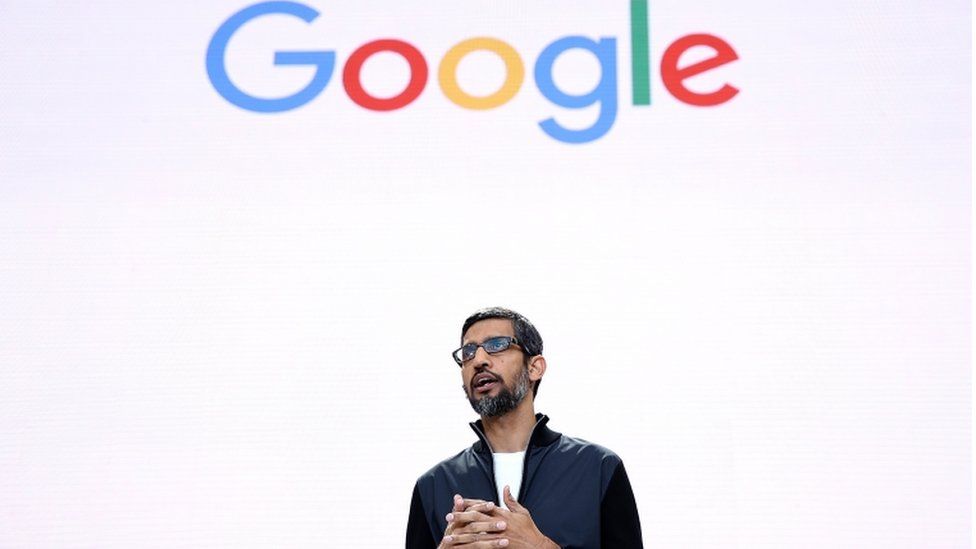 When Silicon Valley companies once again appear in front of the US Senate on Wednesday, there will be one major absentee: Google.
The Senate Intelligence Committee wanted to hear from Sundar Pichai, Google's chief executive, or his boss Larry Page, the chief executive of Google's parent firm, Alphabet.
Barring a dramatic, last-minute change of plan, the BBC understands neither will attend. It would mark the first time a technology firm has refused to comply with the wishes of Congress since the far-reaching inquiries into misinformation and meddling began in the wake of the 2016 election.
Google had instead hoped to send Kent Walker, one of its top lawyers. The offer was abruptly shut down by the committee. Its vice chairman, the Democratic Senator Mark Warner, said an empty chair would be left out to represent Google's non-appearance.
Eventually, senators may issue a subpoena, forcing an appearance under the threat of prosecution.
The hearing, scheduled to begin at 09:30 (13:30 GMT), is entitled "Foreign Influence Operations' Use of Social Media Platforms".
As well as Google, Twitter and Facebook have been called to appear.
@jack leaps to Twitter's defence
Twitter will be represented by its chief executive, Jack Dorsey, while Facebook is sending its chief operating officer, Sheryl Sandberg. It will be the first time either executive has faced a congressional committee.
Mr Dorsey will also appear, alone, in a hearing on Wednesday afternoon looking specifically at transparency on his platform. He is expected to strongly oppose the suggestion that conservative voices are being silenced on Twitter – a growing claim from the US political right, one that has not been backed up with reliable data.
"For example, in 2017, there were 59.5 million tweets about Make America Great Again or MAGA. According to the Pew Research Center, people on Twitter used #MAGA an average of 205,238 times per day from Election Day 2016 through May 1, 2018. It was the third most Tweeted hashtag in 2017."
Where Mr Dorsey may come under fire, however, is over his decision not to ban conspiracy theorist Alex Jones from Twitter, instead giving him what was described as a "time out". It was later reported by the Wall Street Journal that Mr Dorsey had overruled staff who had decided to ban Mr Jones altogether – though Twitter later described that suggestion as "totally false".
In short, the question facing Mr Dorsey on Wednesday is to what extent his own politics and power influences how Twitter conducts itself.
Sandberg in the spotlight
Facebook's chief operating officer Sheryl Sandberg is sufficiently famous to satisfy the Senate's demand for a big company name at its hearing. It means chief executive Mark Zuckerberg, who appeared here in April, can sit this one out.
On Tuesday Ms Sandberg spent the day in private meetings with members of the Senate Intelligence Committee to discuss the issues. In Wednesday morning's hearing, Facebook will go over familiar territory - Ms Sandberg will try to draw attention to its expanding workforce, and share statistics showing its efforts to block millions of suspicious accounts automatically.
The company may also share details about its so-called "war room" – a division of specialists solely working on policing content that may be wrongly targeting US voters as they prepare to cast their votes.
Based on her testimony – released on Tuesday by Facebook – she will offer little new information to the Senate about the company's efforts, other than to update some statistics relating to the amount of content being removed.
But one important moment may arise when Ms Sandberg argues that Facebook needs more help to solve the crisis, turning the demand to "do more" back on the US government.
"The threat we face is not new," she is expected to say.
"America has always confronted attacks from opponents who wish to undermine our democracy. What is new are the tactics they use.
"That means it's going to take everyone - including industry, governments, and experts from civil society - working together to stay ahead."
This may be Ms Sandberg's first hearing, but she's no stranger to Washington politics. Before working at the social network she was chief of staff at the US Treasury.
A brewing crisis for Google
The affair risks becoming a public relations crisis for Google, which just last week was doing its best to bat back claims from President Donald Trump that it was censoring conservative news outlets in its search results. The White House did not provide any evidence to support the president's complaints, but the topic may well come up at Wednesday's hearing.
"I don't know if it's because [Page] wants to avoid being asked about those things or because they think they're so important and so powerful that they don't need to provide congressional testimony," said Republican Senator Marco Rubio, speaking to the Washington Post.
He also told the newspaper: "They should be careful with that. When a company gets too big to become accountable, they become a monopoly."
A looming threat of regulation
The question of new regulation designed to control the powers of technology companies has been a recurring theme since the firms first appeared here to talk about this issue, almost a year ago to the day.
Any regulation concocted in the wake of these hearings would likely end up being enforced by the US telecoms regulator, the Federal Communications Commission. Ahead of the hearings – which the FCC is not a part of – its chairman Ajit Pai criticised what he sees as a serious lack of transparency among the tech giants.
"And we need to seriously think about whether the time has come for these companies to abide by new transparency obligations.
"After all, just as is the case with respect to broadband providers, consumers need accurate information in order to make educated choices about whether and how to use these tech giants' platforms."
Also under scrutiny will be the ability of Congress to competently probe the tech bosses. During April's hearing with Mark Zuckerberg, many members were mocked for asking basic, easily-ducked questions of the Facebook chief executive.
Senator Warner has said he is hopeful questions this time round will be better. He suggested his colleagues on the committee had "done their homework".
Do you have more information about this or any other technology story? You can reach Dave directly and securely through encrypted messaging app Signal on: +1 (628) 400-7370