Argos launches 'voice shopping' with Google Home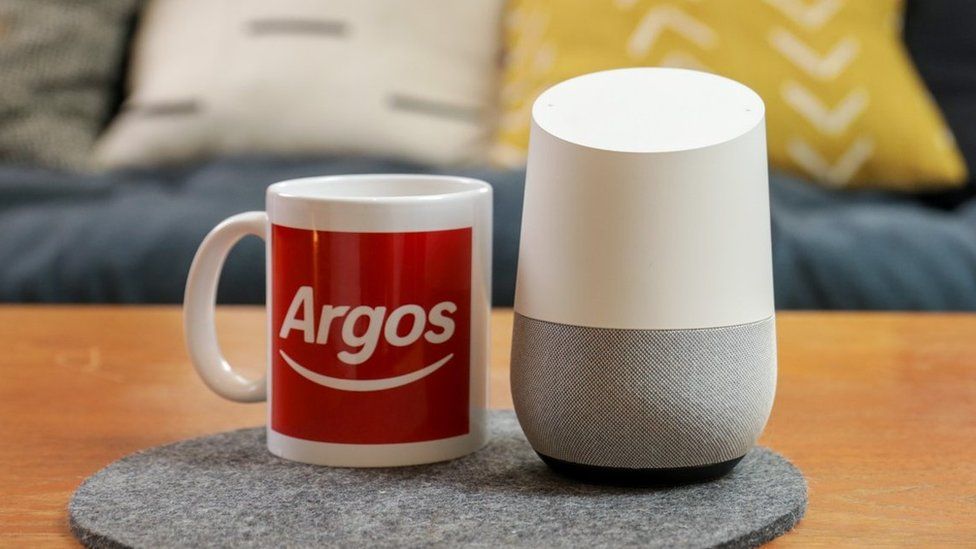 Catalogue retailer Argos has launched a "voice shopping" service to let people reserve products in a local store using a Google Home smart speaker.
It is the first retailer in the UK to offer a shopping service via the Google Assistant platform.
Argos faces increased competition from online giant Amazon, which produces its own voice-controlled Echo speakers.
However, even though Amazon has sold millions of Echo speakers, analysts say few people use them to buy products.
"This launch is step one and I don't expect to turn on the app and suddenly double our sales," Argos chief executive John Rogers told the BBC.
"But I expect people will use it and experiment with it - and if we can make it a seamless process, you can see why people would want to use it."
After enabling the Argos service, people will be able to ask the Google Home smart speaker to check product availability and reserve items.
The service will also work via Google Assistant on smartphones.
Shoppers will still need to browse the catalogue or retailer's website to find the product they want.
"We still distribute millions of catalogues to people's homes," said Mr Rogers.
"We all know that the catalogue on the coffee table, as a means of browsing, is really good - and it's hard to replicate with today's technology."
Argos is owned by supermarket giant Sainsbury's, which itself faces competition from Amazon as it expands its grocery delivery service.
Mr Rogers said Argos sold thousands of devices powered by Amazon's Alexa voice technology, but the retailer does not have a voice app on the Alexa platform.
"We do talk to all these players, whether it's Amazon, Google or Microsoft," Mr Rogers told the BBC.
"We're taking the approach of trying and testing - we're dipping a toe in the water."