Facebook animal trade exposed in Thailand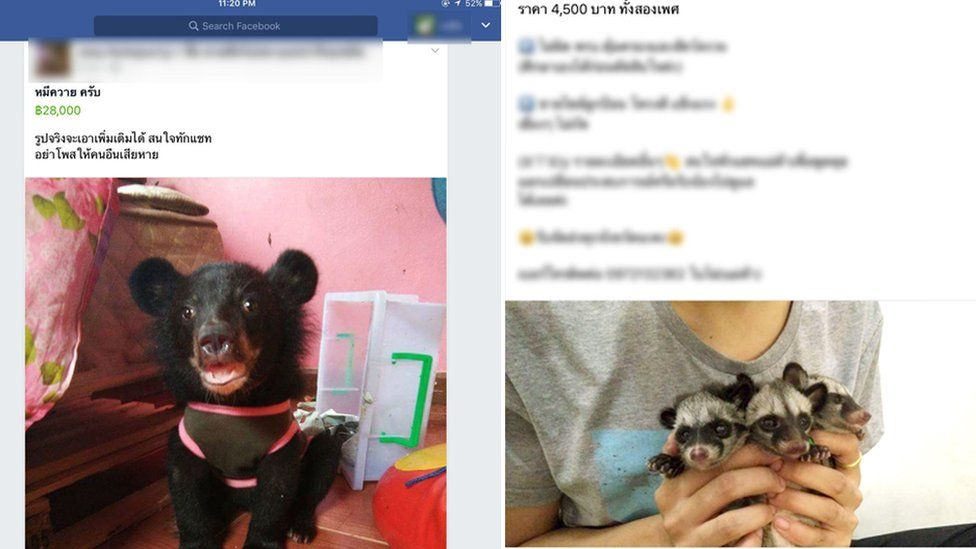 More than 1,500 listings of live animals for sale have been found on Facebook in Thailand by a wildlife trafficking watchdog.
Traffic, which monitors such activity, said many of the species, despite having international protection, were not native to the country, and so trading them was unregulated.
The listings were found on 12 Facebook groups during one month in 2016.
Facebook said it did not allow the trade of endangered species.
Among the 200 different species listed for sale were two non-native species banned from international commercial trade - the Eurasian otter and the black spotted turtle.
Some of the animals for sale which are banned from international commercial trade are native to Thailand, such as the helmeted hornbill and Siamese crocodile - which are both critically endangered - and the Asiatic black bear.
Although only one helmeted hornbill was discovered for sale, Traffic said the critical status of the species meant that any number taken out of wild populations would have "serious implications" for its survival.
Traffic's findings are to be published this week in a report on the use of Facebook for animal trading in Thailand.
The anti-trafficking body analysed membership of the Facebook groups in 2016 and then again two years later. It found that, while two groups had ceased to exist, total membership had almost doubled - up from 106,111 in 2016 to 203,445 in 2018.
The adverts included live and dead animals, as well as animal parts in some cases.
Thailand's wildlife protection laws did not prohibit the sale of 47% of the advertised species - this was sometimes the case with non-native species.
There were 105 species for sale despite protections under Thai law.
"Growing online wildlife trade will only pile further pressure on threatened non-native species that currently have no legal protection or regulation," said Kanitha Krishnasamy, Traffic's acting regional director in south-east Asia.
A spokeswoman for Facebook said: "Facebook does not allow the sale or trade of endangered species or their parts, and we remove this material as soon as we are aware of it.
"We are committed to working with Traffic and law enforcement authorities to help tackle the illegal online trade of wildlife in Thailand."
Cath Lawson, acting chief adviser for wildlife at conservation charity WWF, said the illegal trade of animals via websites was a growing concern.
"The illegal wildlife trade is a serious international crime problem," she said.
"It takes place in the real world, but also increasingly in digital spaces.
"This is a global problem and needs global solutions, which include increasing law enforcement, raising awareness and reducing demand for wildlife products.