Original working Apple-I computer fetches $375,000 at auction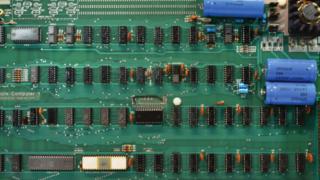 An Apple-I computer, the first product made by the computing giant, has sold at auction for $375,000 (£230,000).
The machine was designed by Steve Wozniak, known as Woz, the co-founder of Apple.
His business partner, Steve Jobs, convinced him to package and sell the machine - it went on sale in 1976 for $666.66.
It is one of only a handful of fully-functioning models known to be in existence today.
"The Apple-I was ghastly underpowered compared to the Apple-II," said Mr Wozniak in an email to the BBC on Tuesday.
"But this Apple-I computer showed the world the formula for an affordable USEFUL computer."
'Behave like it's 1976'
The auction took place in Boston, Massachusetts, on Tuesday. The buyer was an "anonymous businessman" who placed his bid online.
It is estimated that Mr Wozniak and Mr Jobs sold around 200 Apple-I computers in just under a year, thanks to a deal with a local computing store in Palo Alto, California.
According to an online registry - not affiliated with Apple - there are just 79 of the computers still around.
"It's a marvellous piece - and this one works!" said Bobby Livingston, of RR Auctions.
'Never out of the book' - How the Apple-I was built
By Steve Wozniak, co-founder of Apple, speaking to the BBC
"The Apple-I was an important device that was scraped together very quickly from a homebuilt terminal. The terminal (keyboard and TV) were created to access the early long distance network, Arpanet, and it could only handle 60 data bytes per second, due to modem speeds then, whereas the microprocessor could access 100,000 data bytes per second. Hence the Apple-I was ghastly underpowered compared to the Apple-II, but this Apple-I computer showed the world, starting with the Homebrew Computer Club members, the formula for an affordable USEFUL computer.
"I gave my designs away for free at the Homebrew Computer Club. My belief in how computers could help with education led me to plead with Steve Jobs to give the first Apple-I to a woman in our club, Liza Loop, the first Apple-I to possibly take into elementary school classrooms to show the students what a computer was. Steve made me buy it (from us) for $300 - and I gave it to Liza myself.
"We might have made 150 Apple-I boards. Steve Jobs handled the business of the Apple-I and we actually built up a bank account of about $12,000. It was my idea to price it at $666.66. So few of these boards are known that the scarcity gives them high value.
"It's fair to say that the Apple-I was the first personal computer, depending on how you define 'personal'. The Apple-I and Apple-II took steps that had never been taken before.
"It's how I did things, never out of the book."
"Our experts tell us that there might be 15 in the world that work properly. You can power this thing up and behave like it's 1976. It's pretty fantastic."
The Apple-I holds a place in technology history as the first computer to not require any assembly, other than to plug in a monitor and keyboard.
Award for Ive
The Apple-I provided just a glimpse of what was to come. Mr Wozniak's follow up, the Apple-II range, went on to sell more than 5 million units, putting Apple on its course to become the most valuable company in US history.
In August, Apple's value surpassed $1tn for the first time, spurred by sales of the iPhone.
British designer Sir Jony Ive, who along with Mr Jobs designed the iPhone, was announced on Tuesday as the recipient of the Professor Hawking Fellowship by the Cambridge Union.
The fellowship programme was set up in 2017 to highlight the legacy of Prof Stephen Hawking, who died in March.
As part of the fellowship, Sir Jony will address the Cambridge Union at a date not yet made public.
"The Hawking Committee are of the opinion that Sir Jony's work and patents have played a pivotal role in shaping Apple's successes over the last two decades," the Cambridge Union said.
"His undoubted technological expertise, coupled with his remarkable role in championing elegant & innovative design on a global stage have made Sir Jony uniquely qualified to receive this Fellowship."