'Instagram used more than Snapchat' by US teens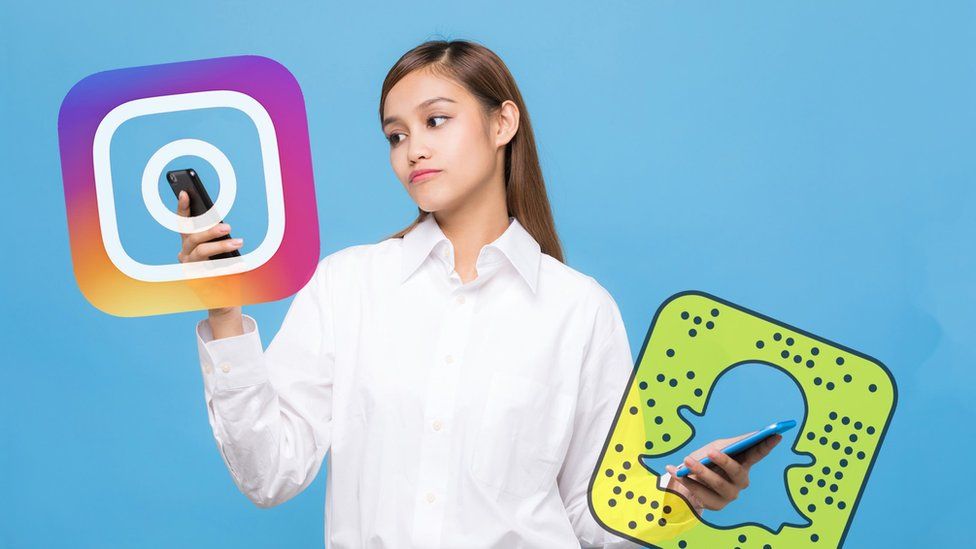 Instagram has overtaken Snapchat as the most used social media app among US teens, according to a study.
The report indicates that 85% of participants used Instagram at least once a month compared with an equivalent figure of 84% for Snapchat.
But rankings were reversed when the teens were asked which they preferred.
Snapchat was picked as the "favourite social platform" by 46% of those questioned, while Instagram was chosen by 32%.
That figure may offer some reassurance to Evan Spiegel and other chiefs at parent firm Snap that their efforts to address a backlash against an unpopular redesign are working.
But it is the engagement figure that has dominated headlines, and threatens to feed a narrative that Snapchat is on the decline.
And on 11 October, its shares hit an all-time-low after one analyst claimed the firm was "running out of money".
By contrast, Instagram is flush with cash thanks to its popularity with marketers.
"Instagram continues to show dominance in selling, as teens overwhelmingly prefer brands contact them on Instagram versus other channels," said Piper Jaffray in its report.
Here today, gone tomorrow
In particular, the Facebook-owned Instagram's addition of Stories - which was launched in August 2016 - has fuelled its popularity among teenagers.
The self-destructing videos and photos - which remain live for just 24 hours - were only introduced after a similar feature had already been popularised by Snapchat.
"Instagram will add just more than 12 million new users [in the US] this year, which is more than double any other social network," commented Rimma Kats from the consultancy eMarketer in a report earlier this week.
"And while Facebook, Snapchat and Instagram all have a 'Stories' feature, it's Instagram Stories that will be especially successful in capturing new sign-ups."
Of the 750 US teens it questioned in April, 72% said they used Instagram compared with 69% who said they used Snapchat.
Its latest figures for both age groups suggest Snapchat still has a slight edge over Instagram when it comes to usage, but the watchdog is due to update its figures for the younger demographic in about a month's time.