Red Hydrogen One: The internet reacts to the 3D-enabled phone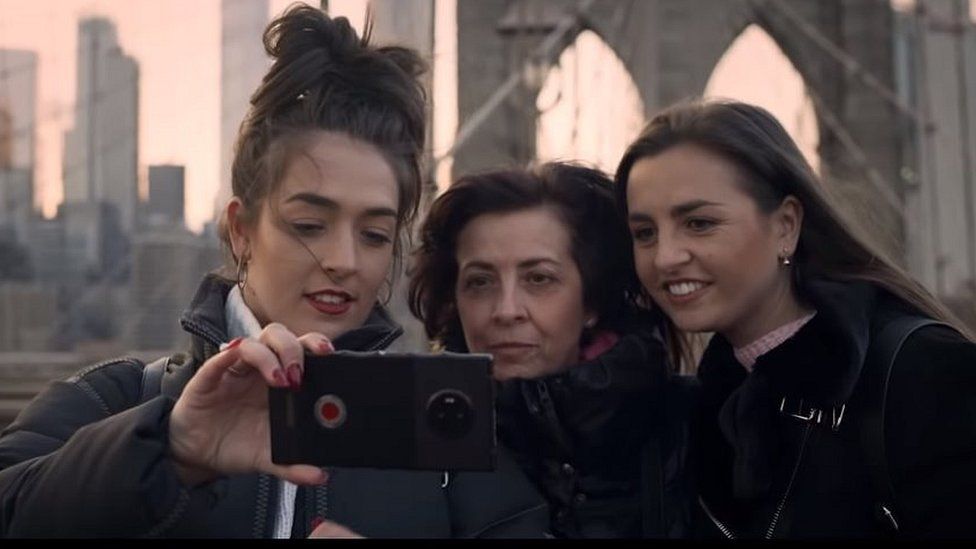 When Red revealed plans to produce a "holographic" smartphone 15 months ago it caught the industry by surprise.
The brand may not be a household name, but over the past two decades its digital cameras have come to be revered among filmmakers.
They have been used to make top movies including Star Wars: The Force Awakens, Guardians of the Galaxy vol 2, and the most recent Mission: Impossible.
Founder Jim Jannard was previously behind the Oakley sunglasses brand.
So many wondered whether handsets might prove to be the third sector he would disrupt.
On the basis of the first reviews of the Red Hydrogen One, that seems doubtful.
The embargo on write-ups lifted earlier this Monday ahead of the $1,300 (£1,000) aluminium version going on sale in November.
A $1,600 titanium edition is promised to follow.
Testers seemed intrigued - if not overly impressed - by the 3D screen, which simulates a sense of depth rather than produces pop-out images.
But frustratingly it's impossible to capture the effect on a normal camera - meaning neither the reviews nor Red's own ads could show photos or videos of what it looks like.
And while the device can also capture 3D imagery, the effect can only be played back on other Hydrogen Ones, limiting the appeal.
Furthermore, another of the key selling points of the device - the ability to snap additional modules on to transform it into a higher-end video camera - is not due to be released until late 2019.
California-based Red is notorious for missing its deadlines.
The Hydrogen One was supposed to be released months ago and features a last-generation processor as a consequence.
So cinematographers attracted by the idea of an Android phone doubling as a movie camera might want to wait to see how long that takes to be achieved.
Red aims to ship about 16 million of the smartphones a year. Apple sells more iPhones in a month-and-a-half.
But as Essential and Google's Pixel brand have discovered, achieving annual sales of just a few million can be a struggle.
Below are some of the highlights from the early reports.
The Red Hydrogen One is the most interesting phone of the year, but also the most disappointing... Jim Jannard said people will want to buy the phone when they see the screen. We must disagree. This is clearly the first effort of a company that lacks smartphone experience.
Photos of people generally end up looking really goofy, with the person appearing as a paper cut-out on top of whatever was behind them... Videos are still a pain to watch. The effect tends to flicker in and out and have lots of strange artefacts. It can hurt your eyes to watch, and it's a little dizzying any time there's too much motion.
The Hydrogen One is an ambitious device that so desperately wants to change your life. And every now and then, when the display strikes your eyes at just the precise angle, you feel fleeting glimmers of the magic. However, Red is working with technology that simply hasn't been perfected yet... there's no guarantee that Red's particular brand of 3D will be satisfying or stress-free for your eyes.
While in normal 2D mode, the Hydrogen One's display is relatively high-res... But when you turn 3D on, you can immediately see that the screen's resolution is significantly reduced to the point where you can see individual pixels. On top of that, nothing ever looks that sharp, and there's always a faint rainbow colour cast lurking in the background.
It seems like a 3D camera that doubles as a phone. And that's what truly differentiates it from previous 3D devices. The Hydrogen One isn't just about consuming 3D content. It's about creating it. And if that appeals to you, then it's definitely worth checking out... But for nearly everyone else, it's hard for me to recommend.
I see a vision in this phone. It's the vision of a go-anywhere, pro-quality connected movie camera that effortlessly captures massive files and uploads them easily, probably using 5G... [But future] content is going to need to be stable, bright, and in an 8K industry-standard format, not in some proprietary 3D format.
The Hydrogen One is a fairly run-of-the-mill camera phone, capable of capturing solid photos with good lighting, but struggling in less-than-ideal settings. It's not surprising that Red's first-ever phone can't compete with the likes of Apple or Google when it comes to capturing stunning images, but considering the pedigree and the price of the phone, it's hard to give Red any slack in this department.
I'm yearning for Red to reveal more details on the phone's modular attachments. There's still so much left to be done with this phone, so much bottled up potential. Until those attachments are available, though, it's hard to recommend the Hydrogen One to… well, anybody.
If the device does, indeed, flop, it will have done so with the sort of audacity rarely seen in a space full of me-too devices. If you're going to fail, fail big. At least that way you won't be forgotten.
Related Internet Links
The BBC is not responsible for the content of external sites.