Police ground drones after reports they fall out of the sky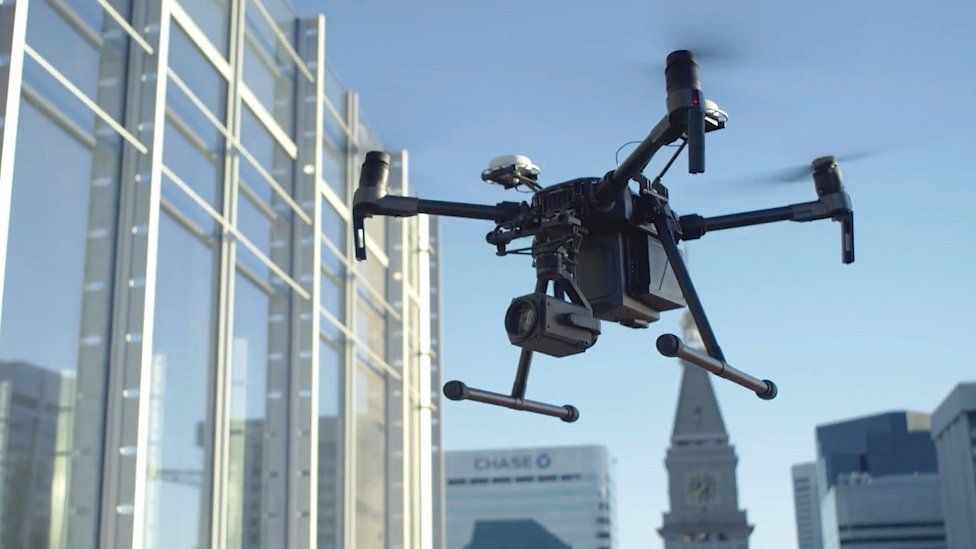 UK police have grounded some of their drones because of a fault that means the devices can fall out of the sky, BBC Radio 5 Live has found.
Recently, a police drone "experienced an in-flight issue" and landed on the roof of a commercial property.
An official warning was subsequently published explaining that some DJI Matrice 200 series drones unexpectedly suffered "complete loss of power during flight".
DJI said it would review the reports.
This occurs even though the battery appears to have charge remaining.
The fault was noticed by West Midlands Police, which told BBC News:
"During a recent operation the drone experienced an in-flight issue and landed on the roof of a commercial business unit.
"The force immediately grounded the model and referred the matter directly to the Civil Aviation Authority (CAA)."
West Midlands Police said its sole DJI Matrice drone would not fly again unless the CAA and industry experts could prove it posed no further risk.
DJI said in a statement that it was "thoroughly reviewing" reports of power issues with the products in question.
"There's thousands of these specific models around the world being used by police and emergency services who favour its ability to operate in windy and rainy conditions," Andrew McQuillan, from Crowded Space Drones, told 5 Live's Phil Williams.
The firm uses the M200 drones for public safety and counter-terrorism, as well as at festivals and football matches.
He said he backed the CAA's guidance - even though it was impacting his business: "I've no issue with that at all because they're keeping people safe.
"You don't want drones flying overhead people if they're going to potentially crash into them, or there's a higher risk of that.
"And the police don't want that either."
Various police forces confirmed to the BBC that they had grounded the drones.
Derbyshire Police said: "This is for public safety. However, we have other drones that are not affected by the issue and these are still in use."
Just five days ago, the force published a press release in which it said it was "pleased to announce" that M200 series drones had been added to its fleet after a year of testing.
Devon and Cornwall Police said: "Following the safety notice from the CAA, we have grounded two drones. This has taken our numbers of available units from around 20 down to 18."
In a policy document available online, it singles out one of the models as a key part of its fleet: "Where possible, the DJI Matrice M210 will be deployed as the primary drone due to the extra capabilities it provides."
Greater Manchester Police said: "Specially trained drone operators from GMP were trialling the use of the DJI Matrice 210. Following a safety warning from the UK's Civil Aviation Authority, GMP have grounded the use of this drone as a safety precaution."
While no reports of injuries or damaged property have yet been received by the CAA, it said the drones should not be flown above people "at any height until further notice".
Flying within 50m (164ft) of people, vessels, vehicles or structures which the pilot is not also in control of, has also been temporarily prohibited.
DJI has advised customers to update the firmware on their aircraft and batteries.
The Matrice 200 drones are slightly larger than the most common consumer drones and weigh in at around five or six kilograms, depending on what equipment - such as a camera - is being carried.
On its website, DJI claims the models are "built to endure" and explains that they have 17in (43cm) propellers.
The Chinese firm continues to develop drones aimed at professional users - such as the new Mavic 2 Enterprise, which has been designed for uses including search and rescue.
Among its features is a 100-decibel loudspeaker that can be used to broadcast pre-recorded messages.
The Mavic 2 and the Matrice 200 are both designed to appeal to commercial clients experimenting with drones for tasks like surveying and site monitoring, said Tom Morrod, an analyst at IHS Markit.
Problems with the Matrice 200 could cause concern in that sector, he pointed out.
"It's potentially going to slow down a lot of that experimentation, the opportunity to establish new business cases," he told the BBC.
"Having them not fall out of the sky… is clearly important."