Royole's bendy-screen FlexPai phone unveiled in China
By Leo Kelion
Technology desk editor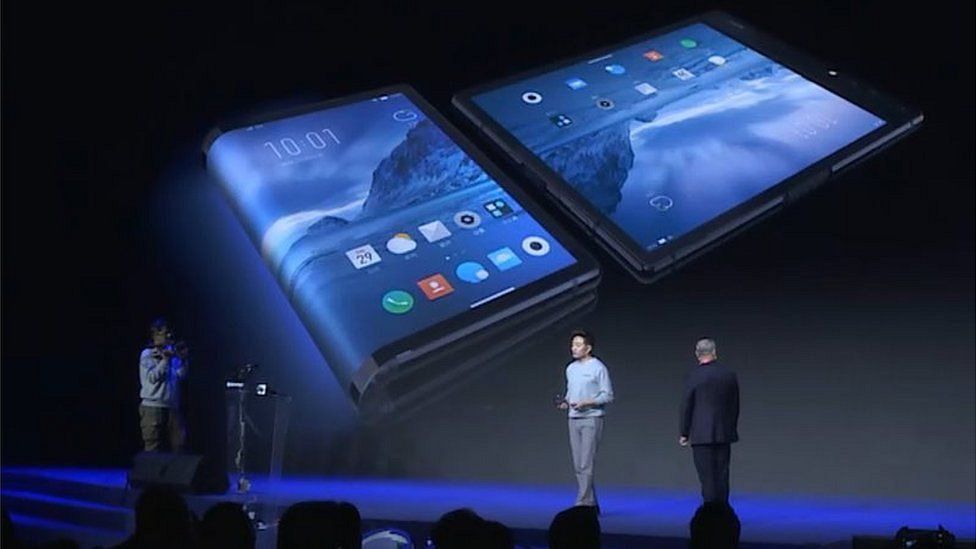 A little-known California-based company has laid claim to creating the "world's first foldable phone".
When opened, the device presents a single display measuring 7.8in (19.8cm) - bigger than many tablets.
But when folded up, it presents three separate smaller screens - on the front, rear and spine of the device.
The phones will be priced between 8,999 and 12,999 yuan ($1,290 to $1,863; £1,011 to £1,460) depending on the memory and storage specifications selected.
In addition, Royole said it would also offer a slightly different version of the devices to developers across the world the same day.
The launch has caught many industry watchers by surprise.
It was widely believed Samsung or Huawei would be the first to sell such a device to the public.
Samsung was expected to preview its efforts at an event in San Francisco on 7 November, but is not understood to be ready to put a product on sale.
Videos posted to social media of the FlexPai in action, however, indicate the version of Android they run still needs some work.
In particular, the display is shown to flick between different orientations after being switched from one mode to another before settling.
Purchasers will also need to be mindful that the device weighs 320g - more than 50% more than the iPhone XS Max or Galaxy Note 9.
However, Royole says the FlexPai has been tested to withstand more than 200,000 open-and-shut movements, meaning it should offer many years of use before the action damages the picture.
One expert said the smartphone was unlikely to become a bestseller but was impressive nonetheless.
"Royole gets the bragging rights to being first, and it's quite astonishing that someone you've never heard of is doing this," said Carolina Milanesi, from the Creative Strategies consultancy.
"What's great is that it's putting this into the hands of developers, who will be able to start the legwork that will result in apps for flexible devices that will eventually be sold by Samsung and whoever else.
"You need developers to think through how they can best take advantage of screens that double in size."
She added that Royole might ultimately become an acquisition target for one of the mainstream consumer electronics brands.
Another company-watcher added that he doubted the FlexPai would ever be produced in large numbers.
"Royole has carried out several publicity stunts over the years to showcase its flexible OLED [organic light-emitting diode] displays," said Dr Guillaume Chansin from Irimitech Consulting.
"The FlexPai is probably another stunt.
"Royole is building its first OLED factory and it is now trying to compete directly with other display manufacturers such as Samsung and LG."
Related Internet Links
The BBC is not responsible for the content of external sites.