'Adult' furry erotica site hacked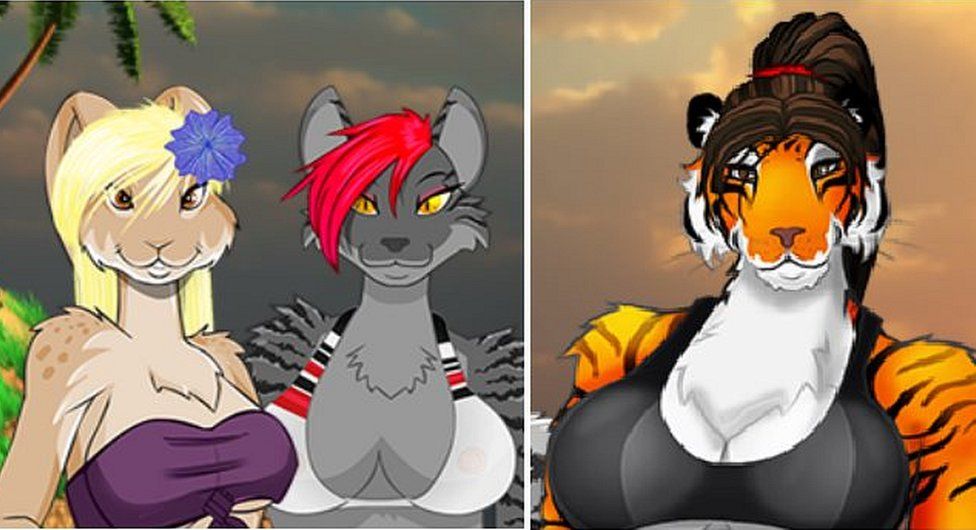 The website of an adult video game featuring sexualised animals has been hacked, with the information of nearly half a million subscribers stolen.
Hack monitoring website Have I Been Pwned said the data breach had happened in August.
The compromised information, including email addresses, names and order histories, resurfaced on a popular hacking forum a few months later.
It is the latest in a long series of hacks aimed at adult sites.
High Tail Hall is a customisable role-playing game, which features what the website describes as "sexy furry characters", including buxom zebras and scantily clad lionesses.
Describing the hack as a "sensitive breach", the founder of Have I Been Pwned, Troy Hunt, contacted the team behind the game as soon as he became aware of it.
In response to his notification, HTH Studios, acknowledged the breach and said it had fixed it.
"As of the overhaul in October of 2018, we are using a much more advance and stable security system," it said on its website.
"Both our internal security and web team security assures us that no financial data was compromised. The security of our users is the highest priority."
It recommended that all users change their passwords.
It is the latest of a long line of security breaches affecting adult sites.
In October, eight pornography sites, including one known as Wife Lovers, were hacked, exposing more than 1.2 million email addresses.
And in October 2017, it was revealed that Pornhub had been infiltrated with malicious adverts, potentially infecting millions of users with malware.
Perhaps the most famous adult-website breach was that affecting the Ashley Madison website, which saw 25GB of company data, including details of its users, leaked in 2015.
The dating site was aimed at married people who wished to cheat on their spouse and the hack left millions fearing that they could be "outed".
In July 2017, the owners of the site offered $11.2m (£8.75m) to settle a number of class actions brought by users as a result of the hack.
Cyber-security expert Graham Cluley said of the latest hack: "When adult websites get hacked there's an impact on people's lives and relationships which goes deeper than just having your passwords stolen or payment card details grabbed.
"We know from the infamous Ashley Madison data breach that online criminals have no qualms about extorting money out of people who may not want their loved ones to know that they were members of a site.
"I'm sure just as many people would be embarrassed to admit their peccadillo was interactive furry erotica as they if they were planning to have an affair."