Website access disrupted during US government shutdown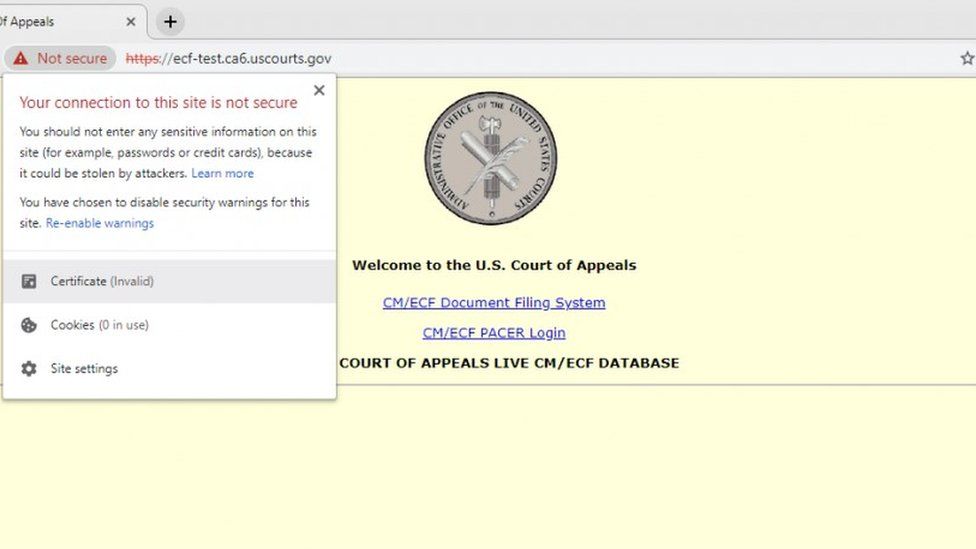 The US Courts have denied that an expired website security certificate was caused by the federal shutdown.
A security company had earlier given the US Court of Appeals as one example of dozens of government sites rendered "either insecure or inaccessible" during the dispute.
Other examples provided included a Nasa site and the Department of Justice.
The shutdown, over a funding row for President Trump's wall, has left thousands of federal workers unpaid.
Digital certificates ensure that communications between devices and websites are sent in an encrypted, secure manner and are an essential part of keeping IT infrastructure up and running. But, when issued, they are given an expiration date of anything between a few months and several years.
According to internet services website Netcraft, more than 80 security certificates used by .gov websites had expired ahead of it publishing a blog on 10 January.
But a spokeswoman for the US Courts said: "No federal court website, including those belonging to the courts of appeals, have been affected by the shutdown. Our office has asked Netcraft to take down the information, which apparently has been the source of the misinformation."
But Paul Mutton, the author of Netcraft's post, said he did not plan to amend it.
He said the Court of Appeals' certificate had definitely expired before the matter had been addressed, adding he had been deliberately vague with his wording as to whether the shutdown had been the cause.
This includes the US Department of Justice, which is using a certificate that expired in the week leading up to the shutdown and has not been renewed since.
The Department of Homeland Security's newly-created cyber-security and infrastructure security agency, is currently operating with less than half its staff, according to Suzanne Spaulding, a former under-secretary at the agency.
She said: "With each passing day, the impact of the government shutdown on our nation's security grows. Meanwhile, our adversaries are not missing a beat and the daily attacks on our systems continue.
"Cyber-security is hard enough with a full team. Operating at less than half strength means we are losing ground against our adversaries."
Mr Mutton, writing in a blog for Netcraft, added: "With Donald Trump seemingly unwilling to compromise on his demands for a wall along the border with Mexico, and Democrats refusing to approve a budget containing $5.7bn (£4.46bn) for the wall, the hundreds of thousands of unpaid federal employees might not be the only ones hurting.
"As more and more certificates used by government websites inevitably expire over the following days, weeks - or maybe even months - there could be some realistic opportunities to undermine the security of all US citizens."
Netcraft suggests that the generic nature of some certificate error messages might make it easier for attackers to exploit users trying to access the sites with expired certificates.
Other cyber-security experts agreed that there was a limited risk to the public.
"An out-of-date certificate still provides for strong encryption, however it becomes harder for the user to verify the legitimacy of the web site and their connection to it," explained Ken Munro from Pen Test Partners.
And if users began ignoring alerts warning them the government sites appeared to be insecure, scammers might take advantage of this to lure victims to rogue pages, added Prof Alan Woodward.
"If you click past the warning you would be doing so at your own risk, and I don't think anyone would recommend it."
Update 21 January 2019: This story has been amended following a statement from the Administrative Office of the US Courts and a reaction to that statement by Netcraft.