MEPs vote for universal charger for smartphones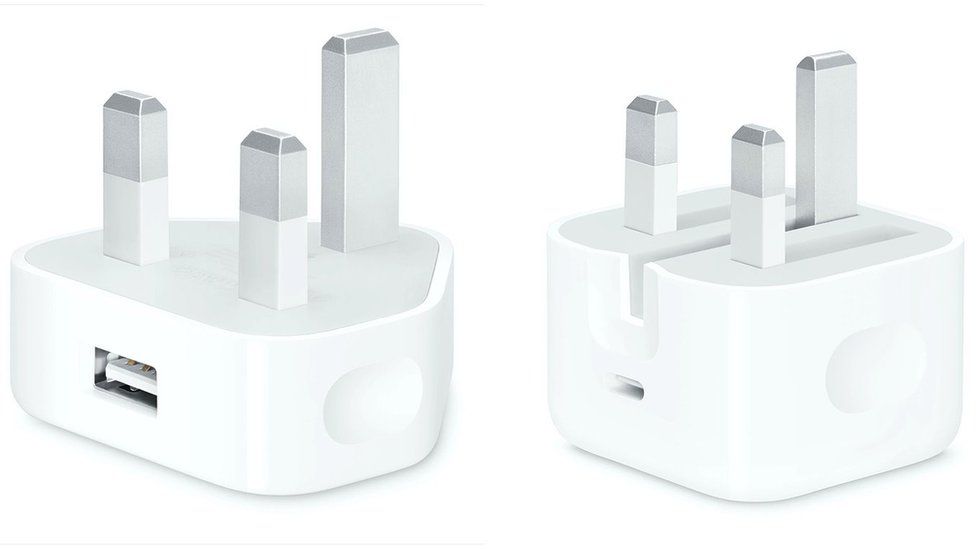 Members of the European Parliament have voted for a single universal charging solution for small portable devices, which Apple had cautioned against.
The resolution passed with 582 votes in favour to 40 against. MEPs will now urge the European Commission (EC) to adopt the new rules.
But the devices themselves could still, in theory, use different ports.
The idea behind the move is to "decouple" the sale of a charger from that of a new mobile device, and instead encourage consumers to re-use those they already own.
At present, Apple packages most of its iPhones with charging plugs that have a USB-A port for their Lightning cables.
By contrast, some Android phones - such as Google's Pixel 4 - come with a wall charger that features a smaller USB-C port, for use with a corresponding USB-C cable.
Apple does sell a cable that has a USB-C connector at one end and a Lightning one at the other, so in theory could easily switch its adapters to the new technology. In fact, its top-end smartphone - the iPhone 11 Pro Max - comes bundled with a USB-C power adapter.
The move would, however, mean that most existing Lightning cables - and indeed other types of cable with USB-A connections - would require an adapter to work with the new chargers.
It could also prevent companies having the freedom to move to a follow-up type of port in the future when the next standard emerges.
European politicians have been campaigning for a common standard for the past decade, with the EC estimating that obsolete cables generate more than 51,000 tonnes of waste per year.
They acknowledged, however, that the situation is at least better than in the past, when some proprietary charging cables came hard-wired to their plug, meaning the adapter had no use beyond the device it came with.
But Apple has previously said: "We want to ensure that any new legislation will not result in the shipment of any unnecessary cables or external adaptors with every device, or render obsolete the devices and accessories used by many millions of Europeans and hundreds of millions of Apple customers worldwide."
Ben Wood, an analyst with research firm CCS Insight, said: "Given the current trend towards sustainability and a reduction in e-waste, this seems like a sensible move. However, the EU needs to be careful not to stifle innovation by mandating a certain technology indefinitely."
With an eye to the future, MEPs have also said they want the EC to ensure that different wireless chargers are interoperable with different mobile devices.
Correction 1 February: This article has been amended to clarify that the vote was about creating a common charger and not a common cable.