Tech Tent: Learning to code during lockdown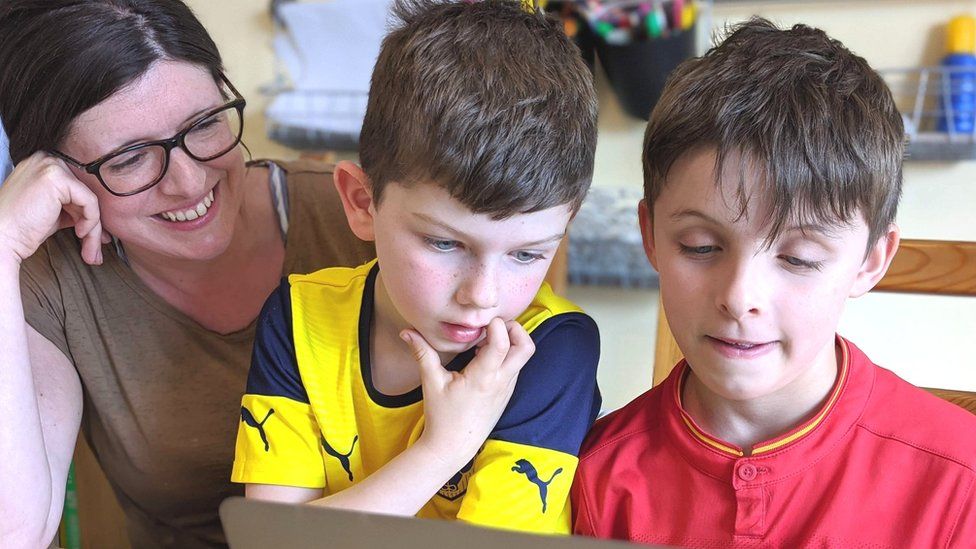 Could one of the few upsides to the current health crisis be that a generation of young people acquire new digital skills?
On this week's Tech Tent podcast, we hear how parents are using the lockdown to get children interested in coding.
Take Ruth Moore and her sons Reuben and Jonah, aged eight and five.
Stuck at home in Oxford and looking to vary the boys' diet of schoolwork, Ruth - who, full disclosure, is my wife's niece - started thinking about introducing the boys to coding.
"Probably behind it was the thought that these are languages that it makes so much sense to know," she says.
"And I know so little of it myself. I can do tiny little bits of HTML and very, very simple things. But I never learned anything like this systematically."
HTML - short for Hypertext Markup Language - is the language that powers websites.
Ruth looked online for help and found plenty of inspiration.
"It's just amazing to see the number of places that are really keen to help kids get a sense of what coding means and what they can do with it, and engage with it in a really playful way."
Ruth started with code.org, a US campaign to get children there coding. It offers all sorts of resources to anyone looking to get started.
Reuben and Jonah had a look at the options and immediately picked a game called Puppy Adventures.
"A pup gets lost and then he finds lots of stuff," Reuben explains. Along the way, simple coding concepts are introduced. I ask what he thinks about the whole idea.
"I liked it quite a bit," he says. "And I'd like to do it again some more."
Indeed, Ruth found she was pushing at an open door, and the two boys have now moved on to other coding exercises.
Once again, these involve games and assembling visual blocks of code - very different from the slightly daunting text-based experience that would have been many people's introduction to coding thirty years ago.
Ruth says her sons are finding their way through the exercises themselves and she has to stop herself from interfering too much.
"One of the things I found quite interesting was my adult brain was going: 'No! That's not the cleanest way of doing it. Look, you're not using that block.'"
But she has learned to let them get on with it. The experience has even revived her own interest in coding.
"I can definitely see myself venturing on to sites like this in the evenings, just to have a bit of fun. It's satisfying to see what you've put into place acted out in the animations," she says.
And the Moores are not alone.
I tweeted, asking whether people had been learning to code or teaching their children. There were dozens of responses offering advice.
Here is just a sample of what is on offer.
A good starting point might be Puppy Adventure, enjoyed by Reuben and Jonah.
After Scratch, many move on to Python, with free courses available online from Code Academy.
"People wanting to try something a bit different could give a BBC MicroBit a go," another told me. "They have lots of nice interactive things (lights, buttons and sensors), and can be programmed from a tablet."
UK-based site Code Today has weekly online coding courses aimed at children.
And one tweeter has introduced their 10-year-old daughter to the Khan Academy: "I asked her which subjects she would like in addition to maths and science and such. She chose Javascript."
Plenty of inspiring ideas there.
And over the coming weeks, Tech Tent will be looking at other new hobbies people are exploring while locked down at home - and how technology can help.