Union-tracking software proposed by Amazon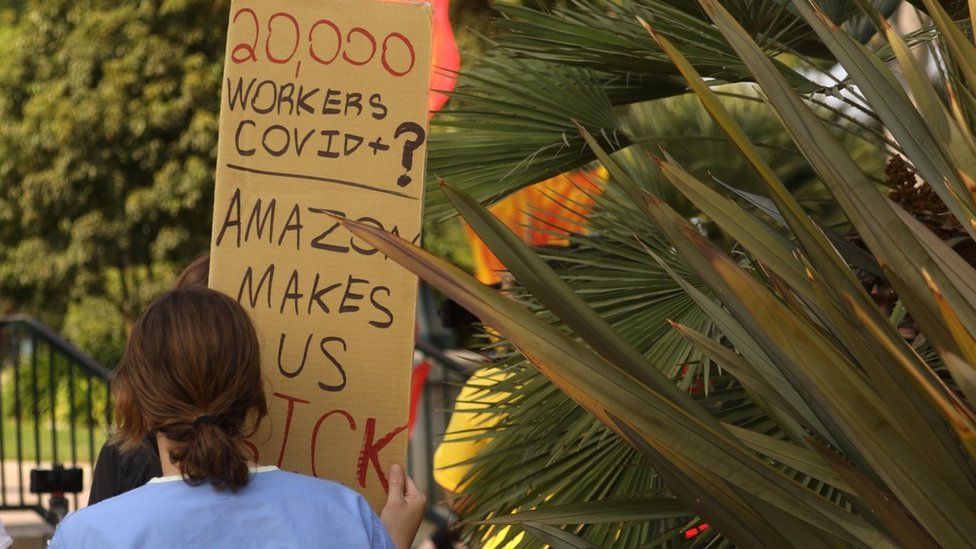 Amazon has responded to a leaked memo about plans to track union activity among workers by saying it is happy for its staff to join labour organisations.
The memo, viewed by website Recode and not disputed by Amazon, discusses plans for a system that would analyse data on unions alongside other threats to the company such as weather and crime.
Last month Amazon advertised for two intelligence analysts to report on union activity, among other duties.
It later withdrew the adverts.
In a statement to the BBC, Amazon said: "We respect our employees' right to join, form or not to join a labour union or other lawful organisation of their own selection, without fear of retaliation, intimidation or harassment.
"Across Amazon, including in our fulfilment centres, we place enormous value on having daily conversations with each associate and work make sure direct engagement with our employees is a strong part of our work culture."
The memo in question talks about a proposal to fund a new piece of technology that would allow the online retailer to use geospatial mapping of what is happening outside its buildings - including gatherings from employees, as well as weather, natural disasters and power cuts.
According to Recode, Amazon is considering spending hundreds of thousands of dollars on the system. About half of the data sets listed in the memo related to employee issues such as overtime and safety incidents, it said. Many also mentioned unions, including one referencing the presence of local union chapters and labour groups.
Amazon workers are increasingly unhappy about a range of issues, including how the firm has handled the Covid-19 crisis and working conditions more generally.
Amazon recently announced that 19,816 of its frontline workers in the US had contracted Covid-19 since March.
The Center for Investigative Reporting recently said it had seen internal records suggesting that serious injuries were 50% higher in Amazon warehouses that used robots. The machines are so efficient that workers have to handle more items, up to 400 per hour.
Amazon disputed the findings, saying the higher numbers of injuries were down to it encouraging reporting of even minor incidents.
But discontent is growing and this week Amazon protesters marched to founder Jeff Bezos's mansion, calling for higher wages, the right to unionise and changes to the way the Covid-19 crisis is being handled.
The event was organised by The Congress of Essential Workers, led by Chris Smalls, a former Amazon employee who was fired in March.