Xbox game streaming 'heading to iPhones'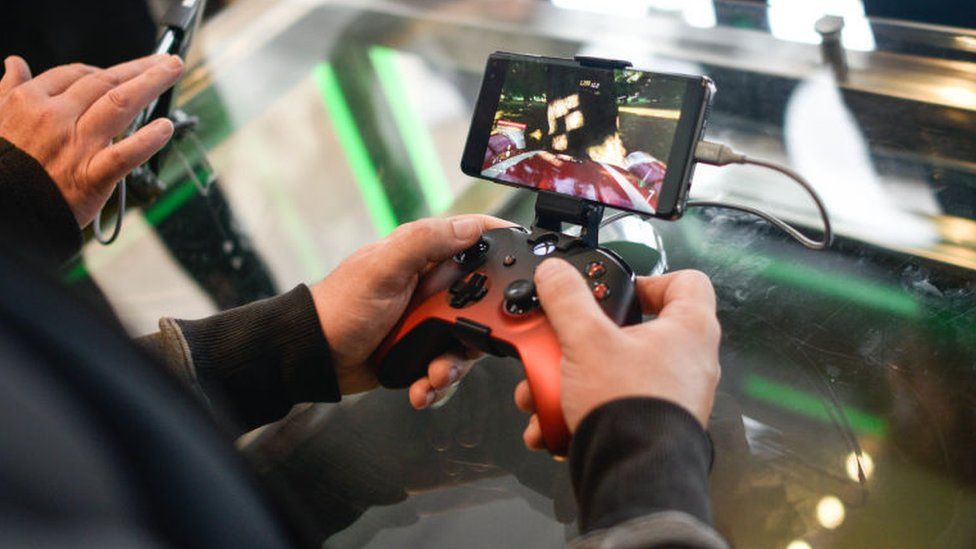 Microsoft is planning to bring its Xbox game-streaming service to iPhones next year despite a public row with Apple over the app.
The Game Pass streaming service was launched for Android phones last month.
But Apple barred the app from its iOS app store, saying all 100 or so games on the service should be listed individually.
Microsoft is now developing a web-browser-based version that should work on iPhones.
Microsoft employees have been told that a "browser-based solution" is planned for next year, according to reports in both Business Insider and The Verge.
"We absolutely will end up on iOS," Xbox head Phil Spencer said, according to both outlets.
The streaming service works by offering an interface of games to choose from. Selecting one seamlessly launches the game - assuming the user has a good enough internet connection for the large amount of streaming data needed.
Since Microsoft plans to add and remove games on the service constantly, it said it did "not have a path" to bring the service to Apple's iOS.
However, Apple released updated guidelines last month which explicitly said that "open internet and web browser apps" are a viable way for game streaming to work, clarifying the rules for Microsoft and other streaming apps.
Microsoft now appears to have opted for this route.
Other cloud gaming apps have already chosen a similar path.
Google Stadia has a web-browser-based option for the PC gaming market, and users have found ways to get it running on iOS through third-party apps that are essentially customised web browsers.
And Amazon, which recently announced its Luna game-streaming service, has said it will work on iPhones and iPads at launch through the browser.
Gaming analyst Piers Harding-Rolls, from Ampere Analysis, said Microsoft's own "evolution" had been expected.
"This allows these companies to avoid App Store guidelines which require games subscription services to have all included titles listed on the store separately and to also pay 30% platform fees to Apple for those users subscribing through the store front," he explained.
But there are some drawbacks.
"A native app is preferable due to performance benefits, integration into system level functionality such as notifications and discoverability within the App Store," he said.
Modern web design means that browser apps can have some of the look and feel of real, native apps, he added.
"Even so, I consider this a sub-optimal approach and one that would be quickly superseded by a native app if Apple was to change its App Store guidelines for cloud gaming services."
Microsoft has not yet responded to a request for comment.