iPhone 12: Apple makes jump to 5G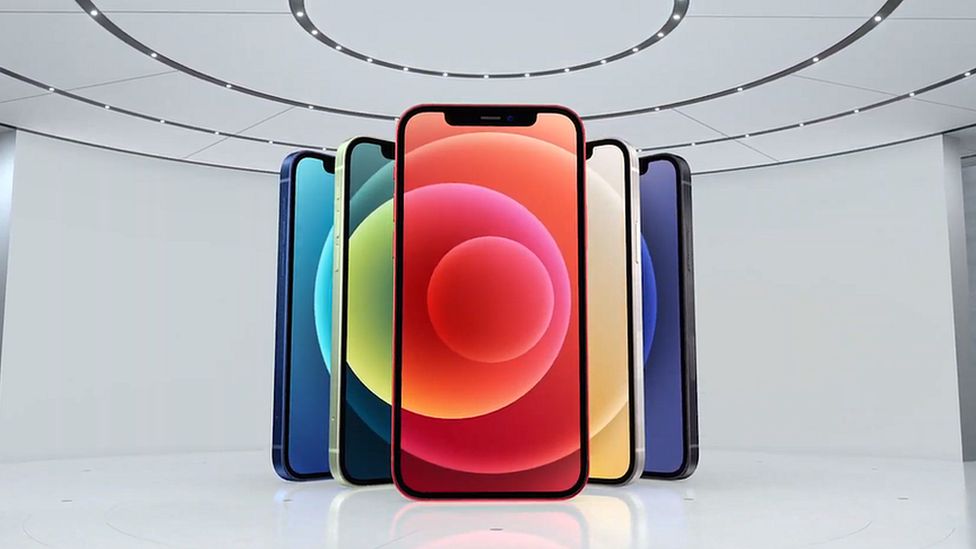 Apple has confirmed its iPhone 12 handsets will be its first to work on faster 5G networks.
The company has also extended the range to include a new "Mini" model that has a smaller 5.4in screen.
The US firm bucked a wider industry downturn by increasing its handset sales over the past year.
But some experts say the new features give Apple its best opportunity for growth since 2014, when it revamped its line-up with the iPhone 6.
"5G will bring a new level of performance for downloads and uploads, higher quality video streaming, more responsive gaming, real-time interactivity and so much more," said chief executive Tim Cook.
There has also been a cosmetic refresh this time round, with the sides of the devices getting sharper, flatter edges.
The higher-end iPhone 12 Pro models also get bigger screens than before and a new sensor to help with low-light photography.
However, for the first time none of the devices will be bundled with headphones or a charger. Apple said the move was to help reduce its impact on the environment.
"Tim Cook [has] the stage set for a super-cycle 5G product release," commented Dan Ives, an analyst at Wedbush Securities.
He added that about 40% of the 950 million iPhones in use had not been upgraded in at least three-and-a-half years, presenting a "once-in-a-decade" opportunity.
In theory, the Mini could dent Apple's earnings by encouraging the public to buy a product on which it makes a smaller profit than the other phones. But one expert thought that unlikely.
"Apple successfully launched the iPhone SE in April by introducing it at a lower price point without cannibalising sales of the iPhone 11 series," noted Marta Pinto from IDC.
"There are customers out there who want a smaller, cheaper phone, so this is a proven formula that takes into account market trends."
The iPhone is already the bestselling smartphone brand in the UK and the second-most popular in the world in terms of market share.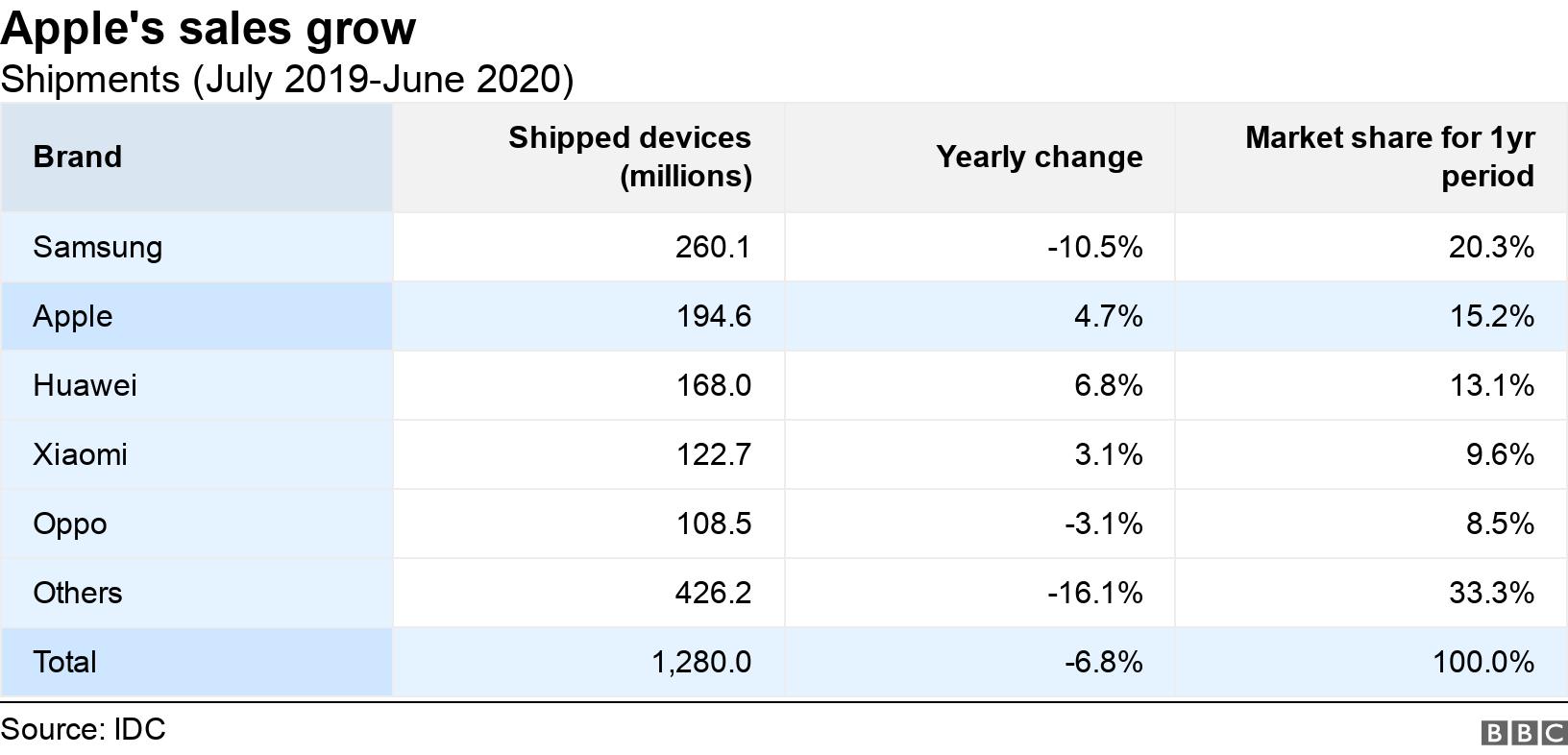 If forecasts of pent up demand are correct, it could prompt a battle between network operators, as customers become more likely to switch.
"Networks are going to have to offer eye-wateringly attractive deals, and the way they're going to do that is on great tariffs and attractive trade-in deals," predicted Ben Wood from the consultancy CCS Insight.
Apple typically unveils its new iPhones in September, but opted for a later date this year. It has not said why, but it was widely speculated to be related to disruption caused by the coronavirus pandemic.
The firm's shares ended the day 2.7% lower. This has been linked to reports that several Chinese internet platforms opted not to carry the livestream, although it was still widely viewed and commented on via the social media network Sina Weibo.
Apple said the iPhone 12 has the same 6.1in (15.5cm)-sized screen as its predecessor, but it now uses OLED rather than LCD technology for richer colours. This has also helped the firm make the device 11% thinner and have smaller bezels.
It added that the screen was also higher resolution and used a "ceramic shield" to protect its display to offer "four times better drop performance".
The firm said it would deliver night-mode selfies without using the flash, as well as better deal with colour, contrast and noise in challenging settings.
It showed off a forthcoming mobile version of League of Legends as an example of the "console-quality games" it could now run smoothly.
The addition of a magnet array inside the phone's back will allow compatible chargers to "snap on" and renew the battery more quickly, as well as accessories including a wallet to be held in place.
The iPhone Mini shares these features but in a smaller form.
"The Mini is an interesting move from Apple, which I would have expected [to come] next year - but the smaller phone trend is clearly picking up," commented Carolina Milanesi from Creative Strategies.
The iPhone 12 will start at £799 - a £70 gain on last year - and go on sale on 23 October.
The iPhone 12 Mini will start at £699 and be released on 13 November.
Two steel-sided higher-end models have also been redesigned to feature bigger displays - the iPhone Pro goes from 5.8in to 6.1in, while the Pro Max goes from 6.5in to 6.7in.
They carry over the improvements made to the lower-end devices.
But they also gain a Lidar (light detection and ranging) scanner.
This creates depth-maps of the immediate environment, making autofocus in dim settings "up to six times faster". It can also be used for augmented-reality tasks, although these were given less emphasis.
The Pro Max's wide-angle rear camera lens has also been given a bigger sensor to improve low-light performance.
Both new Pro models now have at least 128 gigabytes of storage and are £50 cheaper than last year's devices, starting at £999 and £1,099.
But experts say there has only been limited interest in the feature to date.
"Apple is rarely the first to launch new technologies but waits for a technology to be mature enough to build new customer experiences on top of it," commented Thomas Husson from the research company Forrester.
"I think we're slowly reaching this tipping point."
Apple said it had tested its devices at peak 5G speeds of 3.5 gigabits per second - which means a 20 gigabyte 4K movie could be theoretically downloaded in about 45 seconds.
However, it warned that users' experiences would vary by network and region, and the 5G facility would not always be switched on.
"The ability of the iPhone 12 to switch between 5G and 4G when the consumer needs, in order to preserve battery, does highlight that 5G connectivity clearly isn't necessary 100% of the time for consumers," remarked Stephen Mears from the consultancy Futuresource.
The UK was the second European nation to start rolling out 5G.
But while this has helped give it a lead, coverage remains sporadic.
In the US - Apple's largest market - 5G speeds are particularly slow. In fact, according to one study, downloads over Canada's 4G networks are typically faster,
However, in China - Apple's second-biggest market - the government has encouraged its rapid deployment, and recently announced both Beijing and Shenzhen had achieved "full coverage".
"China would have been the driving force behind that.
"But there will also have been pressure from major operators across the world who are investing heavily in 5G networks and recognise the fact that the iPhone is a strategically important product."
The really interesting announcements here all came down to speed: 5G-ready phones with faster chips inside them.
But Apple arguably failed to sell what you can actually do with all this power.
The one area it will definitely help with is mobile gaming, with quicker response times for multiplayer titles as well as better graphics.
And what else can 5G do? Well it could let you watch sporting events from multiple angles on your phone - one example the firm gave was of watching American football from seven camera feeds.
Or - using augmented reality - you could design a room with virtual furniture in real-time.
But as the chief of US network Verizon noted during a guest spot during the presentation: "Until now most people have taken a wait-and-see approach to 5G."
And the question is whether the public saw anything that would make them want to rush out and add it to their lives now.
Moreover, 5G networks in most countries are at best patchy - you won't be able to take advantage of the promised speed gains in many places.
In time, there are likely to be popular apps and games that are dependent on the tech.
And many gadget enthusiasts will be tempted to upgrade to an iPhone 12 or Android equivalent to be ready.
But they will be investing in the promise of what's to come, rather than what they can do today.
Apple also launched a new version of its smart speaker - the HomePod Mini.
It supports a wider range of voice commands than before as well as introducing a home intercom system.
The £99 voice-controlled device also adds a facility that detects when an iPhone is nearby to produce visual and vibration effects that simulate the effect of music flowing between the gadgets.
The first HomePod was launched in 2018, and has lagged far behind Amazon and Google's rival speakers to date.
There was no mention, however, of a Mac computer set to run off the A14 chip.
Nor was there mention of Bluetooth-based tracking tags or over-ear headphones, which have both been rumoured to launch soon.
This will likely lead to speculation that Apple will hold a further event before the end of 2020.