Alexandria Ocasio-Cortez Among Us game watched by 400,000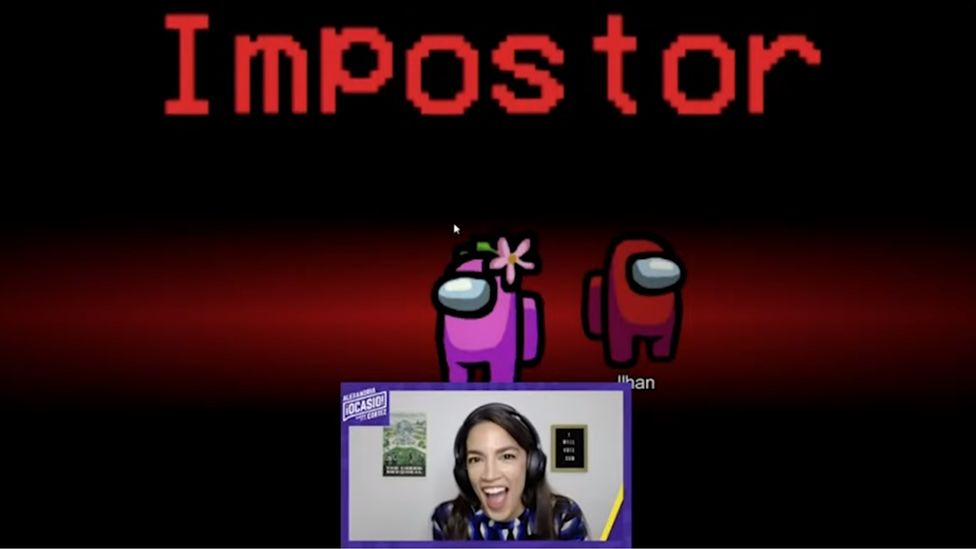 A live stream of Congresswoman Alexandria Ocasio-Cortez playing the popular game Among Us has become one of the most-watched videos on Twitch.
More than 400,000 viewers made it the third-highest peak on record for the the game-streaming platform.
She appealed to gamers to join her online "to get out the vote" ahead of the US election on 3 November.
But she faced some criticism for "electioneering".
One analyst said the stunt worked because "she's a bit of a gamer".
"It feels genuine to me," said Louise Shorthouse, games industry analyst at Omdia.
"I do think it's a very smart way to raise voting awareness pre-election, especially amongst the notoriously hard-to-reach Gen Z."
But she warned that any other politicians trying to "capitalise on Twitch" would have a much harder time.
Among Us is a hugely popular online murder mystery game, which involves players trying to fix a broken spaceship - but among them is an impostor, tasked with sabotage and murder of the other cartoon characters.
Players must find the impostor - or avoid being found.
Representative Ocasio-Cortez - known by her supporters as AOC - began the stream by encouraging people to vote for the Democratic Party.
"Of course, we are here to vote Blue, that's [why] I'm here, to let you all know," she said.
Fellow Democratic congresswoman Ilhan Omar also joined the stream.
Representative Ocasio-Cortez's stream lasted about three and a half hours.
The congresswoman amassed more than 550,000 followers - more than any of her political counterparts on the platform.
Democratic senator Bernie Sanders has 160,000 followers, while Donald Trump has 143,000 - but both use Twitch for political broadcasts and speeches, rather than gaming.
The reaction was largely positive, with viewers saying it was am "organic" way to engage with younger Americans.
"The impressiveness of AOC is not simply that she is a forceful and articulate proponent of the Democratic message, it is that she is able to speak credibly directly to millennials using platforms like Twitch," said Mitchell Robertson, fellow at the Rothermere American Institute.
But some criticised the Congresswoman for electioneering.
Skip twitter post 3 by someone
Allow Twitter content?
This article contains content provided by Twitter. We ask for your permission before anything is loaded, as they may be using cookies and other technologies. You may want to read Twitter's cookie policy, external and privacy policy, external before accepting. To view this content choose 'accept and continue'.
The BBC is not responsible for the content of external sites.
End of twitter post 3 by someone
"This is a very transparent move on her behalf. It's not the first time that a politician has aligned themselves with trends in order to gain popularity, or new followers. Overall, this seems to be a well-orchestrated political move," said Nicky Danino, principal lecturer in Computer Science at the University of Central Lancashire (UCLan).
"It's a good profile raiser so it's worth a try. However, it's connecting young people to a politician, not necessarily politics," said Jon Tonge, professor of politics at the University of Liverpool.
"It's too early to say whether it has any impact on voters but I would be sceptical. First, the age profile of those watching is likely to be young. They are less likely to vote.
"Second, political opponents are probably less likely to participate. Third, it's not changing people's minds on anything."
The Democrats have embraced gaming in this election, with presidential candidate Joe Biden's campaign also creating a virtual field office in Animal Crossing: New Horizons.