Spotify and Joe Rogan under fire over Alex Jones role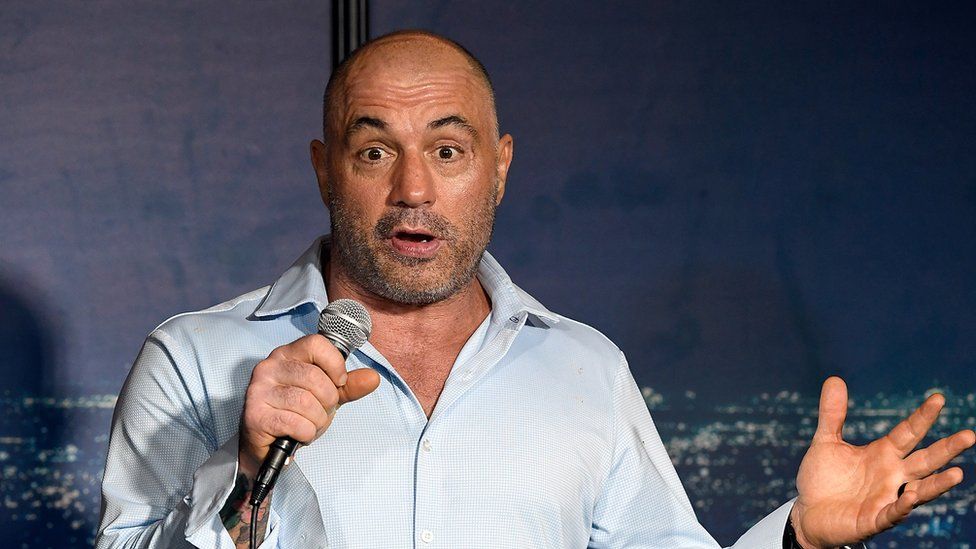 Spotify is facing criticism from anti-misinformation groups and its own staff over the appearance of conspiracy theorist Alex Jones on the Joe Rogan show.
Rogan's hugely popular podcast signed an exclusivity deal with Spotify earlier this year for $100m (£77m).
But Spotify staff have reportedly expressed concerns internally about the appearance of Jones as a guest.
Spotify banned Jones' own podcast two years ago over hate speech.
The tech firm, however, declined to comment about Mr Rogan's broadcast.
Over the course of a three-hour podcast, Jones discussed a range of topics, including how effective mask wearing was against Covid-19, and the risk of vaccines making people sick.
Mr Rogan did fact checks of his own during the show.
But campaigners are concerned that Jones was given the opportunity to promote inaccurate information about the pandemic to such a large audience.
"They are essentially profiting from the platforming of, and giving exposure to, the most outrageous and fringe views in the desperate search for ad dollars and subscription revenues," said Imran Ahmed, chief executive of the Center for Countering Digital Hate.
"That is a phenomenally cynical moral decision to take."
The Joe Rogan Show's exclusivity deal with Spotify will see the show vanish from other platforms at the end of the year - but for now, it remains available and extremely popular on other platforms such as Apple podcasts and on YouTube.
But Spotify's payment for the rights to the podcast has stoked internal argument.
Bloomberg reports that Spotify staff have taken to the company's internal Slack chat channels to discuss the episode, sharing the internal forms for reporting content and escalating complaints.
"If a team member has concerns about any piece of content on our platform, you should encourage them to report it to Trust & Safety because they are the experts on our team charged with reviewing content," the email said.
"However, it's important that they aren't simply flagging a piece of content just because of something they've read online. It's all too common that things are taken out of context."
Among a number of "talking points" about the controversy listed in the email was that "we are not going to ban specific individuals from being guests on other people's shows, as the episode/show complies with our content policies".
YouTube, which still hosts the video version of the interview, said it banned channels, but not individual speakers.
"Alex Jones' channel was terminated and he can no longer operate YouTube channels, but he is still allowed to appear in other videos as long as they comply with our community guidelines," spokesman Alex Joseph said.
"We've reviewed his latest interview and it does not violate our policies."
'Fact-checked everything'
Responding to the controversy in an Instagram post, Rogan wrote: "I knew people were going to criticise the content of the podcast without even listening and I was right."
He claimed he fact-checked "every single crazy thing he said" and that "all of them were verified".
"He said a lot of crazy, but accurate things, and that's what I've been saying about him for years," Rogan concluded.
But Mr Ahmed said that was "a very familiar tale… from the platform that profits from the content - that there's nothing they can do while enjoying all the rewards".
"What Alex Jones said was really really dangerous," he said, highlighting the level of Covid cases in the United States.
"A lot of what was said was scientific nonsense... I don't think Joe Rogan knows what a fact-check is."
The controversy came as Spotify announced that it had added 27% more premium subscribers over the past year, with 144 million paying customers - and many more free listeners who receive ads.
The company has aggressively pursued podcasting in recent years, buying up a number of content creators and software products.