UK contact-tracing apps start to talk to each other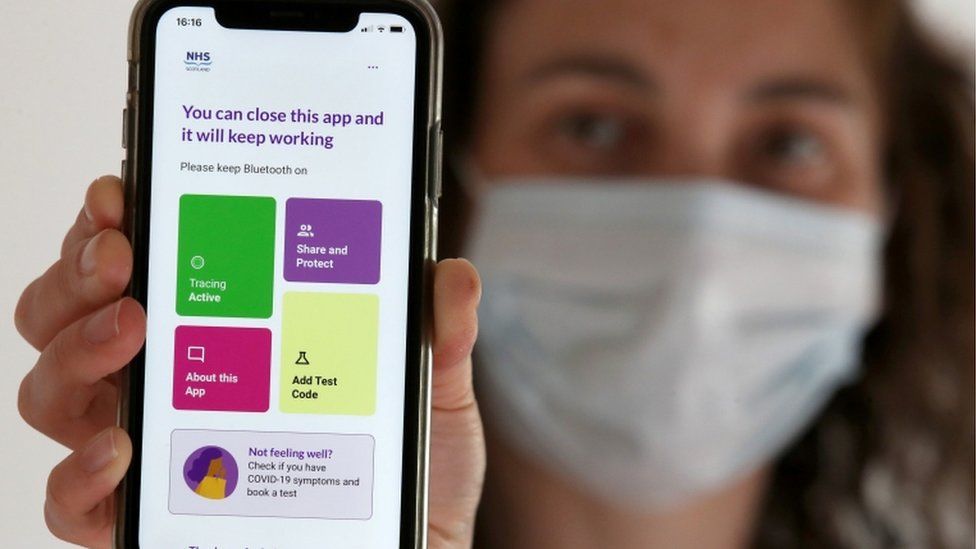 The United Kingdom's various contact-tracing apps can now intercommunicate, allowing people to be matched from the different areas they cover.
Until now, users needed to download separate Covid-19 apps and change settings if - for example - they travelled from England to Scotland.
Those who already have one of the apps do not need to do anything to make the new system work.
However, the apps do not communicate with other European equivalents.
The products that have become interoperable are:
England and Wales's NHS Covid-19
Northern Ireland's StopCOVID
Protect Scotland
Jersey COVID Alert
Beat COVID Gibraltar
The apps all use Bluetooth signals to log when two people's smartphones come into close proximity to each other.
These readings can then be used if one person becomes infected with coronavirus and registers the fact, to let others know if they were nearby for long enough to need to self-isolate.
All the apps are now able to access the anonymised IDs of people who tested positive because they have begun sharing a computer server set up by Scotland via Amazon Web Services.
However, those in charge stress that no personal information is being exchanged, and outside agencies - including the police and government - still have no way of identifying people from their use of the apps.
"While the majority of us will not be travelling under the current restrictions, this update will provide protection for those who have to continue to travel to other areas of the UK for essential reasons, such as work," blogged Gaby Appleton, director of product for Test and Trace at the Department of Health and Social Care.
"It is important to note that this update does not compromise our commitment to privacy."
Scotland's Health Secretary Jeane Freeman added that more than 13,000 people had already been alerted via its app that they had been in close contact with someone who had tested positive, and this update was "an important step in helping further reduce the spread of the disease".
The European Commission is pursuing a parallel effort to try and get other apps based on Apple and Google's contact-tracing tech to work together.
Germany's Corona-Warn-App
Ireland's COVID Tracker
Italy's Immuni
Latvia's Apturi Covid
Spain's Radar Covid
In theory, the commission believes 20 member states' apps could be made to work together because they are based on similar decentralised systems - meaning the contact-matching process takes place on the smartphones rather than on remote computer servers.
However, because Hungary's VirusRadar and France's StopCovid are based on different centralised technologies, there is currently no way to add them.
The UK's transition period after Brexit is set to come to an end this year, but it is not being deliberately excluded.
"The UK could theoretically participate until end-2020, but has not shown interest so far," a European Commission spokesman told the BBC.
"From 2021 on, participation would depend on a public health agreement between the EU and the UK."
The commission's initiative relies on the EU Directive on the application of patients' rights in cross-border healthcare, and this is not covered by the Withdrawal Agreement.
So, if the UK waits to join until after the year's end, this could complicate matters.