NHS data: Can web creator Sir Tim Berners-Lee fix it?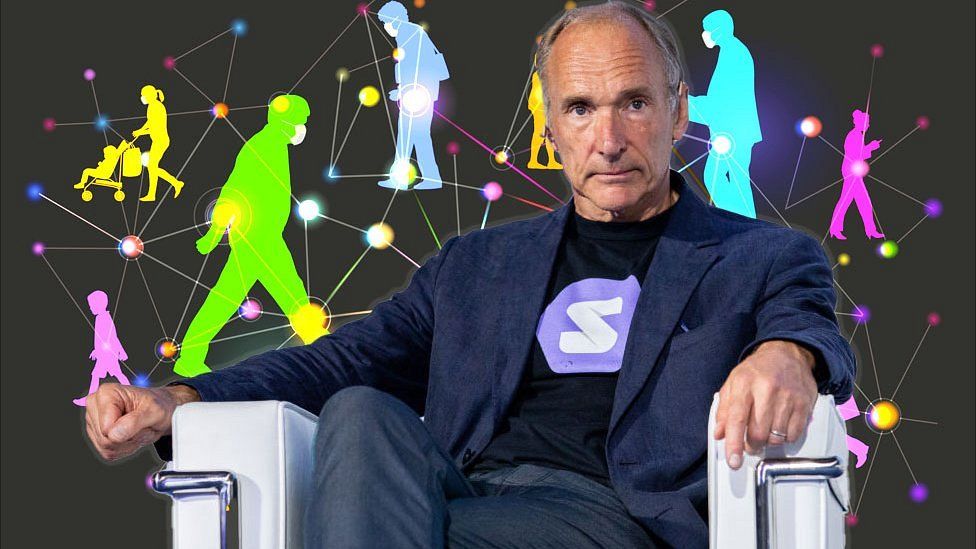 It is one of the biggest challenges for the NHS: how to give people some control of their medical data while making sure it can be shared with all of the doctors and other healthcare workers who need it.
Now the founder of the World Wide Web may have come up with an answer.
For two years, Sir Tim Berners-Lee has been working on an idea called Solid, a web platform which allows users to store their data in what is called a Personal Online Data Store - or Pod. It's not just an academic project. The technology behind it is being developed by a company called Inrupt with some major venture capital backers.
Now Inrupt and its chief technology officer Sir Tim have announced what he calls a major milestone - the release of its technology in the form of the Solid Server, with a handful of clients already piloting possible use cases. These include NatWest Bank, the BBC, the government of the Belgian region of Flanders - and the NHS. Sir Tim says Solid is "going to drive groundbreaking new opportunities that not only restore trust in data but also enhance our lives".
The NHS pilot project is happening in Greater Manchester, where it is hoped that it could improve the lives of people suffering from dementia.
The Greater Manchester Health and Social Care partnership has been working for some years on what they call the "digital plumbing" needed to create a central health and care record for all local people. The huge challenge is what's called interoperability -making all the different computer systems across the health service work together.
Scott Watson, technical director at Salford Royal Hospital, has been wrestling with that problem for the Greater Manchester team. He heard about Solid and thought it might be the answer.
"It's a way of storing all your data in one place, that's associated with you as an individual, and then all the different services that you interact with come to you - so you tell your story only once."
That place is a Pod - a piece of secure web software where you can store your health records and decide who gets access to them.
As the system expands, Sir Tim sees users choosing to put other data in.
"If it's a particular type of disease, you can download third-party apps to look at the differences between tests over the months. You'll be able to put in your fitness data, and you'll be able to connect your running apps," he says.
In Greater Manchester, the focus is on giving carers of people with dementia access to their pods, along with any healthcare professionals that might treat them. Mr Watson explains that it is not just medical information which could be useful.
"Say someone's into country music and they calm down if you start talking about Johnny Cash. You're never going to find that in the GP record," he says.
"But if you store that sort of information within your Pod and make that available in an urgent care setting, then that can help relax and ease the tension of the patient with dementia."
If the experiment reaches a wider set of patients, it is expected that attitudes to the data pods will vary. Some may want to take control, even wishing to store the pod on a hard drive at home and only giving short-term access to doctors when necessary. Others will just see it as a way of cutting through the bureaucracy and not having to start from zero every time they see another doctor.
As someone who has relatively frequent interactions with the health service and is sometimes frustrated by the lack of communication between different parts of it, I can see the attractions of this idea.
A few years ago the optometrist who first spotted my serious eye condition told me she was unable to send my latest scan to my doctor because their IT systems were incompatible. She suggested instead that I filmed it on my phone and took it to the hospital. That situation would be sorted if the optometrist could upload the images to my Solid Pod, Mr Watson assured me.
Last week the Public Accounts Committee of the House of Commons warned that the NHS risked repeating the expensive mistakes of the past as it tried to modernise its computer systems and develop a digital strategy. MPs pointed to interoperability as a huge issue.
"Many of the standards required to enable this are not yet in place, and much work is required before benefits, such as digital-image sharing, can be realised," warned their report.
The work being done with Solid in Greater Manchester is still at an early stage. But if it proves a success, it could pave the way for the health service to become a pioneer, rather than a laggard, in modernising our approach to personal data.