Home-testing kit for breast cancer wins Dyson prize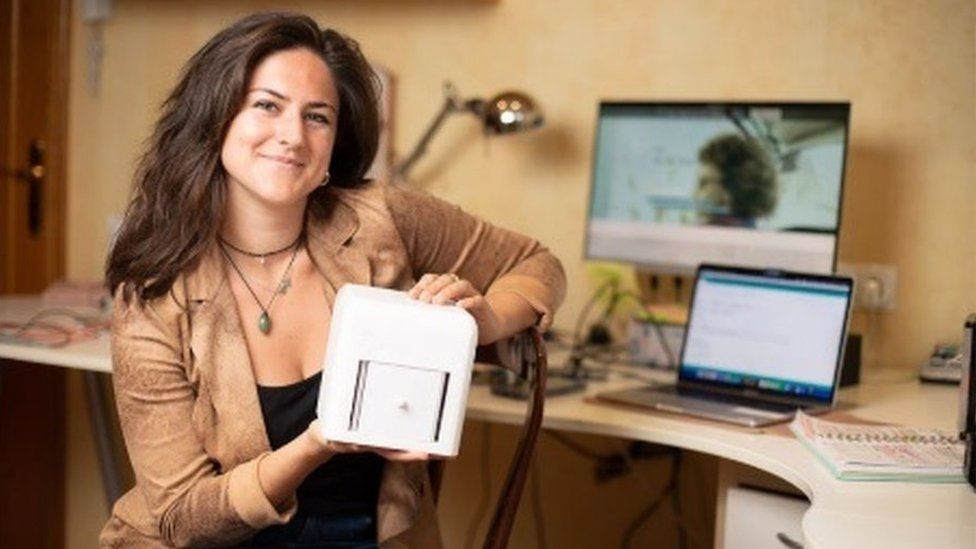 A home-testing kit for breast cancer has won this year's international James Dyson Award.
The Blue Box was designed by 23-year-old Judit Giró Benet, from Spain, who will receive £30,000 in prize money.
A second award, for sustainability, went to a product that uses waste crops to convert UV light into renewable energy.
The annual award helps young engineers to develop their inventions.
Ms Benet came up with the idea following her mother's diagnosis of breast cancer. She realised there was a need for a more accessible test for the disease.
Screening requires women to attend hospitals or medical facilities and undergo what can be for some an uncomfortable and costly procedure. As a result, it is estimated that 40% of women skip their regular mammogram, resulting in one in three cases being detected late, leading to a lower chance of survival.
The device performs a chemical analysis of urine samples and sends the results for testing. An AI-based algorithm reacts to specific metabolites in the urine, providing the user with a fast diagnosis. The device is linked to an app which can put the user in touch with a medical professional if the sample tests positive.
Over the next few years, Ms Benet and her team will be developing prototypes and developing data analytics software at the University of California Irvine.
The device is still some way off from being a consumer product and will need rigorous trials and approvals before it can be developed for the retail market.
Ms Benet said: "The Blue Box has the potential to make cancer-screening a part of daily life. It can help to change the way society fights breast cancer to ensure that more women can avoid an advanced diagnosis."
Sir James Dyson commented: "Unfortunately, I have witnessed first-hand the harrowing effects of cancer and as scientists and engineers we should do anything we can to overcome this terrible disease."
This year a second prize, for sustainability, was offered and won by AuREUS System Technology.
Its 27-year-old founder Carvey Ehren Maigue came up with a new material created from waste crops which converts UV light into renewable energy.