Gigabit broadband: Watered-down plans a 'kick in the teeth'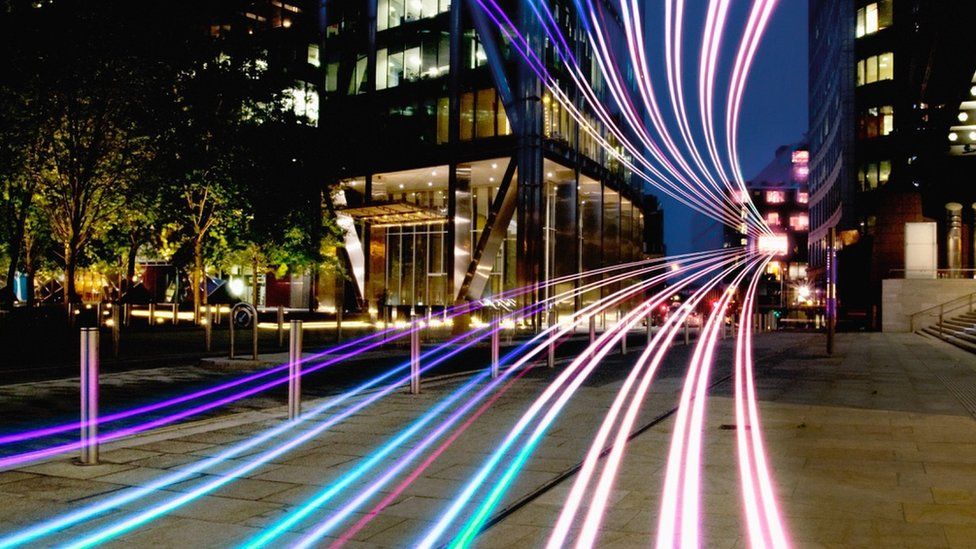 Ambitious plans to roll out gigabit-speed broadband to every home in Britain by 2025 have been rolled back in Chancellor Rishi Sunak's spending review.
Now the aim is to have a "minimum of 85% coverage" by that date.
It will come as no surprise to industry watchers, who felt the target was unachievable.
The budget for the plan remains the same - £5bn, although the figure for next year's spend is much lower.
Now only £1.2bn of that £5bn will be made available up until 2024.
The National Infrastructure Strategy document said it will "seek to accelerate roll-out further to get as close to 100% as possible".
It is expected that commercial deployments of gigabit-capable fibre networks will reach more than 70% of premises by the end of 2025 anyway, without government intervention.
The plan would have been a big boost to people living outside towns and cities and struggling with speeds below 30 Mbps (megabits per second), although the government has already admitted that reaching the final 1% of very remote homes could be prohibitively expensive.
For those living in rural or semi-rural areas, the news that the target is far lower will seem like a "kick in the teeth" one industry source told the BBC. "The government is basically getting in its tractor and heading back to London."
Another observer - Matthew Howett, founder of research firm Assembly - added: "The original target for 2025 was always an ambitious one, but crucially one that industry felt it could deliver with the right enabling regulatory environment.
"While progress was made with that, a number of barriers still remain. To depart from the original target with four years still left to run suggests perhaps that mountains can't be moved after all."
Andrew Glover, chair of the Internet Service Providers' Association said the scaling back of government ambitions was "a blow to rural communities".
"It puts an even greater emphasis on tackling the regulatory and practical barriers that make rollout more difficult than it should be," he said.