Phone addiction not driven by notifications, study finds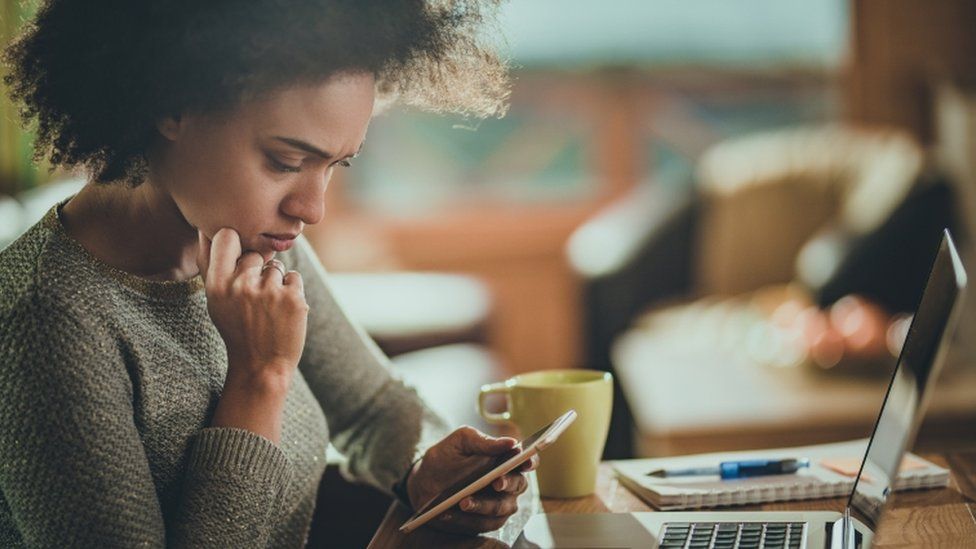 Smartphone addiction is unlikely to be caused by notifications, a study by the London School of Economics and Political Science (LSE) suggests.
It found that 89% of interactions with phones were unprompted, with only 11% responding to an alert.
Group chats were also considered a "source of distress" for participants in the study.
Scrolling features on Instagram and Facebook led to the longest interactions, the research found.
Checking your smartphone is largely caused by "an urge of the user to interact with their phone that seems to occur in an almost automatic manner, just as a smoker would light a cigarette", the study says.
The experiment analysed the smartphone use of 37 people with an average age of 25 in the UK, Germany, and France.
Participants were equipped with cameras that allowed the users to film their daily lives from a first-person perspective.
Why people used their phones:
Lock screen check (to see if any notifications) - 17%
Although group chats were considered a "source of distress", users said the messages contained within them were largely unimportant.
Emails were ranked as the most important notification for participants in the study.
Users also spent less time on their phone when with other people, and the longest interactions took place on public transport or at home.
Some participants seemed surprised at the automatic nature of their interactions.
"I wouldn't consider myself someone who isn't attached to their phone much," one participant said. "But seeing this has made me realise that I don't even remember picking it up. I think I use it a lot more than I let myself believe."
"I don't remember getting my phone out. When I see that moment, I don't remember doing that ... and I'm surprised that I keep checking it," another participant said.
The act of checking a phone has become a need for many users, rather than using the device for communication, said Prof Saadi Lahlou, co-author of the study and chair of social psychology at LSE.
"This is a serious issue, especially for children, and we are running into the dark without having fully understood how these devices are changing our way of living.
"We must learn tricks to avoid the temptation when we want to concentrate or have good social relations. To do like the cowboys did with their gun when they entered saloons: leave it outside! Or at least shut it down.
"Very important and urgent things are rare. Most things can wait a few hours - you are not going to miss out much anyway."
Dr Linda Kaye, from the Department of Psychology at Edge Hill University, said more research should be done to understand how interactions with smartphones related to executing a specific function or just fulfilling a habit.
"This may help uncover a bit more about whether these behaviours are driven by specific human needs, and how these behaviours help fulfil these, or whether they are simply behaviours for their own sake," she added.