Web Summit: Oculus co-founder talks China and military AI
By Jane Wakefield
Technology reporter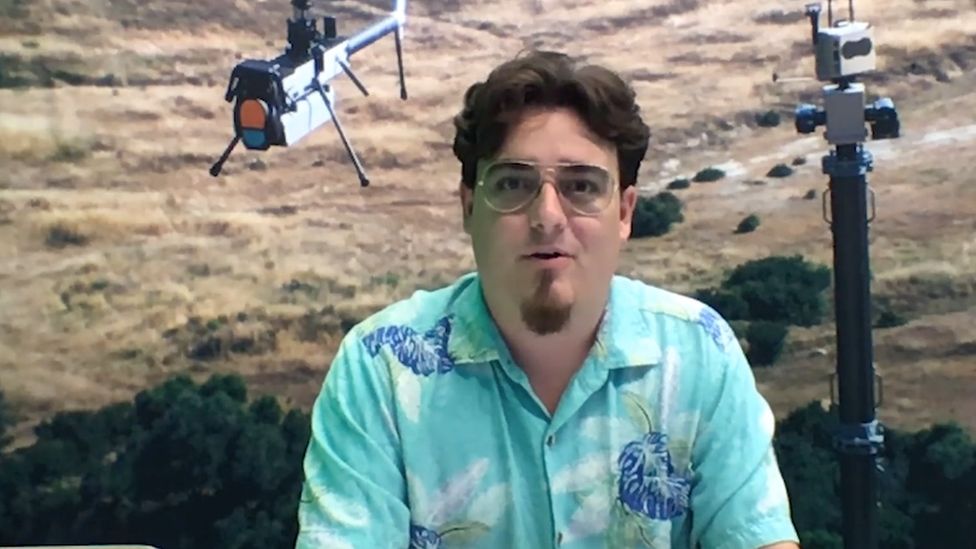 Virtual reality firm Oculus VR's co-founder has accused other tech chiefs of refusing to work with the US military for fear of alienating China.
In a virtual chat at Web Summit, Palmer Luckey said US technology companies had "always worked" with the military in the past, claiming a recent change of heart had been caused by their deepening relationships with China.
Mr Luckey left Facebook in 2017, three years after it acquired Oculus.
He now runs a surveillance start-up.
His firm Anduril signed a contract earlier this year to create a virtual border wall between the US and Mexico, using drones and sensor-laden towers.
During a talk at Web Summit, which is online this year, he challenged the notion that tech firms were refusing military contracts because of staff's ethical objections.
"A lot of companies have financial and PR incentives to stay out of military work, so they're happy to use these employees as a scapegoat to say 'we're listening to our employees', which contributes to this idea that workers of Silicon Valley and other tech hubs are universally opposed to this idea," he said.
"It is in the interest of a lot of these tech companies to kind of pretend to be these extra-national international corporations that are bound to no nation.
"You can disagree on how dominant of a factor it is, It's a factor, though, and it's the one that doesn't get discussed."
Mr Luckey suggested that the real reason tech leaders opted out of contracts with the US military might have more to do with not wanting to anger Beijing, because their firms' market caps were "wound up with China".
"China has done an incredible job of using the blocking of access to their markets as a tool to get the culture of western democracies to subvert itself to China," he said.
"They don't have to come after us militarily. They don't have to cut our networks. All they have to do is invest in our companies, do partnerships with our companies... and then everybody bends over for them."
He did not point the finger at particular firms. But in 2018, Google pulled out of the lucrative Joint Enterprise Defense Infrastructure (Jedi) military contract after staff protested. It later abandoned Project Maven, a Pentagon program to build an AI-powered surveillance platform for autonomous drones, and pledged never to use AI for military purposes.
But Google has also scaled back ambitions in China. Many of its services remain blocked in the country, and after hundreds of employees protested against plans to launch a censored search engine - dubbed Dragonfly - the project was dropped last year.
Mr Luckey is himself a controversial figure. He was embroiled in a court case over whether Oculus infringed copyright from his previous firm Zenimax, and he also helped bankroll a group behind a social media campaign for President Trump.
AI has been described as the third revolution in warfare, after gunpowder and nuclear weapons. There are fears that autonomous AI-powered soldiers could find their way on to the battleground in future.
When asked about the use of AI in the military, Mr Luckey said: "It's not a good idea to outsource life and death decisions to a machine. You can't court-martial a machine. You can't imprison a computer for war crimes."
Instead, he said, the aim should be to use AI to "sort through large amounts of information, but not make those lethal decisions without a person very explicitly looking at the data and making the call.
"I think that that's a pretty good line to draw, and something we'll have to enforce against our political adversaries."
Matt Sheehan, a fellow at the Paulson Institute's think tank, MacroPolo said: "For years, Silicon Valley executives simultaneously courted Chinese leaders for market access and the the US military for major contracts and they didn't seem to see a conflict between those two goals.
"These companies have got so big that they have essentially formed civil society groups within themselves, and those groups have the power to pressure executives into changing course."