Why popular YouTubers are building their own sites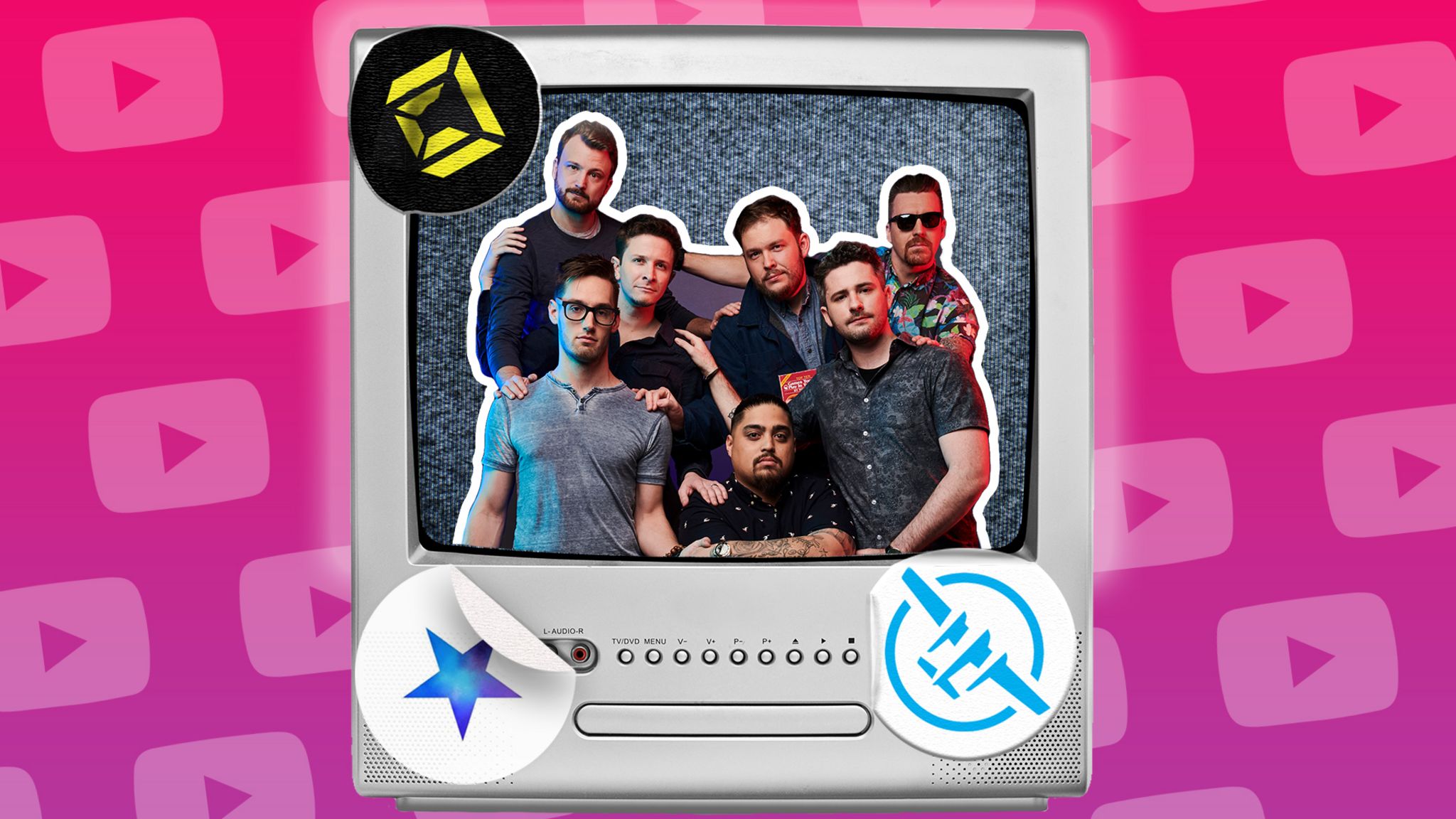 Whether he's showing off astronomically expensive computer gaming hardware or dumpster-diving for the cheapest PC builds possible, Linus Sebastian's videos always strike a chord, and have made him one of the most popular tech personalities on YouTube.
But Google-owned YouTube gets most episodes of Linus Tech Tips a week late.
Now, they debut on his own site called Floatplane, which attracts a much smaller crowd.
"Google has been very, very good to me," Linus says. "But it's a lot of eggs in one basket."
And with a staff of two dozen, he cannot rely on the company to continue being what he calls his "benevolent overlord".
He is not the only YouTube star looking for alternatives.
For a long time there have been tensions between those creating content on YouTube and the company providing the platform, ranging from disputes about ad revenue, to copyright problems, and even rows about the way videos are recommended to people,
Many successful YouTubers are now sizeable companies in their own right, and are seeking to safeguard their futures.
For the last few years, Linus and co-worker Luke Lafreniere have been investing in their own platform called Floatplane.
The pair stress that it is not - and never will be - a YouTube competitor.
But they hope to provide a platform for existing video creators with a loyal audience, who might be willing to pay a few dollars a month to directly support the video-makers they love.
"It's only going to be your really hardcore fans", Luke explains. "There is no algorithm, they're going to be served everything you make."
Mostly focused on technology video-makers for now, the platform is not open to everyone.
The duo say it is growing slowly, and they are putting any profit back into building the site.
The BBC is not responsible for the content of external sites. YouTube content may contain adverts.
Skip youtube video by Linus Tech Tips
Allow YouTube content?
This article contains content provided by Google YouTube. We ask for your permission before anything is loaded, as they may be using cookies and other technologies. You may want to read Google's cookie policy, external and privacy policy, external before accepting. To view this content choose 'accept and continue'.
The BBC is not responsible for the content of external sites. YouTube content may contain adverts.
End of youtube video by Linus Tech Tips
Creating an enthusiastic, tight-knit community around a topic has its advantages, says Luke.
On Floatplane "a lot of the toxicity that exists on public platforms such as Twitter and YouTube, in the comments, just does not exist", he explains.
Nurturing a community is part of why LA-based visual effects studio Corridor Digital built its own fan-powered site.
Its founders Sam Gorski and Niko Pueringer are film-makers - but started publishing on YouTube a decade ago while they toured the LA "circuit" to get film projects made.
Today, their multi-person studio is hugely popular on YouTube for its videos that break down the best (and worst) Hollywood visual effects and stunts, and show their audience how they make their own short films.
The company also produces its own digital-effects clips, including one that asked what might happen if Boston Dynamics' bipedal robots fought back.
The BBC is not responsible for the content of external sites. YouTube content may contain adverts.
Skip youtube video 2 by Corridor
Allow YouTube content?
This article contains content provided by Google YouTube. We ask for your permission before anything is loaded, as they may be using cookies and other technologies. You may want to read Google's cookie policy, external and privacy policy, external before accepting. To view this content choose 'accept and continue'.
The BBC is not responsible for the content of external sites. YouTube content may contain adverts.
End of youtube video 2 by Corridor
"YouTube has been our path. And it's been a great path," says Christian Fergerstrom, one of the studio's producers.
But he said success eventually led the company to ask: "What is stopping us from doing this ourselves?"
On the Corridor Digital site, fans earn "producer points" with their monthly $4 (£2.80) subscription, which they can put towards "funding" videos they would like to see made.
The audience can decide whether to back an instructional course on how to make videos, or lend support to a visual effects-laden Dungeons and Dragons campaign instead.
"We're also only presenting the stuff that we're really interested in and passionate about making," Christian says.
"The producer points you get on the website is a math equation for us, of how to make the shows with the budget that we can work with."
But in terms of income, the site is "definitely not at that level of what we're getting on YouTube," he adds.
That is partly because of how lucrative brand sponsorships are - and big brands prefer big YouTube audiences.
Corridor Digital's platform is designed for a much smaller audience of loyal fans, run alongside its YouTube channel.
The company sees it as a sort of insurance policy.
"In the back of our heads, we've always said... one day, YouTube could be gone. And it's not under our control," Christian explains.
One of the most successful rival platforms, Nebula, was built on a simple premise: giving creators independence from YouTube's algorithms.
"Starting a business on YouTube is like opening a brand new store in a shopping centre," founder Dave Wiskus explains.
"Except you might come in to open your shop one day, and the shopping centre has just moved you to the other end where there are no customers, there's no foot traffic. And you'll never know why."
On Nebula, subscribers get access to everything for $5 (£3.60) a month.
There are no content-recommendation algorithms, and video-makers are not penalised if they do not publish the "right kind" of content.
One of Nebula's creators, Jordan Harrod, describes herself as a "part-time YouTuber, full-time PhD student" at the Harvard MIT Health Sciences and Technology faculty.
She makes videos about artificial intelligence, AI ethics, and medical tech - not always the "right kind" of content for YouTube.
"There are definitely topics that I've come across that I think would be challenging to cover on YouTube," she explains.
As an example, she suggests a video exploring how algorithms moderate hate speech online. Ironically, YouTube's algorithms might flag the content as hate speech, she suggests.
And once a video has been restricted, it is unlikely to ever recover the "lost" views.
Something similar recently happened to Nebula video-maker Lindsay Ellis, who made a video about transphobia in popular culture. It was "mistakenly flagged" by YouTube's automatic systems.
Jordan estimates her subscription income from Nebula is "roughly the same" as what she gets from Google's AdSense programme, which places video ads before and during videos on YouTube.
Nebula has other benefits, such as help with production from its studio team.
But Jordan admits YouTube brand sponsorships are where the most money is made, by a long way - even if, as an academic, video-making isn't her "day job".
Once famously derided as an elitist "smart YouTuber mafia" by one critic, Nebula has adopted that term with pride. Dave Wiskus displays it on his Twitter profile.
"If we were to just open up the floodgates and let anybody sign up for an account and start publishing videos, we lose the flavour of the service," he says.
And on top of that: "YouTube has a whole bunch of problems we never want to have."
"We refuse to be an accidental vehicle for right-wing, neo-Nazi propaganda. And it's really easy for fringe platforms to turn into that if you leave the doors open," he says.
Several challengers have tried and failed to build a viable alternative to YouTube.
In 2016, subscription service Fullscreen launched with original content from popular YouTubers, including British comedians Jack Howard and Dean Dobbs.
Linus says his Tech Tips series was one of its few success stories, which inspired Floatplane's development after Vessel's demise.
The trick, he says, is to grow slowly and not spend too much.
Linus says Floatplane originally got its name from an unofficial motto: "It might not take off, but if it doesn't, it won't sink".