SmartDot radiation-protection phone stickers 'have no effect'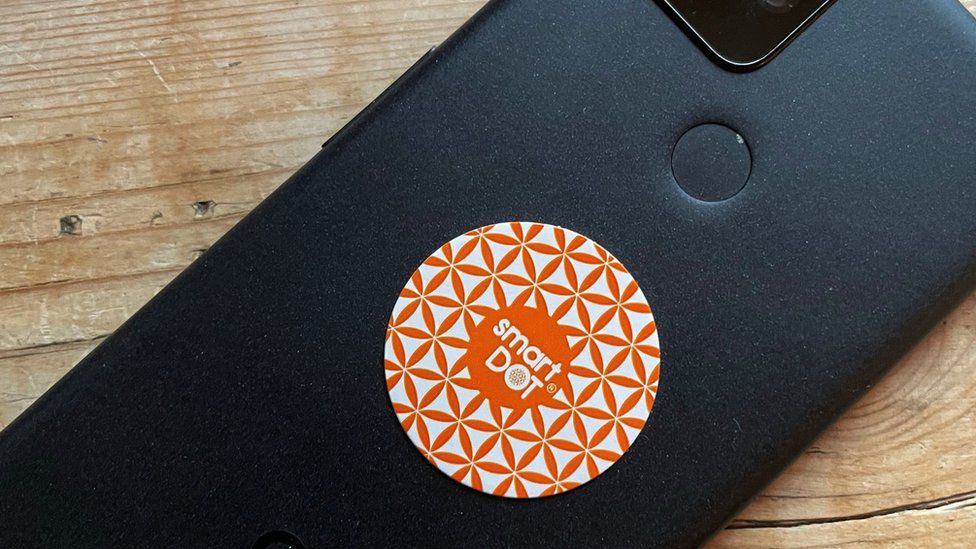 Stickers supposed to protect users against mobile-phone radiation have no effect, scientists have found.
Energydots says they "counteract the harmful energy emitted by wireless and electronic equipment" to aid sleep, cure headaches and give a clearer mind.
But University of Surrey tests for BBC News found no evidence of any effect.
The Devon-based company told BBC News the stickers were programmed with "scalar energy", which the scientists' equipment would be unable to detect.
Energydots markets a range of stickers, including the SmartDot, the SleepDot and even the PetDot.
BBC News bought five SmartDots - a special offer for £55 - and sent them to the university's 6th Generation Innovation Centre.
Researchers tested 4G mobile phones and wi-fi access points with and without the stickers applied to them.
And a spokesman for the lab said: "We could not find any evidence that these products had any effect on frequency or power when used as instructed."
An Energydots spokeswoman told BBC News: "We state clearly that our products harmonise the fields.
"And the way to test this is to assess via biological testing."
Last November, the company published a press release saying it was extremely proud to announce a partnership with the NHS that would see "brand-new patient engagement units" installed in Torbay and Royal College of London hospitals.
At the time, an Energydots spokeswoman told BBC News adverts for its products would appear in the two hospitals, though she clarified the London hospital was in fact University College Hospital.
But a Torbay Hospital spokesman then told BBC News it knew nothing of this partnership.
And within hours, the press release had disappeared from the company's website.
Energydots later said there had been a misunderstanding with the agency that had promised to organise the adverts.
Its stickers are among a wide range of products on Amazon from companies offering electric-and-magnetic-field (EMF) protection.
These include protective clothing, canopies to be placed over beds and even devices that block radiation from wi-fi routers - making them effectively useless.
An Amazon spokesman told BBC News it:
was investigating the Energydots products
required sellers to provide accurate information on products pages
removed listings making misleading claims or raising safety concerns
Campaigners claiming radiation from mobile phones and other devices poses a health risk have stepped up protests as 5G networks are rolled out.
But most scientists say even the higher part of the electromagnetic spectrum that may be used by 5G should not harm humans.
International guidelines limit radio-wave exposure.
And within those limits, there are no known consequences for health, the World Health Organization says.