PS5: Restock of new PlayStations causes chaos online
By Cristina Criddle
Technology reporter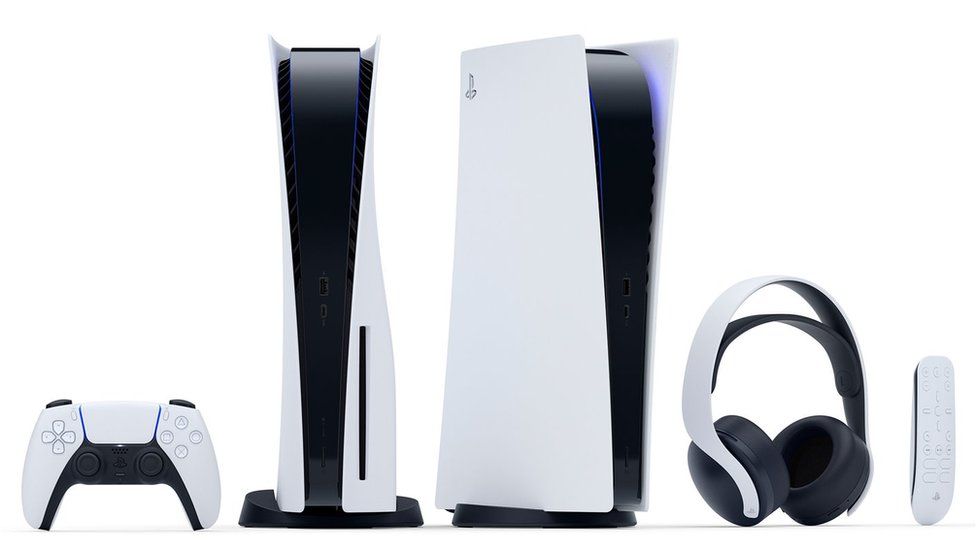 New stock of the PlayStation 5 console has led to thousands of gamers waiting in virtual queues online.
More than 160,000 people were trying to access Currys PC World website at one point on Wednesday, which had only a limited supply.
The recommended retail price starts at £449 - but eBay bids are currently running to thousands of pounds.
Experts said a rise in bots buying consoles added to the high demand had led to technical difficulties.
PlayStation said the demand was unprecedented.
On Wednesday morning, a message on the Currys PC World site said it "now has limited PS5 stock".
But it sold out in under an hour.
And thousands were left in a virtual queue on the website throughout the day - with a warning message displayed to customers about heavy traffic, hours after the items sold.
"This morning, a limited number of PlayStation 5 [consoles] were made available online for purchase at the original RRP of £449," said Currys PC World gaming head Nick Hayden said.
"The website received a surge in traffic.
"And we sold out of stock within the hour.
"Due to very high demand for this product, we operated an online queuing system.
"We apologise if this caused any frustrations for our customers."
Both Game and John Lewis also recently received new stock of the console and rapidly sold out.
Ampere Analysis senior gaming analyst Louise Shorthouse said: "Many [retailers] likely knew they would have problems beforehand.
"But ensuring your website is capable of withstanding a huge influx of visitors is expensive.
"And for an infrequent event like this, it is simply not worth the cost."
Netacea e-commerce head Thomas Platt said: "This is certainly the highest online demand for a console we've ever seen.
"Much of the demand is driven by the fact consumers can't wait in line and enter physical stores to pick up their consoles."
Automated retail bots scan websites around the world for the exact second an item goes on sale
And one dedicated toy bot, Carnage Bot, tweeted it had secured 2,000 PS5 consoles from Game's supply of fresh stock.
"Over 2,000 checkouts successfully logged for today's Game restock on the PS5," it said, "just keeps getting easier each time."
But Game told Gaming Bible it would be checking orders to remove multiple sales to the same buyer.
"At the present time, these orders are still pre-orders," it said.
"And as such, no payments have yet been taken from customers.
"Payments will commence once our order checks have been completed."
Carnage Bot has since set its account to private.
And its website is no longer working.
"The bots that targeted the original launch of the PS5 back in November will have advanced and developed new ways to conceal their identity, some posing as real customers, giving bot actors the opportunity to still escape with the goods," Mr Platt said.
Ms Shorthouse said: "Scalpers using bots is certainly a huge problem and one we have seen before in other areas, such as concert-ticket sales [although events are easier to regulate].
"If more genuine consumers are able to purchase the console, there is a knock-on effect.
"Less sales then take place via resale sites like eBay.
"And a decrease in demand makes the whole operation less appealing and less lucrative for the scalpers.
"This is all exacerbated by the shift to online.
"It is very difficult to contend with bots.
"And more people than ever are now choosing to buy online.
"Scalpers would not be able to pull this off in a physical store."