Why is there a chip shortage for computers and cars?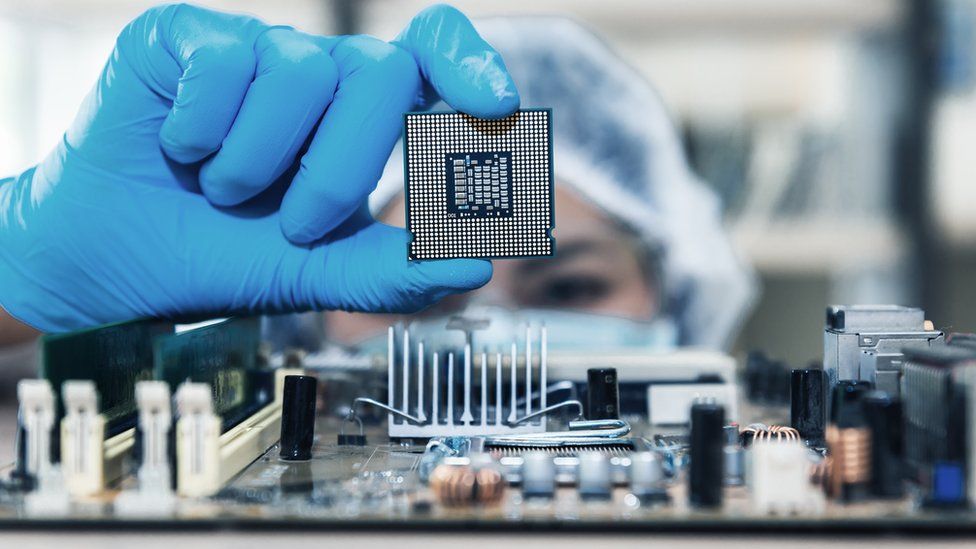 For the most part they go unseen but computer chips are at the heart of all the digital products that surround us - and when supplies run short, it can halt manufacturing.
Then, just before Christmas 2020, it emerged the car industry was facing what one insider called "chipageddon".
New cars often include dozens of microprocessors - and manufacturers were quite simply unable to source them all.
Toyota has since warned that its global vehicle production will be slashed by 40% in September 2021 as a direct result.
And one technology company after another has warned they too face constraints.
Samsung is struggling to fulfil orders for the memory chips it makes for its own and others' products.
And Qualcomm, which makes the processors and modems that power many of the leading smartphones and other consumer gadgets, has the same problem.
Like much else wrong with the world, the coronavirus is partly to blame.
Lockdowns fuelled sales of computers and other devices to let people work from home - and they also bought new gadgets to occupy their time off.
The automotive industry, meanwhile, initially saw a big dip in demand and cuts its orders.
As a result, chipmakers switched over their production lines.
But then, in the third quarter of 2020, sales of cars came roaring back more quickly than anticipated, while demand for consumer electronics continued unabated.
With existing foundries running at capacity, building more is not a simple matter, though.
"It takes about 18 to 24 months for a plant to open after they break ground," analyst Richard Windsor says.
"And even once you've built one, you have to tune it and get the yield up, which also takes a bit of time.
"This isn't something you can simply switch on and switch off."
The rollout of 5G infrastructure is also adding to demand.
And Huawei put in a big order to build up a stockpile of chips before US trade restrictions blocked it from ordering more.
By contrast, the car industry is relatively low margin and tends not to stockpile supplies, which left it in a pinch.
But analysts say more widely, the sector has suffered from under-investment.
"From the profitability perspective, building a new fab[rication plant] for smaller foundries is difficult to consider."
And many of these chip producers will instead respond to the extra demand by increasing their prices.
Experts do not expect chip scarcity to be resolved any time soon.
"We expect semiconductor industry supply constraints on both wafer and substrates to only partially ease in second-half 2021, with some leading-edge (computing, 5G chips) tightness to extend into 2022," a Bank of America research note says.
This could have expensive knock-on effects.
The consultancy AlixPartners forecast the automotive industry will lose $64bn (£47bn) of sales because it has had to close or reduce output.
Although, that sum needs to be viewed in the context of the sector typically generating about $2tn of sales a year.
There are also geo-political implications.
The US still leads in terms of developing the components' designs.
But Taiwan and South Korea dominate the chip-manufacturing industry.
"Like Opec was for oil, Taiwan and South Korea are near monopoly producers of chips," he wrote, adding their market share was set to grow further,
That has raised concern in the States, where one lobby group called the current crisis the "canary in the coal mine" for future supply-line shortages.
But arguably the country most affected is China, which makes more cars than any other nation.
Beijing has long wanted to make the country more self-sufficient in semiconductors in any case.
But the US has taken steps to block local companies making use of American know-how to do so, on the grounds they also supply the Chinese military.
The current crisis will not only give China's leaders cause to redouble their efforts.
It also exposes how disruptive another of their ambitions would be - unification with Taiwan.
For now, consumers planning a purchase need to bear a few things in mind.
Waiting times for some car models will increase.
And some gadgets may also become hard to find.
The biggest players, such as Samsung and Apple, have the buying power to ensure they have priority.
But smaller brands may be disproportionately affected.
"That means products could get more expensive - or at least not fall in price over time as you would normally expect," Ben Wood, from the CCS Insight consultancy, says.
"And supply will be limited.
"So if there's a gadget you really want to get, don't think about hanging around to see if there's a better deal in a few months' time."