How Instagram's influencers changed the model industry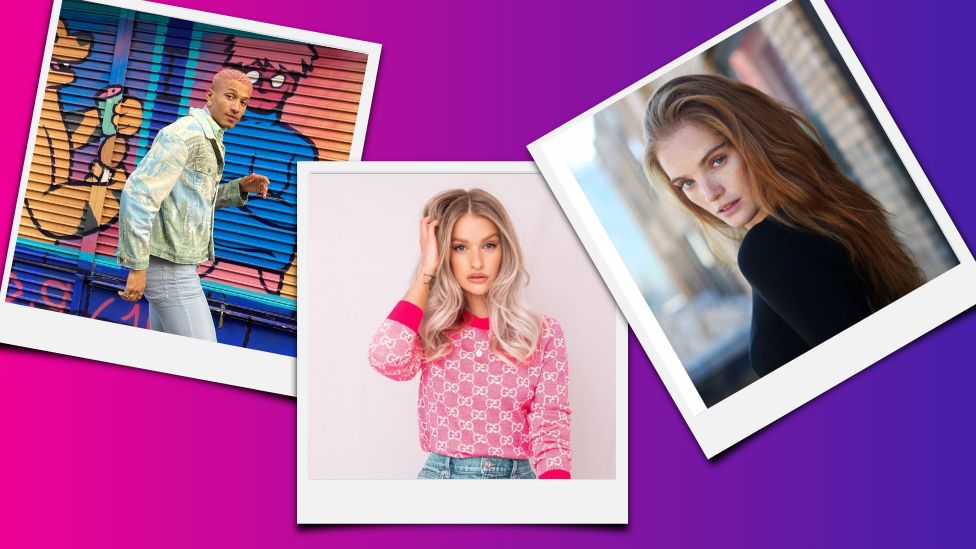 Alexina Graham has been a successful fashion model for more than a decade - appearing in glossy magazines and walking the coveted Victoria's Secret catwalk.
But when the coronavirus pandemic hit, her work stopped.
"I didn't work at all in March and April," she told BBC News.
Over the past year, models have been asked to create their own content - shooting photos and promoting brands on personal social-media accounts.
"Social media is one of the main aspects of our job now," Ms Graham said.
"To shoot content every week, edit it all together and get it out there takes a long time."
L'Oréal's brand ambassador, actress Eva Longoria, even filmed herself dying her own hair in lockdown.
"It was a first for us to shoot a campaign with one of our spokesmodels in this way," Lex Bradshaw-Zanger, chief marketing officer at L'Oréal UK and Ireland, said.
"The advert has been used across digital, social and television and has been received very positively – with salons shut, Eva's experience with home hair colouring was something many people could relate to."
The BBC is not responsible for the content of external sites.
The beauty brand has long used influencers - but since the pandemic, it has invested even more of its budget into influencer marketing.
A survey by influencer marketing agency Takumi suggests 73% of brands have done the same.
And modelling agencies told BBC News they had been flooded with requests for models who could shoot their own content.
"Production just stopped when the pandemic hit," Evolve Model Management director Elizabeth Rose said, "and all these brands were freaking out about how to get all of these clothes online - they still needed to sell clothes.
"Regular models weren't able to produce content that was good enough for the brands, so a lot of brands switched to influencers."
And now, some High Street fashion brands have told Evolve they plan to make home shooting a permanent feature.
The BBC is not responsible for the content of external sites.
When Nathan Hopkinson noticed his bookings falling last year, he invested the extra time spent at home into boosting his social-media presence.
"I saw it as an opportunity to put my all into my social platforms," he said.
"I started posting on TikTok regularly - and the rewards have been immense."
Since March last year, he has gained more than 270,000 followers on TikTok and 130,000 on Instagram.
"I've had way more interest from high-end clients," he added.
Authenticity is at the core of this trend, as influencers attract followers who feel connected to the person, rather than the brand.
"Brands enjoy the direct and highly engaged relationship I have with my audience," Shu Lin, a travel vlogger who has seen an increase in interest from fashion brands during the pandemic, said.
"With the rise of users on social platforms, as both a creator and consumer, we're wanting to see content that's less polished and more reflective of the everyday experience.
"It's great to see the fashion industry embrace diversity more in the marketing of their products as it's more representative of consumers in real life."
Influencers also give brands more value for money, according to Victoria Magrath, a blogger with more than one million Instagram followers, who has worked for luxury designer brands, including Dior, Armani and Tiffany & Co.
The BBC is not responsible for the content of external sites.
"Influencers can provide fresh and unique content, without the hassle of organised a shoot with upwards of five crew members, hiring a location and hiring a model," she said.
Being able to style themselves, take and edit photographs meant "the costs are significantly lower", while well created content could "rival magazine editorials" and deliver more accurate results than print advertising.
"Instagram insights, or blog analytics, for example, can pinpoint how many people were on a particular page, for how long, what they clicked on and where they navigated to next," Ms Magrath added.
Technology platform Launchmetrics specialises in analysing data from social media to provide detailed research on return on investment(ROI) for luxury brands.
Every day, it monitors 20,000 brands, 50,000 media outlets and 100,000 influencers to calculate the value of a social-media post.
a single post from model and influencer Gigi Hadid is worth $1.2m (£0.9m), compared with $20,000 in traditional models
the average value of a post including luxury brand Versace is $7,000
"This shift caused by social media is that the consumer does not want edited content," chief marketing officer Alison Bringe said.
"They want to know the story behind the product."
The BBC is not responsible for the content of external sites.
Models1, one of the largest modelling agencies in Europe, has even hired a full-time social-media editor to support its staff.
"It's difficult for models to become influencers, because they work for several different competing brands," managing director John Horner said .
"A model is not a specialist - they have to be a chameleon."
And struggling to photograph themselves at home was damaging their self-confidence.
"Influencers to some extent are devaluing the industry because they aren't models or experts in fashion or beauty," Mr Horner said.
Clients had grown savvy to influencers who "endorse so much stuff the value of their content is beginning to be questioned".
And, both modelling agencies said, brands should not pin all their hopes on content creators.
"There's a very small pool of people who look good enough to be models," Ms Rose said, "and there's an even smaller pool of people who can content create - brands cannot limit themselves."